October 31, 2011 –  Visa Europe announced today that has invested £24.7 million in Monitise, the technology company delivering mobile banking, payments and commerce networks worldwide, and put its CEO, Peter Ayliffe, on the UK mobile money outfit's board.  Visa Europe inked a deal with Monitise in February to hawk mobile payment services to its member banks. The vendor has since been "acting as an advanced development engine" for Visa Europe, with the first services – mobile person-to-person payments and alerts – unveiled last month.
Monitise also announces it has agreed to  acquire the 51% stake in its US  joint venture, Monitise Americas, held by Metavante Corporation, a subsidiary of Fidelity National Information Services Inc.("FIS"). FIS is one of the world's largest global providers dedicated to banking and payments technologies.
Monitise believes the market opportunities for its mobile technology business in Europe and North America and high-growth territories worldwide are greater today than at any time before.  Monitise has a strong balance sheet to exploit opportunities where it assesses they will further enhance shareholder value.
Monitise Group Chief Executive Alastair Lukies commented:
"Visa Europe's investment in Monitise, coupled with a deepening relationship eight months after our two companies first entered into a partnership, establishes our role as the platform of choice for mobile money services in Europe. We are excited by the opportunities ahead for Monitise and the global mobile money industry as mobiles increasingly become the accepted new way to bank, pay and shop.
Monitise is evolving fast. In the summer of 2010, we announced a fundraising at 20.75p. At that time, we had live mobile banking platforms in the UK and US and anticipated further growth internationally, as well as substantial new opportunities emerging in both mobile payments and mobile commerce.
We have now established a clear and proven leadership position in the mobile money space. Our technology underpins services in mobile banking, payments and commerce for millions of consumers on four continents with the value of mobile transfers and payments alone running into billions of pounds per year and growing."
Monitise's technology platform has been designed to deliver mobile banking, payments and commerce services anywhere in the world. The group's aim is to be the platform of choice for banking and other financial institutions throughout the world. Having established itself and proven the technology in the UK, US, Asia Pacific, India and Africa, Monitise's strategy is to continue to invest in its technology and to expand its reach, initially into other markets with high growth potential, by working with local and international partners who can provide the local infrastructure and international functionality where necessary.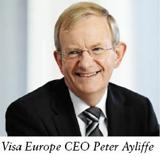 Peter Ayliffe, president and chief executive of Visa Europe will also join Monitise's board as a non-executive director. Says Ayliffe: "We believe that the growth of mobile phone services and e-commerce, together with the evolution of the mobile handset into the smartphone, present two of the most significant opportunities for the payments technology industry today. To ensure Visa Europe is at the forefront, we can announce today that we have made a significant investment in Monitise, our mobile payment technology strategic partner, as a demonstration of our belief in the crucial role that mobile has to play in the further development of the payments industry and also of our commitment to delivering the future of payments across Europe."
Visa Europe Subscription
In February 2011, Monitise entered into a partnership agreement with Visa Europe to develop and supply mobile payments services for Visa Europe's more than 4,000 member banks and financial institutions across 36 European countries.  That partnership gives Visa Europe a licence to Monitise's world-leading mobile technology.  Monitise is acting as an advanced development engine for Visa Europe in a collaboration that will accelerate the deployment of large scale rapid go-to-market mobile payments and services in Europe.
The progress of that partnership has led to the deeper alliance and strategic investment announced today.
In September 2011, Visa Europe announced the launch of Visa Mobile Person-to-Person payments and Visa Alerts, two new services designed to help consumers manage their money and make payments using their mobile phones.  The services were developed by Visa Europe in partnership with Monitise, the first of many services that Monitise expects to be made available through its European agreement with Visa Europe.
Visa Europe's strategic investment in Monitise strengthens the Company's partnership with Visa Europe. Visa Europe became independent of Visa Inc. in 2007 following a restructuring of the Visa Group and the subsequent IPO of Visa Inc.
As part of the Visa Europe Subscription, Visa Europe has the right to appoint a non-executive director to the Board of the Company for so long as it holds at least 50 million shares in the Company.  Peter Ayliffe, President and Chief Executive of Visa Europe, will join the Board of the Company as a non-executive director.  Prior to joining Visa Europe in 2006, Peter George Edwin Ayliffe, aged 58, previously spent more than 20 years with Lloyds TSB, a leading UK bank, where he held a number of executive posts in the bank's retail business, culminating in his appointment as a group board director.  Peter also spent five years as a non-executive director on the Visa Europe board.  Peter was named Industry Personality of the Year at The Card Awards 2009.