30 November, 2011 – The rate of growth of consumer spending slowed in quarter three (Q3) 2011 to 0.5% year-on-year, following a stronger rate of growth (2.1%) in the second quarter. Q3 registered the slowest rate of growth of the year so far and marked the slowest growth rate since Q4 2010. Despite consumer spending increasing for eight straight quarters across the whole EU, 21 of the EU's 27 member states recorded deterioration in spending when compared to their Q2 performances. The EU's three largest economies – France (-0.5%), Germany (+0.9%) and the UK (+1.0%) – all recorded relative deterioration in spending compared to Q2 in contrast to a number of Central and Eastern European countries, which continued robust expansion.
Lithuania and Latvia led the way expanding consumer spending by 15.4% and 13.2% respectively. Estonia followed closely with 9.9% growth in consumer spending, with both the Czech Republic and Slovakia registering 5.6% growth a piece. Elsewhere Spain registered surprising growth year-on-year, increasing spending by 2.5%, while Italy saw a slight contraction (-1.0%).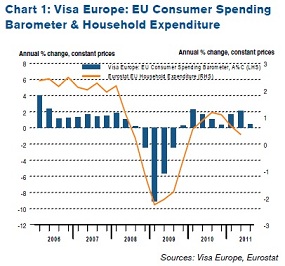 Visa Europe's EU Consumer Spending Barometer is based on actual spend rather than sentiment or opinion, and this data is then adjusted to allow for Visa card issuance, consumer payment preferences and inflation. The Barometer is a reliable economic indicator as it provides the most precise and comprehensive insight into the health of consumer spending in the EU. Unlike other indices or surveys that are based on sentiment or opinion in particular sectors, this Barometer provides an accurate reflection of real consumer spending across the EU based on consumer's increasing preference for card payments, with €1 in every €8 spent in Europe on a Visa card.
Philip Symes, Chief Financial Officer at Visa Europe said: "Consumer spending across the EU appears to have held up relatively well despite ongoing turmoil across European markets. Although slowing to the lowest rate of growth in 2011, it is the eighth successive quarter of growth."
About the Visa Europe's EU Consumer Spending Barometer
Over one in every eight euros spent in the EU is on a Visa card, with more than 70% of that spending on debit cards. This means the Barometer provides a uniquely comprehensive and timely insight into the health of consumer spending in the European Union.
Visa Europe's EU Consumer Spending Barometer is based on spending on all cards issued by Visa – debit, credit and prepaid. Markit has developed the Barometer by creating a model which adjusts the raw Visa transaction data for a number of factors.
First, the data are deflated by changes in the number of Visa cards issued to account for the expansion of Visa's business. Secondly, an adjustment is made to offset changing consumer preference for card usage. This is based on an assessment of the trends in cash withdrawals and point-of-sale (POS) transactions on Visa cards. Finally, to account for inflation, the data are deflated by changes in the consumer price index to provide an indicator of real changes in household expenditure.
The Visa data have enjoyed a strong positive relationship with equivalent official numbers in recent years. The Visa data cover a much wider range of sectors than just retail as cards are increasingly used for payments such as utility and tax bills.
For the full 'Visa Europe: EU Consumer Spending Barometer' you can visit http://www.visaeurope.com/en/newsroom/all_reports/latest.aspx.
There are currently over 26 million contactless Visa cards across Europe, distributed by 54 different issuing banks, with over 175,000 contactless terminals. 17 million of these cards and 75,000 of these terminals are within the UK. Monthly contactless spend in the UK has tripled since the start of 2011, with total contactless spend across Europe almost quadrupling in the same period. By the end of the year there will be 30 million contactless Visa cards in circulation across Europe, with 50 million expected by the end of 2012.