Transport operator Stagecoach Group and the UK's biggest communications company, Everything Everywhere, recently announced plans to transform the way consumers use tickets to travel on public transport. The two companies have unveiled the UK's first Government-standard commercial deployment of mobile contactless transport ticketing, which could lead to a nationwide roll out across select bus and rail services in 2013.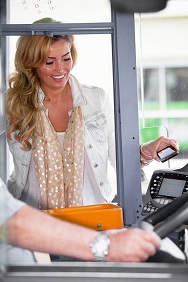 The trial, already underway on the Stagecoach bus network in Cambridgeshire, enables a small cross section of bus users to receive, store and validate their bus tickets using their mobile phone. Everything Everywhere is providing each customer in the trial with a Quick Tap enabled mobile handset on its Orange mobile brand. Quick Tap is the umbrella name used for Orange's NFC (Near-Field Communications) services, and the handsets used will feature the technology as well as a specially designed app, making them compatible with the local bus network's smartcard readers. This will allow users to travel on Stagecoach buses across Cambridgeshire including the Cambridge Park & Ride and Guided Busway services.
The trial uses the Department of Transport's preferred ITSO (Integrated Transport Smartcard Organisation) smart ticketing technology, and will monitor the levels of customer convenience the Quick Tap service provides, as well as for operational and technical efficiencies. The trial also contributes to the Government's vision to deliver, along with transport operators and public sector bodies, the infrastructure to enable most public transport journeys to be undertaken using smart ticketing by December 2014.
Gerry McQuade, Chief Marketing Officer, Everything Everywhere, said: "We've already started a new movement in the way we make payments and receive retail rewards on the high street, so this really is the next step – providing customers with additional simplicity and convenience to help improve their public transport experience.
"As Britain's biggest communication company, we're proud to be working with Stagecoach to help bring public transport ticketing into the 21st century and start a trend towards a future where ultimately the traditional paper and card tickets of today will eventually become a thing of the past".
Stagecoach Group Finance Director Martin Griffiths, said: "This is an exciting technical trial which we believe is the first of its kind in the UK and we are pleased to be working with Everything Everywhere to explore the use of this new technology.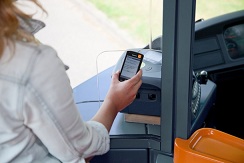 "Smart phones are playing an increasingly important role in helping people manage their busy lifestyles and are already used across many areas of life. We believe this technology can also make public transport easier and more convenient to use. Once this trial is complete, we will carry out a review of the findings and assess the potential to expand the scheme further for our passengers."
As with contactless mobile payments, the security of customers details in the new Quick Tap transport ticketing service will be of paramount importance and the solution has been developed and rigorously tested to ensure customers' ticket details and personal data will be protected and secure.
About Stagecoach Group
Stagecoach Group is a leading international public transport group, with extensive operations in the UK, United States and Canada. The company employs 35,000 people and operates bus, coach, rail, and tram services. Stagecoach is one of UK's biggest bus and coach operators. Around 2.5 million passengers travel on Stagecoach's 7,700 buses every day on a network stretching from south-west England to the Highlands and Islands of Scotland. The company's business includes major city bus operations in London, Liverpool, Newcastle, Hull, Manchester, Oxford, Sheffield and Cambridge.
Stagecoach is a major UK rail operator, running the South West Trains, Island Line and East Midlands Trains networks. It has a 49% shareholding in Virgin Rail Group, which operates the West Coast inter-city rail franchise. Stagecoach also operates the Sheffield tram network.
In North America, Stagecoach operates around 1,900 buses and coaches in the United States and Canada. Budget coach service megabus.com links around 80 key locations in North America. Stagecoach is also involved in operating commuter and transit services, as well as tours, charters, sightseeing tours and a small number of school bus services.
Earlier this month, Stagecoach became the first major bus operator in the country to accept smartcards for concessionary journeys on every one of its vehicles outside London. The Group has also launched its own smartcard scheme, using StagecoachSmart travel cards, on its buses in Cambridgeshire, Oxfordshire, Manchester, South East and North East England. And recently, Stagecoach announced an integrated bus-rail smart ticketing pilot in Basingstoke, Hampshire – one of the UK's first commercial multi-modal applications of the Government-preferred ITSO technology. The pilot allows a South West Trains rail season ticket and a Stagecoach South Megarider multi-journey bus ticket to be stored on one smartcard.
About Everything Everywhere Limited
Everything Everywhere Limited is the company running two of the UK's most famous brands – T-Mobile (UK) and Orange (UK). Owned jointly by Deutsche Telekom and France Telecom, Everything Everywhere is the UK's biggest communications company, with a combined customer base of over 27 million people and more than 700 retail stores across the country.