Cryptocurrencies may never be able to work as actual currencies, according to UBS Global Wealth Management – Bloomberg story
The "fundamental flaw" inherent in cryptocurrencies is that supply can't be reduced when demand is slumping in most cases, Paul Donovan, chief economist at UBS GWM, said in a video this week. That means they can't be considered currencies, he said.
"A proper currency can be a stable store of value, providing certainty that it will be able to buy the same basket of goods tomorrow as it buys today. That confidence is derived from central banks' ability to reduce supply when demand is falling. There is no such mechanism for switching off supply on most cryptocurrencies, and therefore their value can slide, leading to a collapse in spending power," Donovan said in a video published by UBS.
Donovan added that it is difficult for people to use a currency that is not stable in value.
"People are unlikely to want to use something as a currency if they've got absolutely no certainty about what they can buy with that tomorrow," Donovan said in the video.
Crypto market volatility has increased significantly since the start of 2021. The overall market cap reached a high of $1.1 trillion during the first week of the year as the world's leading cryptocurrency Bitcoin touched an all-time high of $41,500. Cryptocurrencies have seen a major correction in the recent days as the total market cap dropped by more than $200 billion and Bitcoin lost $11,000 in price. BTC is currently trading around $31,000 after losing 28% of its value in the last 14 days.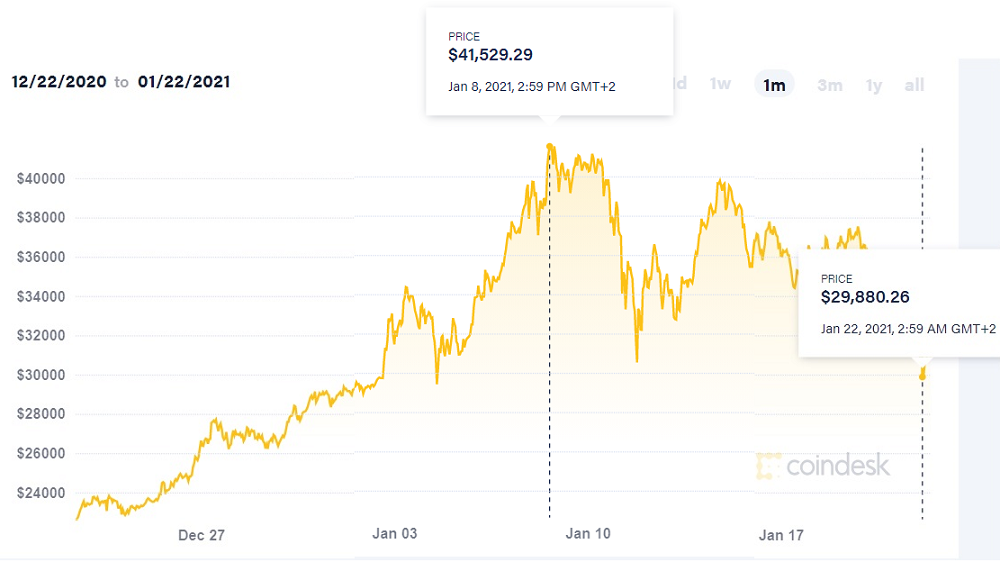 See also the Reuters story about the recent drop in the price of bitcoin: Bitcoin heads for worst weekly loss in months