From 15 to 17 November, 2011, 450 exhibitors and more than 20 000 visitors from all over the world are expected to be present  at The CARTES & IDentification international exhibition in Paris, France. This is not only one of the more significant events in the life of the smart technologies industry, but also a mirror reflecting the main market trends. The event  brings together 1.300 delegates for three days to discuss the latest technical developments, marketing and strategic issues and hear feedback on concrete case studies.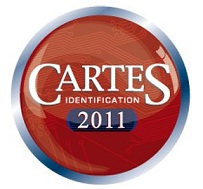 CARTES & IDentification  is the key international event bringing together all the players in the digital security, smart technologies, payment and mobility sector . Every year it brings together the most complete international range of products, equipment and services. This exhibiton stands for the place to be for all professionals who whish to discover, innovate, and develop their business in the smart technologies sector.
NEW  in 2011! As mobile payment is the main interest for 56% of the visitors, CARTES & IDentification proposes  a Mobile Payment Pavilion to present several important initiatives regarding Mobile Banking, Mobile services, Mobile Payment via NFC or other contactless technology.
CARTES & IDentification represents*:
30 000 sq.m of exhibition
432 exhibitors – 78% come from outside France
18 768 visitors – 72% come from outside France
1 250 congress attendees – 82% come from outside France
142 countries represented
*Visitors and Exhibitors 2010 statistics 
Turkey – special guest country at the CARTES & IDentification show

With not only the first commercial roll-out of NFC mobile payment in Europe, but also the first national identity card in the world to include an EMV payment function, Turkey is clocking up a number of firsts in the payment, identity and mobile communications fields. In just a few years, it is also one of Europe's countries which is the most advanced in terms of credit and debit card usage. All these factors have led Turkey to be chosen as the special guest country at the CARTES & IDentification show to be held at Paris Nord Villepinte exhibition centre from 15 to 17 November 2011.
With Europe's largest ATM market, 40% growth in the number of cards produced over 5 years and dynamic implementation of new contactless solutions and loyalty programmes, Turkey offers a wealth of development opportunities.
It has already proven its ability to innovate in the chip card sector, which is enjoying rapid growth in the country. With a population of 77.8 million inhabitants, including 63 million mobile phone users, Turkey's payment industry potential is high. Contactless technologies are increasingly being adopted in urban areas, and are expected to progress further as banks battle to attract the growing number of young city-dwellers.
Very active banks and growing inter-bank business
With more than 120 million cards issued at the end of the first quarter of 2011, an increase of 53% in little more than 5 years, and a total of more than 1.8 million payment terminals in service – of which 21,000 are already contactless – the Turkish banking sector confirms its dynamism and enthusiasm for innovation. The country migrated to EMV in record time thanks to initiatives by and the coordination of BKM (Bankalararasi Kart Merkezi), the Turkish InterBank centre. Turkey also became Europe's largest ATM market. At the end of 2010, almost 28,000 machines installed included a geolocation function, allowing them to be located using a mobile phone thanks to an application developed by BKM as part of a project (ATM Sharing System) to create shared services (change of PIN, unblocking a card, etc.) on all ATMs. Until 2005-2006, the Turkish banking market stood out due to the absence of inter-bank business. Each bank issued its own cards – often co-branded with stores – and also implemented its own payment terminal and ATM infrastructure.
Agreements between banks and mobile operators
Today, firsts in the banking sector are linked to firsts in the mobile communications sector:
The first commercial roll-out of NFC mobile payment and loyalty (Bonus Trink Program loyalty) in Europe was launched last February by Garanti Bank, the mobile phone operator Avea and Gemalto, which supplied the NFC add-on.
Asya bank launched one of the first microSD cards to integrate a NFC function, developed by Wachdata.
And more recently, Turkey's top mobile phone operator, Turkcell and Yapi Kredi Bank launched an NFC solution named "Turkcell Cep-T Cüzdan" with NFC accessory and e-Kart Electronic Card Systems supplier OTC. The solution's "personalizer" also acts as a TSM (Trusted Service Manager).
These initiatives are not just European firsts, they are in fact technical firsts. All the technologies used make it possible to transform any telephone on the market (with the exception of the iPhone, although developments are in progress to render it compatible) into a NFC telephone.
In the mobile payments arena, it is true that interbank coordination efforts have not produced the results seen with the EMV card in the 2000s, but work is in progress at BKM to create an independent TSM platform capable of providing shared services to both banks and mobile phone operators (mainly Turkcell and Avea).
Service companies working on access control and transport
A large number of Turkish service companies and integrators are already ready to support the roll-out of contactless and NFC into all imaginable areas.
One example of this is Oytek, which specialises in developing middlewares (NFC midlets) and NFC kiosks.
Another example is KentKart, which has developed a transport card which can be recharged online (Infinite City Card), and is extending its range, which until now was based around access products such as contactless readers and validators, to include service platforms dedicated to processing transactions.
Some other examples are Belbim (validator for transport) and PDKs which has developed tickets and a complete range of electronic passes.
With its 15 million inhabitants, Istanbul is poised to become one of the world's most significant contactless, and undoubtedly NFC, cities.
The first national identity card to include an EMV payment function
Turkey's national identity card is currently the world's first chip card issued by a state to include a bank payment function (EMV). This card, developed by the UEKAE state institute's R&D teams, includes multiple contact and contactless applications and uses a highly secure operating system (AKiS, short for Akıllı Kart İşletim Sistemi), based on a chip which is itself also highly secure (EAL5+). For example, the identity and banking applications are separated by a firewall. 20,000 cards constituting an initial pilot phase were issued last summer in the town of Bolu, with applications for authentication at doctor's surgeries and hospitals. The success of this first phase was followed by an equally successful second phase to test the biometric e-passport function, which complies with the global ICAO standard; a third phase began in March with a new version of the card which now complies with the European Citizen Card standard, and will offer a bank payment function. Several banks have already become involved with this option, for which the use of MasterCard's M'Chip solution is planned. Initialisation and multi-personalisation plans have been drawn up. The government has yet to approve the final phase, but approval appears to be a foregone conclusion. Roll-out is expected in 2012 with the issue of 75 million cards.
Source: www.cartes.com