The European Central Bank says it will finalise the the overall design of a digital euro in the second half of next year as it publishes its second progress report on the project.
"In the second half of 2023 the overall digital euro high-level design will be presented for approval to the ECB's decision-making bodies. The high-level design will comprise the final set of all design choices." – according to the report.
"The investigation phase also includes a prototyping exercise to test how well potential back-end solutions developed by the Eurosystem could be integrated with front-end prototypes.28 The prototyping exercise is expected to be completed in the first quarter of 2023, when the ECB will also publish its findings."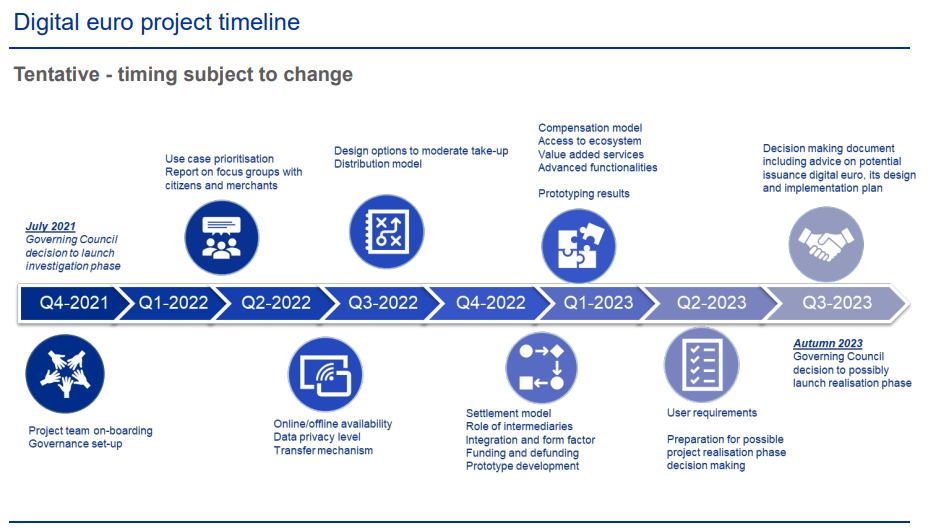 The Eurosystem will continue to actively engage with a large number of stakeholders throughout the remainder of the investigation phase. This will include dialogue with the European Commission, the European Parliament and the finance ministers of the euro area countries. In addition, there will be broad
engagement with market stakeholders to ensure that a digital euro meets users' needs.
The Governing Council will review the outcome of the investigation phase in autumn 2023 and decide, on this basis, whether or not to move to a realisation phase in which the appropriate technical solutions and business arrangements necessary to provide a digital euro would be developed and tested.
A decision on the possible issuance of a digital euro would not come until a later stage and would also depend on legislative developments in terms of a regulation to establish and govern essential aspects of the digital euro to be adopted by the European Parliament and the Council of the EU, on a proposal by the European Commission.
Should the project get the green light, EU citizens are unlikely to get their hands on a digital euro until 2026 at the earliest.
More details: Progress on the investigation phase of a digital euro – second report