The leading exchange platform KuCoin has listed EGLD and also completed the full integration of its systems with the Elrond Network mainnet.
"KuCoin is thus technically prepared for listing ESDT tokens, which means projects building on Elrond have the opportunity to access the broad community of more than 8 million people and the deep liquidity of the prominent exchange platform," according to a blog post.
With a trading volume currently exceeding $3.5bn in the last 24 hours, Kucoin is ranked 5th overall by CoinMarketCap and is a trusted avenue for the crypto community ever since it was established in 2017.
EGLD listing schedule:
Deposits – Monday, September 13, 10:00 UTC
Trading – Tuesday, September 14, 10:00 UTC
Withdrawals – Wednesday, September 15, 10:00 UTC
In the current ranking CoinMarketCap the EGLD token is # 32, with a market capitalization of 4.4 billion euros. At the time of publication, the Elrond price is RON 1,120.78 with a 24-hour trading volume of RON 2,576,839,166 (over half a billion euros).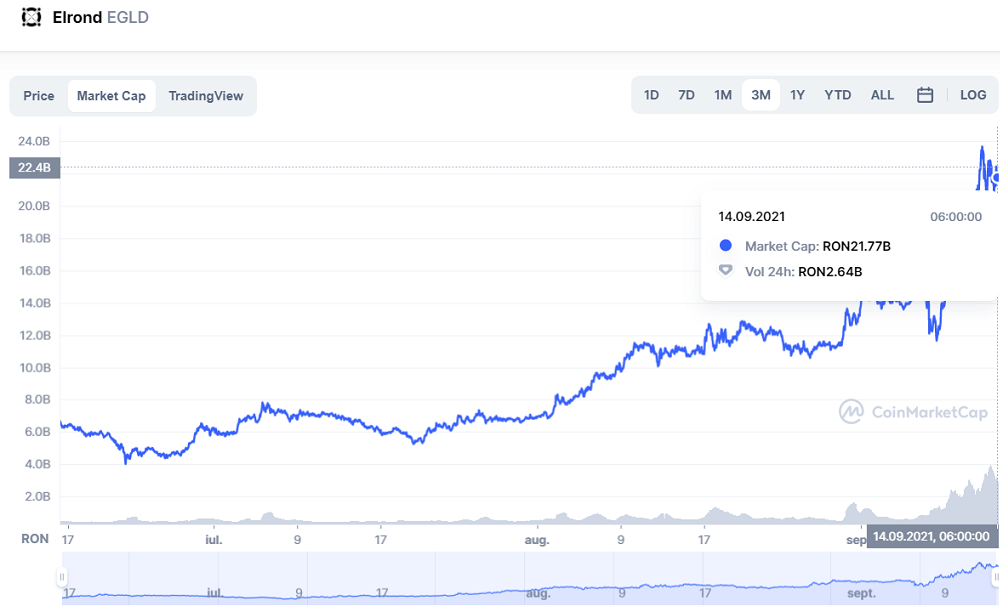 _____________
KuCoin is a global cryptocurrency exchange for numerous digital assets and cryptocurrencies. Launched in September 2017, KuCoin has grown to become one of the most popular crypto exchanges and already has 8 million registered users across 207 countries and regions around the world.
Known as the "People's Exchange", KuCoin operates in Seychelles, providing its utmost to establish multilingual communities for its users as well as 24/7 customer service. Meanwhile, KuCoin has established about 20 local communities in North America, Europe, SEA, and other regions, providing users with highly local services. KuCoin supports over 420 projects with 790 trading pairs, earning it the title of the home of crypto gems.
Elrond is a new blockchain architecture, designed from scratch to bring a 1000-fold cumulative improvement in throughput and execution speed. To achieve this, Elrond introduces two key innovations: a novel Adaptive State Sharding mechanism, and a Secure Proof of Stake (PoS) algorithm, enabling linear scalability with a fast, efficient, and secure consensus mechanism. Thus, Elrond can process upwards of 10,000 transactions per second (TPS), with 5-second latency, and negligible cost, attempting to become the backbone of a permissionless, borderless, globally accessible internet economy.