Unified platforms to grow by 70% as banks invest in next-generation software to support omnichannel and branch transformation initiatives. Two thirds of western European ATMs use multivendor solutions.
RBR's new study ATM Software 2016 reveals that ATM deployers' multivendor* software projects comprised nearly 1.2 million machines by the end of 2015. This represented 40% of the world's 2.9 million "bank-grade" ATMs, according to the press release.
The largest country market in absolute terms is China; Brazil ranks second, reflecting the major banks' long-established culture of in-house software development. At a regional level, penetration of multivendor solutions is highest in the mature, concentrated banking markets of western Europe.
RBR Principal Tom Hutchings comments: "A single solution is crucial in rolling out new ATM technologies, like contactless transactions including Apple Pay and Android Pay". Future growth will be broad-based: by 2020, multivendor software will run on over 40% of ATMs in every region except the Middle East and Africa.
NCR and Wincor Nixdorf are leading ATM software suppliers
Providers of ATM software include both manufacturers and independent companies. Banks typically procure complete solutions that combine the transaction application with a middleware platform enabling it to operate on different manufacturers' terminals. Some financial institutions – as well as third-party software companies – source only the platform, and build their own application on top of it.
NCR of the USA is the largest provider of application software overall and for multivendor solutions, the latter thanks in particular to a strong presence in China. Germany's Wincor Nixdorf and its would-be acquirer, US firm Diebold, have the second and third largest shares – and a combined presence equal to that of NCR. At the platform level, the largest independent software provider is the UK's KAL.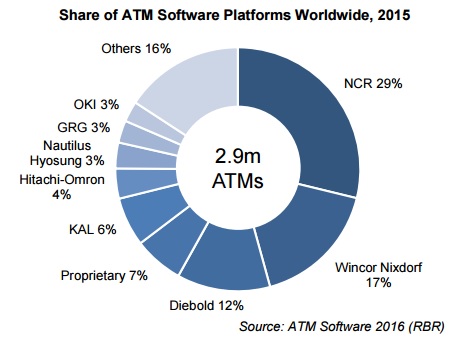 Banks demand integration with omnichannel and branch transformation initiatives
Omnichannel initiatives see the ATM linked with mobile banking and CRM systems, while branch transformation projects demand extended functionality and integration capabilities. Tom Hutchings notes: "The rapid evolution of banks' requirements creates opportunities for existing ATM software vendors and new market entrants alike".
###
* A multivendor ATM software deployment is one in which some or all machines are supplied by someone other than the software provider.
RBR is a strategic research and consulting firm with three decades of experience in banking and retail automation, cards and payments. It assists its clients by providing independent advice and intelligence through published reports, consulting, newsletters and events.