In 2012, the total global e-commerce market was worth $1,713 billion and it continues to grow. Whilst traditional payment methods are more popular in mature markets such as the UK and the US, other regions are seeing strong growth in alternative payments (which excludes cards). 17%of global online transactions were made using e-wallets in 2012, replacing that of debit and credit cards, according to a study by WorldPay.
WorldPay estimates that alternative payments will account for 59% of all online transactions in 2017, up from 43% in 2012.
Mobile payments for online purchases will increase six-fold from $18 billion worldwide in 2012 to an estimated $117 billion in 2017, according to a study by WorldPay. The U.K-based payment service provider estimates that mobile payments will make up 3 percent of the global e-commerce market in 2017, up from 1 percent in 2012.
Cash on delivery will be the only payment method with no increase in the next five years. In fact, by 2017 cash on delivery will account only for 2% of e-transactions (in selected markets).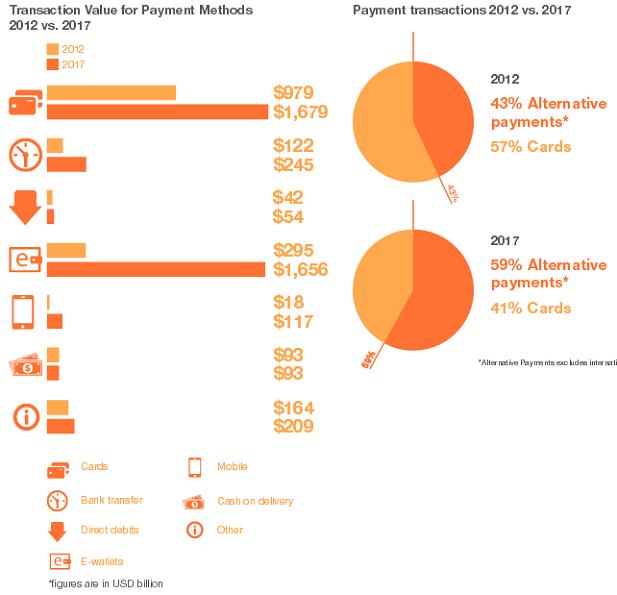 The WorldPay report, "Your Global Guide to Alternative Payments (Second Edition)," defines mobile online payments as falling into two categories: direct carrier billing (DCB) platforms such as Boku and Mopay; and mobile wallets such as Zapp and ZNAP.
The report notes that a large number of mobile wallet solutions have been introduced in the last 12 months. "Due to the infancy of many of these solutions, they predominantly only operate in their own local country or territory, with only a very small number demonstrating a truly global capability," the report reads. "DCB has become an important payment mechanism with the rise of smartphones and app stores, and aligns well with the purchase of digital goods and in-app payments. The process is quick and simple, and enables the shopper to remain relatively anonymous, only needing to provide their phone number to complete payment."
DCB is best suited for digital content and may be less suitable for buying physical goods due to high processing costs, the limitations around pricing, and the long settlement period for funds, Kevin Dallas, WorldPay's Chief Product and Marketing Officer, said -quoted by www.mobilepaymentstoday.com.
Smartphones
According to the report, which was produced with U.S.-based First Annapolis Consulting, mobile ownership is highest in Europe, with 88 percent of the population owning a mobile phone. However, smartphone ownership is highest in North America, where 54 percent of the population have smartphones.
Smartphone penetration will be key to the growth in mobile payments, Dallas said.
"The number of smartphones globally now exceeds 1.4 billion, with an average annual growth rate of 44 percent," he said. "While mobile has been a potential area of growth for some time, technology has only recently advanced enough to make mobile payments a feasible option. This means we'll see continued growth of mobile optimized sites and innovation in mobile payments. As the user experience improves, consumers will become more comfortable with making high-value purchases on their mobile devices."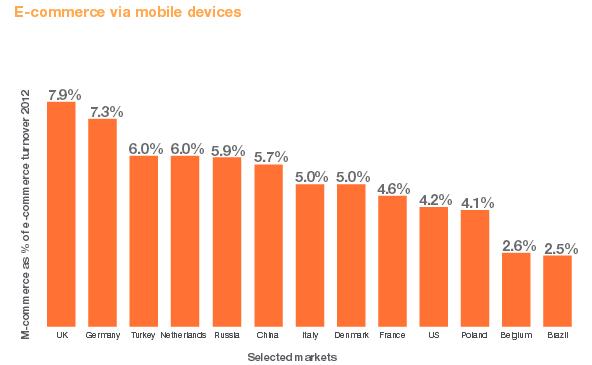 Alternative payments
According to the report, credit and debit cards will account for $1.7 billion worth of e-commerce payments in 2017, up from $979 billion in 2012. Payment cards' share of total global online payments will fall from 57 percent in 2012 to 41 percent in 2017, due to the rise of alternative payments via e-wallets such as PayPal.
Online transactions performed through e-wallets will rise from $294 billion in 2012 to $1.7 billion in 2017, according to WorldPay.
E-wallets are increasingly popular for buying digital goods and video games as they are easy for customers to use. "In more mature e-commerce economies such as the U.K. and U.S., new e-wallet products from traditional card providers such as V.me by Visa are increasingly being accepted by merchants," WorldPay said. "Globally, Alipay and PayPal continue to dominate the e-wallet market. Growth is largely driven by younger shoppers accustomed to using e-wallets for online purchases."
Alternative e-commerce payment methods such as bank transfers, cash-on-delivery and direct debits will decline between 2012 and 2017, WorldPay said. Bank transfers will account for 6 percent of global e-commerce payments in 2017, compared to 7 percent in 2012, while cash-on-delivery and direct debits will respectively decline from 5 percent to 2 percent and from 2 percent to 1 percent between 2012 and 2017.
Purchases involving pre-pay or post-pay methods, local card schemes such as MisterCash in Belgium and China UnionPay, e-invoices, and digital currencies will decline from 10 percent of total e-commerce payments in 2012 to 5 percent in 2017.

Regional differences
According to WorldPay, Africa and the Middle East have the highest regional use worldwide of mobile devices for e-commerce payments. In 2012, mobile payments accounted for 3.6 percent of the e-commerce payments market in Africa and the Middle East. The top countries for mobile online payments in 2012 were Nigeria with mobile accounting for 19.6 percent of national e-commerce payments, Kenya with 19 percent and South Africa with 13.3 percent.
In 2012, mobile payments represented 1.2 percent of the Asia-Pacific e-commerce payment market. The top Asia-Pacific countries for mobile online payments in 2012 were the Philippines with 7.5 percent, India with 4 percent and China with 1.9 percent.
In 2012, mobile online payments accounted for 1.2 percent of U.S. online payments and for 0.3 percent of Canadian e-commerce transactions.
Mobile accounted for 0.8 percent of European e-commerce transactions in 2012, with the top countries for mobile online payments being Poland (2.4 percent), Russia (1.8 percent), and Germany (1.7 percent).
In 2012, mobile represented 0.4 percent of e-commerce transactions in Latin America, with Brazil having the highest mobile e-commerce usage at 0.6 percent of national online payments.
"One of the reasons for the success of mobile e-commerce payments in Africa and the Middle East is a lack of infrastructure," Dallas said. "Africa has an extremely large number of unbanked consumers, which has driven innovation in finding ways to pay and transfer money securely. The growth of M-Pesa in Kenya shows there is a huge desire for electronic payment methods to ensure remote transactions are carried out securely."
Infrastructure challenges have restricted the growth and delivery of fixed-line Internet services in Africa. "Many Africans' first experience of the Internet has been via mobile devices, meaning that they jump straight into online commerce through a mobile device," Dallas said. "The Middle East, while not unbanked, has a relatively low penetration of payment cards in circulation. But, unlike Africa, the Middle East is relatively affluent, especially the UAE and Saudi Arabia, with a lot of disposable income available to be spent on the latest technology. These factors combined have encouraged the use of mobile devices for online transactions in the Middle East."
Dallas predicted Africa and the Middle East will continue to lead the charge for mobile P2P payments, but will cede ground in m-commerce to Asia-Pacific.
"For m-commerce and mobile wallets, we'll likely see Asia-Pacific come to the fore in the next few years," he said. "Asia-Pacific is predicted to see the fastest e-commerce growth, and mobile technologies will play a more important role as this market grows. North America and Western Europe, which have been slower to adopt mobile payments technologies, will also see growth."