The Spanish card payments market is forecast to grow at a compound annual growth rate (CAGR) of 5.7% between 2022 and 2026 to reach EUR354.7 billion ($403.5 billion) in 2026, as the country's economy recovers from the impact of the COVID-19 pandemic, according to GlobalData, a leading data and analytics company.
According to GlobalData's report, 'Spain Cards and Payments: Opportunities and Risks to 2026', card payment value in Spain registered a growth of 20.8% in 2021 driven by improving economic conditions and a rise in consumer spending. The value is estimated to have registered a growth of 11.3% to reach EUR284.5 billion ($323.6 billion) in 2022.
Ravi Sharma, Lead Banking and Payments Analyst at GlobalData, comments: "While cash remains the most preferred method of payment in Spain, the use of payment cards has grown during the past few years, supported by government initiatives to increase financial awareness among citizens, a cap on cash transactions, and efforts by banks to promote electronic payments. The growing acceptance of payment cards by retailers and the advent of contactless technology is set to reduce the share of cash within the economy."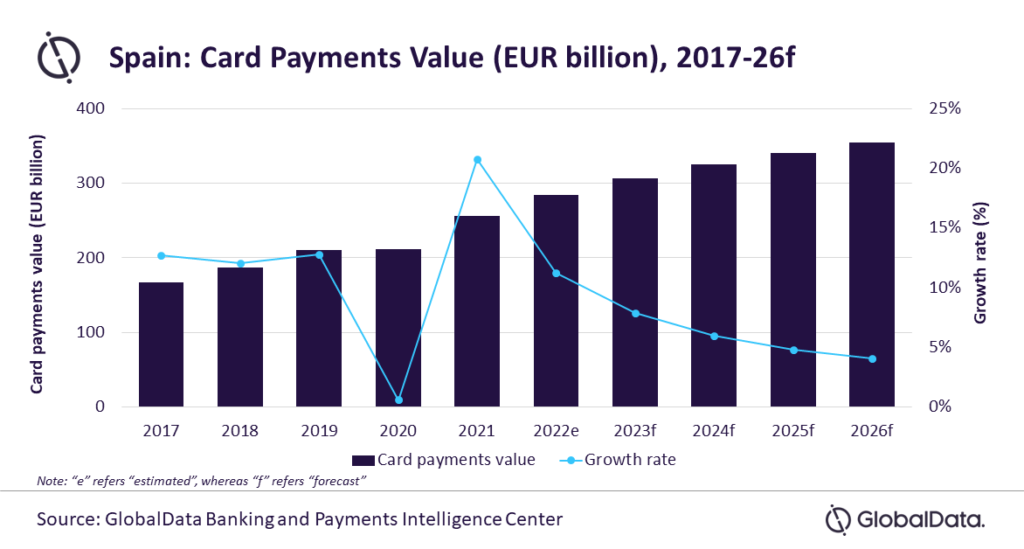 GlobalData notes that rising consumer awareness of electronic payments and a growing preference for contactless payments during the COVID-19 pandemic also helped accelerate this trend. According to Sistemapay, the domestic card scheme, 94% of total cards in the country were contactless as of December 2022.
The cap on cash transactions is also pushing the use of card payments in the country. From August 2021, consumers were prohibited from making cash payments of more than EUR1,000 ($1,137.65) to businesses. The previous limit was EUR2,500 ($2,844.13). The maximum for consumer-to-consumer cash payments remained unchanged at EUR2,500.
Sharma continues: "While card payments recovered post-pandemic, it is now facing new challenges due to global geopolitical risks and rising inflation. These factors are weakening consumer confidence about their financial situation and could affect overall consumer spending. The card payments are also expected to register a slower growth of 7.9% in 2023."
Debit cards which are traditionally popular card type are increasingly preferred now. Amid rising economic uncertainty and high inflation, consumers in Spain are increasingly spending within their means rather than relying on debt, resulting in higher usage of debit cards. The frequency of debit card payments rose from 69.4 transactions per card in 2018 to 120.0 in 2022.
Sharma concludes: "The Spanish card payments market, which was affected by COVID-19, has returned to a growth trajectory with impressive growth supported by a rise in economic activity and consumer spending. However, uncertain economic environment and rising inflation pose challenges for faster growth."