Android terminals have taken off in Spain. Over the past two years, the switch from traditional POS to smartPOS has been transformational. Ingenico's Managing Director Iberia & Africa Markets Francisco Gil Barez explains the reasons behind the shift.
Why did the market switch from proprietary terminals to Android? How did the merchants welcome these new terminals? Francisco shares his experience to "explain what happened".
Some background about the Spanish market
The Spanish market is a very competitive market. Merchants are used to getting an acquiring service for very efficient prices and, as a consequence, there is high merchant turnover. It is easy for a merchant to change supplier because acquirers are offering very similar products.
There are now about 2 million terminals in Spain[1]. The product itself is well trusted. Customers pay by card everywhere they go. But it has become a tough business. The level of electronic payments penetration was historically low, but there has been increasing take-up and transactions keep on growing at double-digit rates every year. We have seen growth in the number of transactions rather than the value of transactions because people have come to use their cards for smaller purchases as well.
Finally, and this is a worldwide trend, there is growing market consolidation. Payment is a volume business and there are many international players, of course, that operate in many markets. We are seeing local banks selling their acquiring business or partnering with international actors worldwide.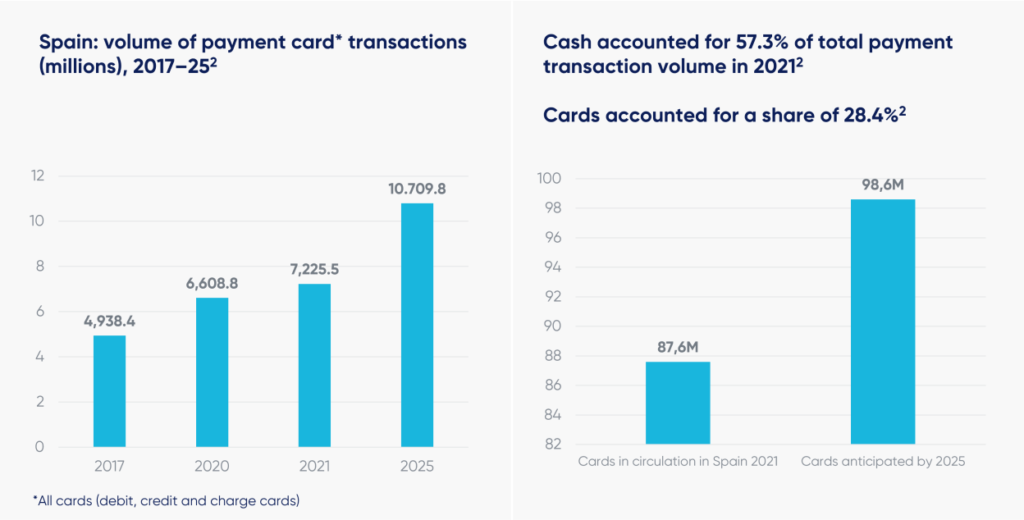 Why has the market started to switch to Android?
I think the switch to Android is exactly because of the matter of differentiation. With traditional POS you can quickly process a card transaction – but that is all it does for the merchant. It does not integrate easily with an ECR, it provides limited value-added services or business applications. Android offers an opportunity for differentiation, and probably for decommoditising the business of acquiring in some ways. Our partners in Spain were therefore very keen to introduce Android. We were able to deliver Android in similarly efficient ways to the old technologies, while Android offered other services on top of payment. Services which are relevant to a business and certainly of huge value to both the merchant and acquirer.

With opportunities we sometimes find challenges
If we put a figure on Android, today in Spain there are about 350,000 Android terminals, most of which are Ingenico's [1]. So there has been a huge roll-out over the past two years. I think the challenges have been similar to those faced when any new technology is deployed. At first, there is significant uncertainty. I remember that many people thought Android would be much more expensive and that the cost of maintaining the terminals would be far higher. However, repair rates have turned out to be much lower than for traditional terminals.
The quality of the software that is running on the terminal is critical. It provides a seamless experience for customers. This starts with payment – the most important function of the terminal – and flows smoothly between payment and other functions. We have put immense resources and expertise into developing payment applications that work seamlessly, with a very good customer experience. I think managing the challenges was about managing, with certainty, what will be the new total cost of ownership of operating the technology and the high-quality software that has the capability of evolving in the future. We introduced Android as part of a wider Terminal as a Service model where we took the risk of the deployment with cost predictability to our acquiring partner.
Benefits for merchants
Over the past two years, whenever I go to a merchant who has an Android terminal, I always ask the question: "Is it working well for you? Do you find any issues and how does it compare to what you used before?" I have found merchants' perceptions of the terminals to be very good. The terminals are intuitive and merchants will personalise them, adding their own logo and some business apps. The terminal is a powerful machine, similar to a smartphone, and it can really be used for anything. For example, restaurants are finding the technology very useful as it can enable things such as split payments, you can take orders with the terminal, or it can be very simply integrated with the ECR with one API. This is very useful as it eliminates errors, staff can get reports in real time, they don't forget what they are invoicing, and so on. And this is only the beginning.
As I said, there are 350,000 terminals deployed and new business applications are starting to pop-up. I don't think there will be an explosion of applications because these are business machines, not for personal use, but there is obviously a lot of scope for the development of new applications and new ways of making sales.
In terms of the volume of Android terminals deployed, Spain is one of the most advanced. What is your advice for other countries on how to get where Spain is today?
I appreciate every market is different, but I recently took under my management the African region and Android has been a success there for some years now – they leaped technologically. My advice would be to consider everything in the Android ecosystem when switching to Android, not just the terminal. The software running on the terminal is even more critical than the hardware, and the whole service architecture is critical; this also includes terminal estate management.
One point to remember: the terminal must be reliable to ensure it can perform its critical mission – payment. Android terminals continue to achieve this mission while offering additional benefits to merchants and acquirers. So, one thing those thinking about the switch can be sure of, you can replace old technology with Android technology with certainty.

_________
Juniper Research (2022) POS Terminals
GlobalData (2022) Spain Cards and Payments: Opportunities and Risks to 2025