Adyen NV's shares plunged as aggressive competition in North America contributed to the slowest revenue growth since its initial public offering, erasing more than €18 billion ($19.6 billion) of market value in a single day, according to Bloomberg. The company reported worse-than-expected sales and a profit drop in the first half of the year.
Shares of the Dutch payment processing company fell a record 40.6% to €875 at 4:49 p.m. in Amsterdam, the lowest since May 2020. Trading was temporarily halted due to volatility multiple times in the day. The decline continues today as the chart below shows.
Pricing competition, higher inflation and interest rates stunted revenue growth in the first half, the Amsterdam-based fintech firm said on Thursday.
"Beyond the current industry dynamics in North America, another factor that impacted our growth was one we wrote about at the end of 2021 too: the fact that we would have liked to grow our team at a higher pace but were unable to hire enough top-quality talent. We now see the impact of a sales team size that did not match our ambitions, particularly in North America. Since then, we have ramped up our investments. That being said, investments in the team and revenue never move simultaneously. Rather, the former drives the latter over time." the company says.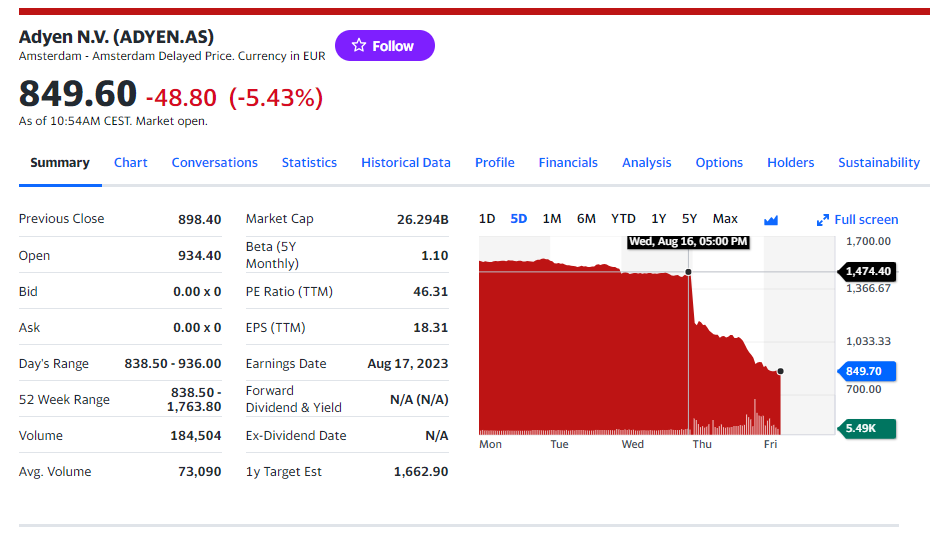 H1 2023 Figures
. Processed volume was €426.0 billion, up 23% year-on-year. Of these volumes, total point-of-sale volumes were €67.0 billion, up 49% year-on-year
. Net revenue was €739.1 million, up 21% year-on-year
. EBITDA was €320.0 million, down 10% year-on-year. This figure was primarily impacted by increased wages and salaries stemming from Adyen's investments into scaling its global team for the long term. Following these investments, EBITDA margin landed at 43%
. Free cash flow conversion ratio was 77%, with CapEx at 7.6% of net revenue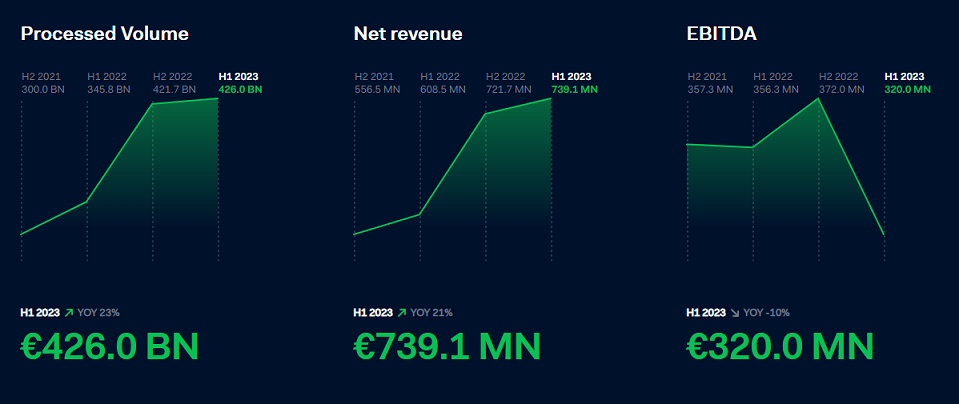 Shareholder letter & interim financial results
You can find full H1 2023 financial results and accompanying shareholder letter here.