Banking, shopping and paying with a smartphone, tablet or other mobile device has become increasingly popular in recent years − as our ING International Surveys on mobile banking over the last five years show. It's clear that many people have shifted their approach to managing money as a result of these newer technologies − but as technology advances further what might a more mobile future hold?
With this question in mind, the ING International Survey Mobile Banking 2017 – Newer Technologies set out to explore the attitudes and preferences of nearly 15,000 people across 13 countries in Europe, as well as the USA and Australia. Very interesting results for Romania.
Automatic for the people?
Part one of the 2017 report focuses on what could be defined as the human-technology interface. ING asked people what they'd be comfortable letting a computer program do automatically for them. Many indicate they wish to retain control of their finances themselves – even if they favour the advantages of automated services, such as online access to robo-advice.
Out of all activities we asked about, people are least comfortable with allowing automatic transfers of one or six months' pay into investments. Only about a third are happy to automate savings transfers or even order milk from the shop.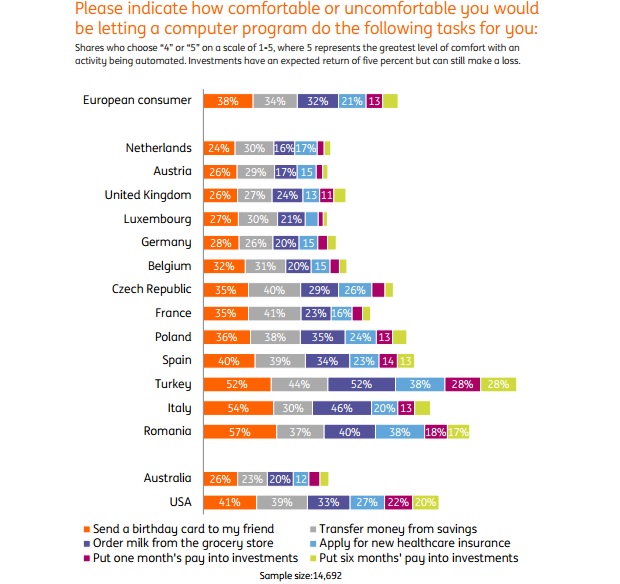 ING has defined a robo-adviser as a computer program that learns your preferences and invests money for you based on this information. We wanted to learn about attitudes to robo-advice.
Nearly two in five (36%) in Europe do not want any automated financial activities. More than half say this in Luxembourg, Austria and France. More Turks and Romanians (40%; 38%) suggest they would let a roboadviser make financial decisions for them, if these decisions still need final approval from them. The average across Europe is just 26%.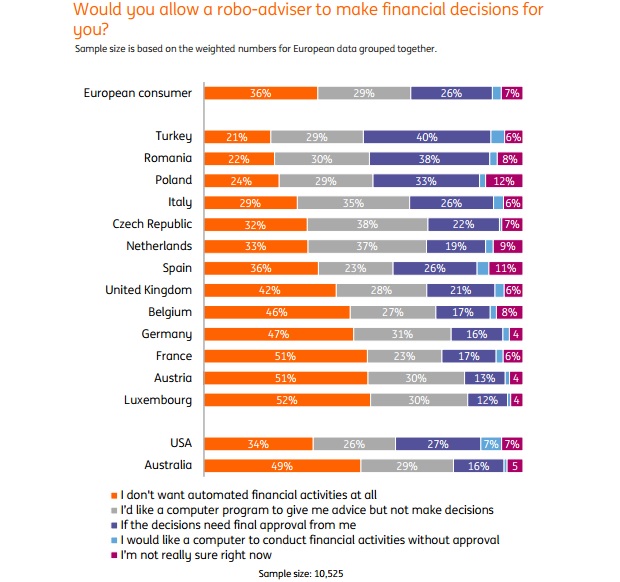 ING also found a distinct preference in most countries for receiving advice from a real, perhaps even a professionally trained, human being − such as a financial or bank adviser. Larger shares of people in Luxembourg (51%) and Austria (51%) say they'd plump for the personal touch. Romania has the largest share of people who are inclined to use an online computer program (13%).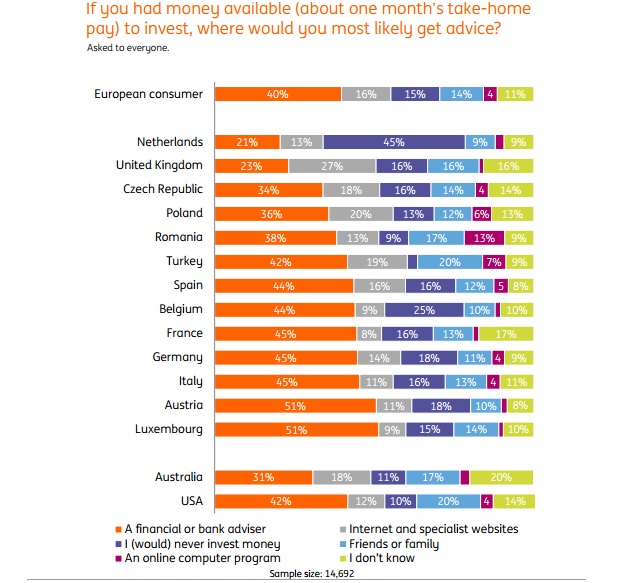 Choose your device
The second half of the report looks at mobile banking. We find that nine in 10 in Europe own a smartphone. Nearly half (48%) of the total European sample have used a smartphone for banking at least once.
Tablets are also popular: more than half of Europeans have one of these. Fifty-seven percent of smartphone owners in Europe have done their banking on this device at least once, and nearly half of Europe's tablet owners (49%) have used them for banking.
Just eight percent say they own a wearable device, such as an Apple Watch. One in every 100 Europeans surveyed has used a wearable device to do their banking, at least once.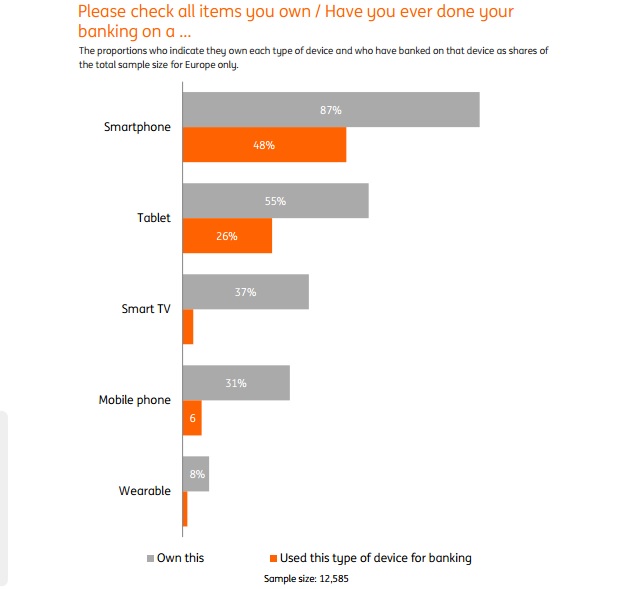 What share of device owners actually uses those specific devices for banking? The table shows the percentage per country that have banked on a specific device.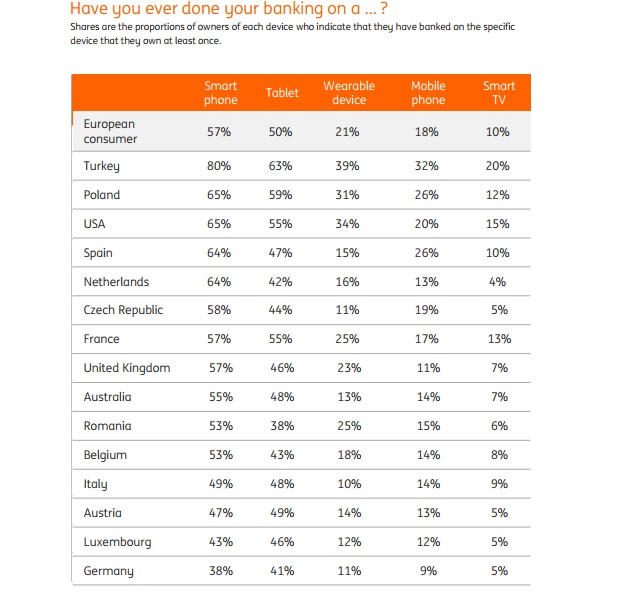 Convenience the key
More than half (54%) of those residing in Europe who have banked on their smartphone, tablet or wearable cite "convenience" as the main reason. More say this in the Netherlands (67%) and Turkey (67%).
Among those "on the outside looking in" when it comes to mobile banking, for more than half (56%), the reasons include that they don't trust the security. In Europe, 14% choose "other reasons". When asked to specify, a popular answer is "I prefer my laptop or PC". Others don't have a suitable device, or just say they aren't interested.
About three-quarters (79%) say they started mobile banking simply because it was convenient, made available to them by their bank, or they had acquired the right sort of device. About eight percent in Europe indicate they started mobile banking simply because they had purchased a compatible device.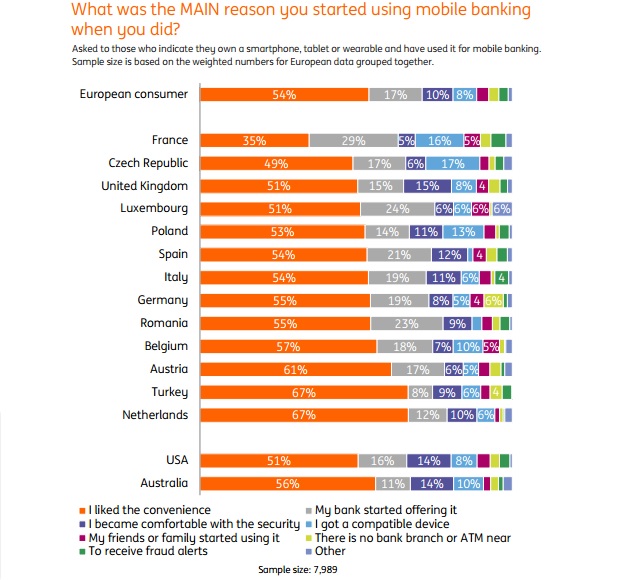 In Europe 22% on average say mobile banking "offers me nothing I cannot do in other ways when interacting with my bank". People with a university education, and men, are somewhat more likely to say this. And those who agree that "I will never go completely cashless" or who say they do not want automated financial services are more likely to say they distrust mobile security.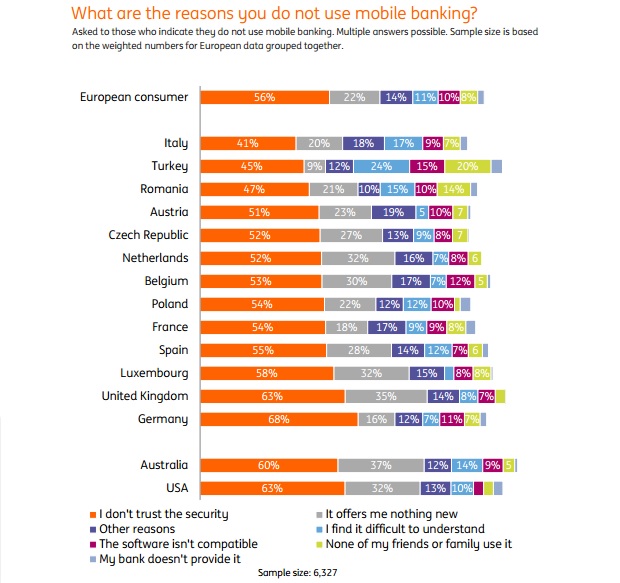 Across all 15 countries surveyed, the most popular mobile banking activity in the 12 months to February 2017 was to check a balance or transaction. In 12 of the 15 countries polled, at least a third have used mobile banking to make a payment or transfer. A third in Europe also used mobile banking facilities to receive alerts – typically checking personal finances or activity on one's bank account. Twenty-four percent in Europe did "none of these" activities.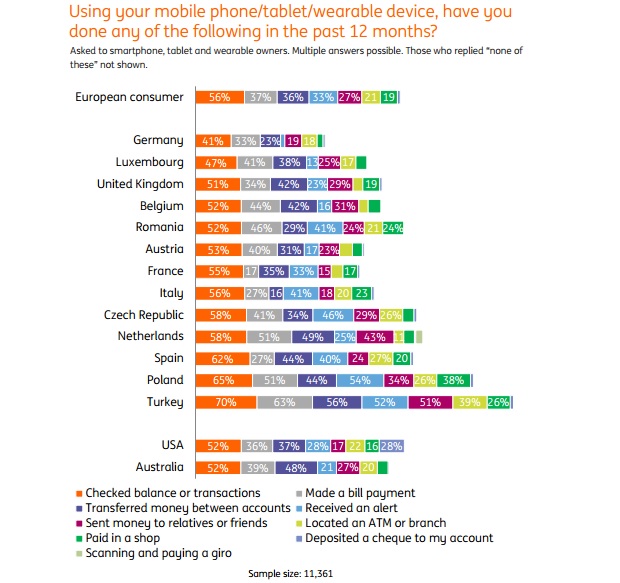 Source: ING Report: Mobile Banking 2017 – Newer Technologies (pdf)