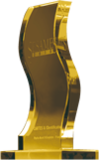 Bubble solution developed by the Romanian company Simartis Telcoms SRL is the winner of SESAME award for "Best Banking/Retail/Loyalty application". Bubble is a SIM&server solution that offers to MNOs the new way to display commercials only at the time the mobile is in the customer hand. Using Bubble, the MNOs will deliver at a relevant time the relevant commercials linked to the customer's action. This will boost the rate of response, especially if linked to an ACRM system.
The SESAMES awards competition is open to all innovative projects  in the relevant sectors and consistently attracts more candidates every year. This year, 317 applications  have been filed for 10 awards:
Best Production & Tests application: ID One Digital watermark – Oberthur Technologies
ID-One Digital Watermark is an innovative functionality embedded into the electronic component of the identity document which allows warning at the identity border control about any changes or attacks during the document life cycle.
Best Transportation application: VHBR – Inside Secure
The VHBR application accelerates data transfer between cards and readers in systems that require download of a high volume of data, such as identification systems that require a photo, or in systems requiring rapid throughput, such as transit systems
Best Mobility application: PN65 Secure NFC module – NXP Semiconductors
World's first one-stop-shop system solution for a secure NFC module, bringing mobile payment and ticketing to the market. The product combines an NFC controller, Secure Element, JavaCard operating system as well as payment and transport applications. The module comes with fully qualified NFC host software. It powers the Google Wallet solution.
Best Trusted Internet/Authentication: Next Generation secure identity Ecosystem – HID Global
HID Global's Next Generation Secure Identity platform offers a secure infrastructure based on HID's Trusted Identity Platform (TIP) and HID's Secure Identity Object (SIO) model that introduces technology-independent digital credentials for deployment on smartphones, microprocessor-based cards, contactless smart cards, USB tokens and other devices.
Best e-Transactions application: PAYware Mobile Enterprise – Verifone
PAYware Mobile Enterprise empowers users to create a checkout wherever, whenever – backed by VeriFone, the global leader in secure electronic payment solutions. PAYware Mobile Enterprise is the first commercially viable solution to integrate mobile payment devices into a PCI-compliant environment and drastically reduce PCI scope and the merchant's risk profile.
Best IT Security application: Just4YourEyes – Gemalto
Just4YourEyes enables access to secure Email from any terminal: PC, tablet, handset, using either native or web based clients. The keys used to read or create secure email are stored once in the user handset or in a secure element located in the handset. They are remotely accessed by the email client via a secure network link.
Best Identification / ID cards application: Embedded Contactless Module – Smart Packaging Solutions 
SPS embedded contactless module is an alternative manufacturing process to the "traditional way" based on inlay technology. It enables to manufacture contactless cards with the exact same equipments as for contact cards. It provides benefits for card manufacturers such as costs-savings, higher card reliability and a more secure manufacturing flow.
Best Software: Open source NFC Host Software stack for Android – NXP Semiconductors
This product is a full NFC Mobile phone host software stack. It was provided in open source to enable the launch of Android NFC phones, serving as reference in official Google Android releases. It supports all NFC applications. It also enabled the deployment of first commercial NFC services (including the recently announced Google Wallet service).
Best Hardware: Chip & Choice™ – Dynamics
The card has multiple "chips" and buttons. Only one "chip" is used for EMV purposes. A user presses a button and the payment application associated with that button is loaded into the EMV chip. The solution solves the POS software fragmentation problem that has prohibited the roll-out of advanced EMV applications.
Editorial note
Simartis Telcoms SRL is a Romanian system house, established in 2002, specialised in development masters SIM, web and server applications&services designed for the GSM mobile network operators.
Organized as part of the CARTES & IDentification trade show, the SESAMES Awards reward the best technological innovations in terms of digital security and smart technology since 1995.  The SESAMES Awards are now the world reference for smart card manufacturers and their environment. As undisputed labels of innovation, they provide a promotional opportunity, as well as reputation and credibility to the winning participants. These awards are not only intended for CARTES & IDentification exhibitors, but also more broadly for all global players in the sector: manufacturers, users, integrators and developers.
Every year, 10 SESAMES Awards are presented to the best projects in various categories. Selected by a panel of experts, the SESAMES awards represent an unchallenged seal of approval in innovation and are regarded as  global standards for card manufacturers and related industries. They represent a real promotional springboard and give the winners a reputation and credibility guaranteeing their project's success.