New research can today reveal the countries embracing the metaverse the most, with Romania emerging as the 9th most interested.
The study from BrokerChooser has analysed the metaverse related Google searches per million people to reveal the countries most interested in the virtual world. You can find the results here
The top 10 countries embracing the metaverse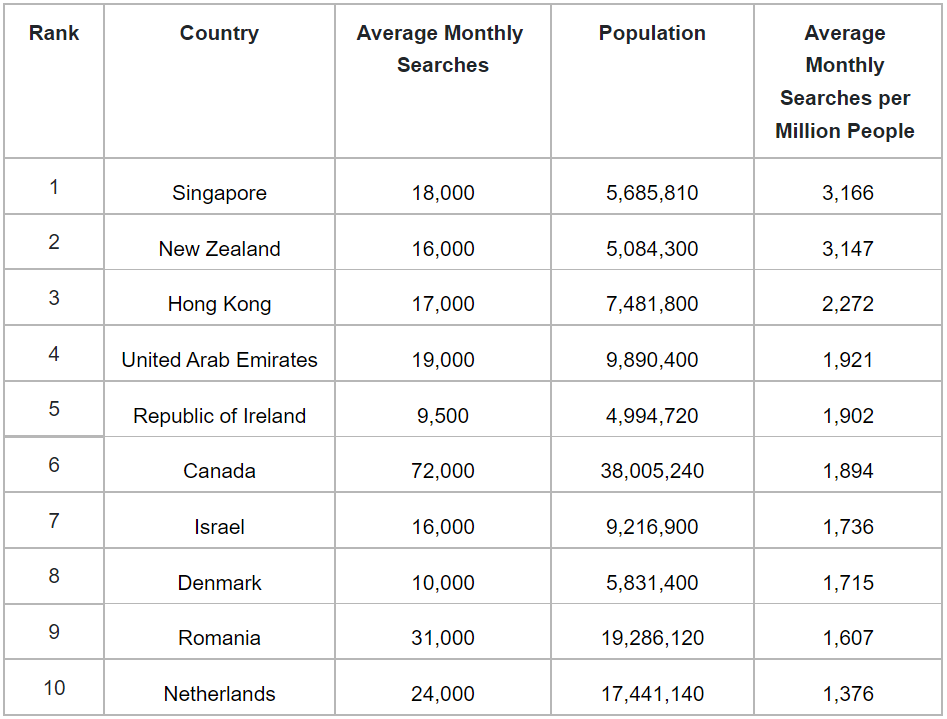 Tamas Muller, expert at BrokerChooser, commented:
"The recent success stories in the NFT space brought a lot of speculative interest to the metaverse platforms, since it's mechanism is similar, but this time it's about real estate. I don't think it's a fad, metaverse real estates have even more utility (rent out, build on it, use it for virtual gatherings, etc) than art or fashion NFTs.

"We are still early in the whole metaverse development, it's hard to know for sure if we'll have only a handful of popular digital worlds or we will have thousands of smaller metaverse islands. The direction of this will decide the scarcity of digital real estates and hence their future value.

"But if the metaverse real estate stays with us for long, it's quite sure we'll also see the rise of businesses and ecosystems building on top of it, like the emerging virtual real estate companies."
You can find the full list of countries by clicking here
___________
The metaverse can be a tricky term to define, with different people having different views on exactly what it means. This isn't helped by the fact that the very concept blurs the lines between the real and virtual worlds.
That being said, perhaps the simplest definition of the metaverse would be that it is a network of 3D virtual worlds that allow you to connect with other people, often existing alongside virtual economies and currencies.
The term has seen a huge increase in usage recently after Mark Zuckerberg laid out Facebook's intentions to create its own metaverse.
How to invest in the metaverse?
As with any new technology, the conversation inevitably turns to how money can be made from it. Many big companies are already investing in the metaverse, including Nike, which has acquired a virtual sneaker company, as well as Adidas and Givenchy, which have hosted virtual fashion shows in the metaverse.
For individual investors, there are a number of ways to benefit (although doing so can be extremely speculative and risky). To give you a couple of examples, you can invest in publicly traded stocks of companies that are tied to the metaverse, such as those in the gaming sector, or Meta itself, as well as various financial products having different exposure levels to the metaverse like ETFs (exchange-traded funds) such as Roundhill Ball, Evolve and Horizons Global.
There are also other alternative options of investing in the metaverse, for example, investing in metaverse real estate through NFTs (non-fungible tokens) or metaverse tokens such as Decentraland (MANA) and Axie Infinity (AXS) given that most metaverse projects rely on cryptocurrencies.
In theory, if the value of digital assets within the metaverse rises, then there's a chance that these related tokens will rise in value alongside them. However, as with any time of investment, these all come with their own risks.
How to buy land in the metaverse?
Metaverse real estate can be bought either through the land sale of a project or directly from other landowners via an NFT marketplace.
You'll first need to choose which platform you want to invest in (such as the Sandbox or Decentraland), before setting up or linking a compatible digital wallet to access the cryptocurrency that you'll be using to purchase the land.
Next, once you've connected your wallet, you can select the parcel of land that you want to purchase and bid for it, either directly through the platform itself, or on an external exchange or marketplace such as OpenSea.
Just remember that investing in metaverse real estate, just like investing in anything, has its own unique risks, so be sure to do your research and only buy through trusted platforms.