With 11 countries already having launched their own Central Bank Digital Currencies and more than 100 countries in the process of developing one, various payment players are contemplating the potential impact of CBDC adoption and their role in the game. OpenWay sheds light on what opportunities may arise for various organizations in this complex and rapidly-developing space.
Fast Facts: CBDCs around the world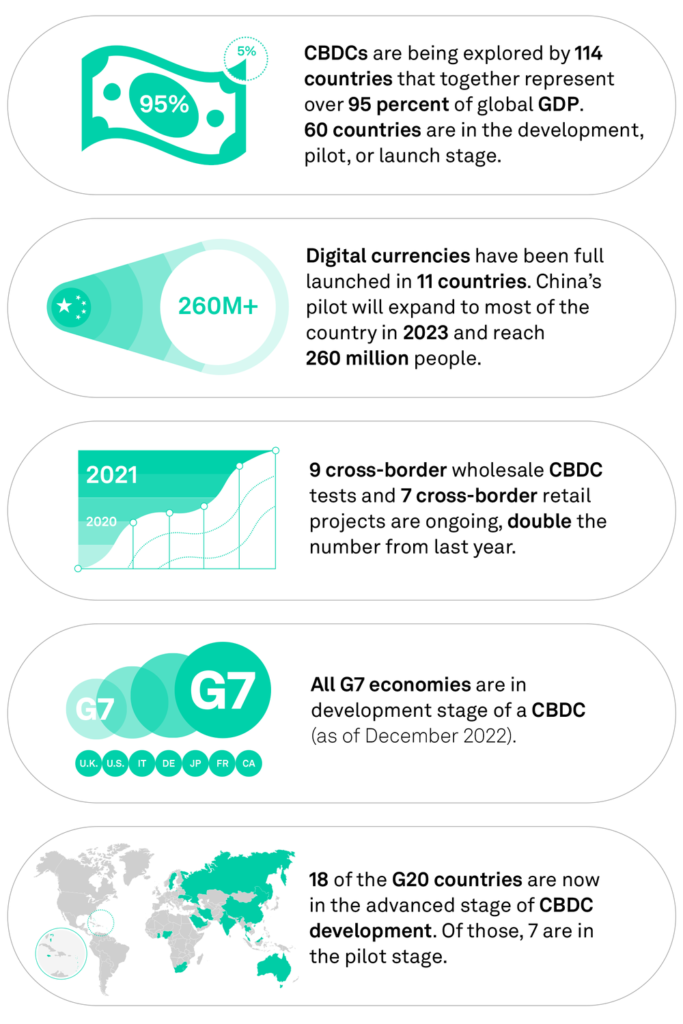 The adoption of a CBDC will most likely bring new digital business models and additional opportunities to commercial banks and financial service providers for revenue and growth, similar to the way that roles and tasks are distributed today within the financial ecosystem. Who will be the disruptive and innovative players in this new ecosystem, though, remains to be seen.
Some financial institutions are investing in solutions revolving around crypto assets. There is speculation that the adoption of bitcoin as legal tender in countries like El Salvador and Central African Republic is a sign that crypto will play a role in government-backed financial initiatives. However, organizations such as the International Monetary Fund have expressed their opposition and criticism of crypto-based tender for many important reasons. The volatility of bitcoin means that it is difficult for governments to plan tax revenues, expenditures and economic activity around it. Lack of regulation means that there is no clear way of showing how much activity in cryptocurrency is related to illegal activity. For this reason, the vast majority of countries have rejected crypto assets as possible legal tender, preferring to develop their own digital currency.
Blockchain is another matter. Institutions such as the International Monetary Fund (IMF), the Bank for International Settlements (BIS), the Financial Stability Board (FSB) and major central banks around the world are showing interest in aspects of blockchain technology like permissioned ledgers that can be merged into existing regulatory framework. Potential applications are back office functions, cross-border payments, and trading. CBDCs could use permissioned ledger technology that preserve a consistent identity and make financial systems more secure. This is an attractive proposition that make CBDCs rival cryptocurrencies in their convenience, security and transferability while delivering the stability and integrity of fiat money.
What roles could fintechs and commercial banks play in the development of CBDCs?
1. Become an enabler of cross-border transactions. Blockchain technology and the fintechs who provide them may be called to participate in developing cross-border payments using CBDC. Cross-border payments are much more complicated than domestic payments, as different national currencies are involved, often existing in different legal and regulatory contexts. CBDCs of various countries could be exchanged in real-time on digital platforms. This could potentially be done very cheaply within a simpler banking relationship and benefit developing countries especially. At this moment, central banks are researching the feasibility of various models and investigating what kind of legacy problems need to be overcome. This would be an interesting area for fintechs to step in, either as an enabler of a blockchain-based system, or in developing or migrating to an innovative digital platform that could facilitate cross-border transactions with CBDC.
An example of this is a multi-CBDC platform known as mBridge, which experiments with cross-border payments. It is based on distributed ledger technology, a new kind of blockchain called the mBridge Ledger, which will allow different central banks to issue and exchange the CBDCs of their respective countries with each other. It is being developed by the BIS Innovation Hub Hong Kong Centre, the Hong Kong Monetary Authority, the Bank of Thailand, the Digital Currency Institute of the People's Bank of China and the Central Bank of the United Arab Emirates. In 2022, the platform was pronounced a success by BIS after it facilitated over $22 million in cross-border transactions with the involvement of 20 participating banks.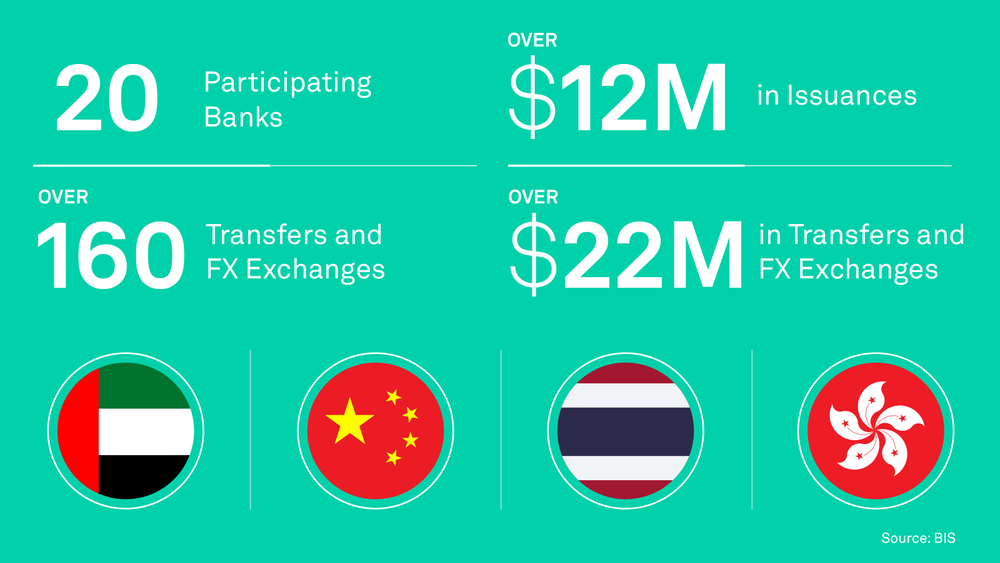 2. Enable payments interoperability and inclusivity. Along with the development and use of CBDCs, interoperability between payment methods is needed to avoid fragmentation. Fintechs could provide valuable consulting services, technological innovation and integration assistance to ensure that the domestic and global payment systems remain unified and inclusive.
The ability to interface with existing payment systems is important to ensure that CBDC can be used for everyday payments, both domestically and abroad. The National Bank of Cambodia (NBC) developed one of the world's first central bank digital currencies, the Bakong, in October 2020 together with Japanese technology company Soramitsu. The currency uses a blockchain framework and the core system grants connections through payment gateways with financial institutions. The Bakong is accessible for both interbank transactions and everyday retail payments for almost nonexistent transaction costs, and requires only a smartphone and a Cambodian phone number to use. It is also collaborating with overseas financial institutions for cross-border remittances.
In the UK, BIS Innovation Hub in London supports the Project Rosalind initiative to develop application program interfaces (APIs) for CBDC, exploring how the central bank's central CBDC ledger can interface with private sector payment providers.
3. Provide expertise in designing a CBDC that will be adopted and integrated into the current payments landscape. Many technologies such as distributed computing, distributed ledger, machine learning, predictive analytics are areas where fintechs can provide their expertise in the creation of CBDCs. The extensive experience of fintechs in this area can help central banks create financial products and services around CBDCs that are lower in cost and prove attractive from the end user's point of view.
In some countries such as Jamaica, commercial banks are authorized to create CBDC accounts. Since CBDCs cannot be used to generate fees, there may not be a big incentive for their use. But commercial banks might explore embedding a CBDC account into a wallet where lots of additional services could be added as a source of revenue. It should be kept in mind that the role of commercial banks in CBDC is still yet to be clearly defined. But in any case, to make adoption of CBDCs worthwhile and not to be perceived as a threat to the traditional banking sector, it must be demonstrated that CBDCs will have tangible benefits for banks, payment players and non-financial institutions. Central banks will benefit from business cases and best practices from consumer-facing financial institutions to build CBDC solutions that will be widely adopted as soon as they are launched.
In September 2022, the European Central Bank invited Amazon, Woldline, CaixaBank, European Payments Initiative (EPI), and Nexi, an OpenWay client, to take part in a prototyping exercise for the digital euro. According to a press release, "Amazon will develop eCommerce payment prototypes; Nexi will test point-of-sale (POS) payments initiated by the payee; Worldline will develop peer-to-peer (P2P) offline payment prototypes; CaixaBank will focus on P2P online payments; and the EPI will test POS payments initiated by the payer".
In December 2022, the Bank of England put out a contract for a vendor to help develop a CBDC wallet app prototype for user experience testing. Desired functions are a sign-up process, updating of details, display of balances, transactions and notifications, as well as the ability to perform P2P payments through account ID or QR code. This will help the bank to visualize CBDCs from the point of view of the end-to-end user journey.
4. Provide innovation labs and technologies for experimentation with CBDC development. Central banks are teaming up with fintechs to experiment with existing digital infrastructure and services such as blockchain-as-a-service to pilot and launch prototype CBDCs. An example of this kind of collaboration is ConsenSys, a software company offering Ethereum-based blockchain solutions, and its work on CBDC pilot projects with the Reserve Bank of Australia, France's Societe Generale, the Bank of Thailand, and the Hong Kong Monetary Authority. The company has launched the Codefi Payments Sandbox, which allows digital currency issuers to design and build infrastructure and build services around prototype CBDCs.
Norges Bank is collaborating with a domestic fintech, Nahmii, to create a sandbox production environment for token management use cases leveraging a private enterprise blockchain. The experimental testing will last until the summer of 2023.
More details here – What Fintechs Should Know About Central Bank Digital Currencies