Prima zi a conferintei internationale Banking 4.0 a oferit keynote speech-uri de exceptie si paneluri extrem de atractive care au facut ca audienta sa depaseasca 2000 de accesari: dintre care jumatate in platforma de networking a conferintei si jumatate pe pagina de facebook a NOCASH (dupa primele opt ore de emisie, dintre cele peste 10 ore inregistrate in prima zi).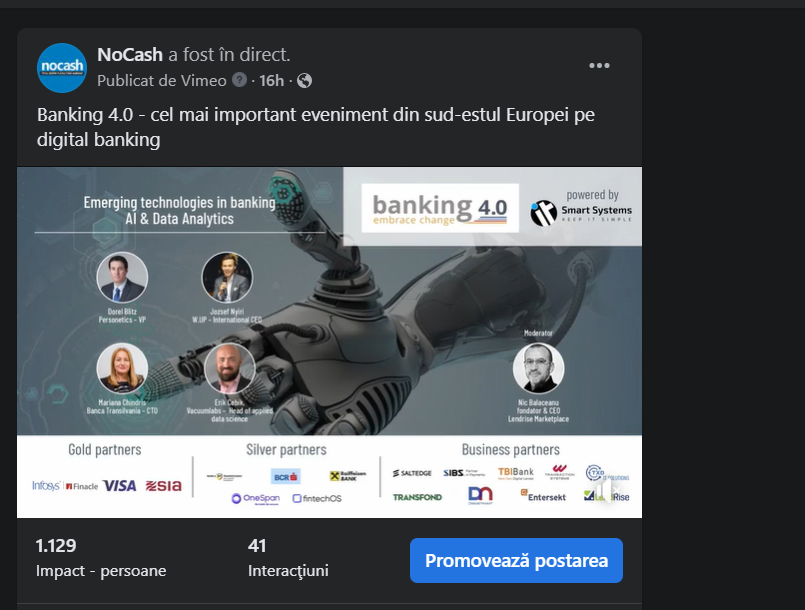 Cea de-a doua zi rezerva un sase paneluri, toate pe zona de plati. Foarte probabil ca cel mai asteptat dintre ele este cel legat de open banking, cu o "distributie" de exceptie.
Interesant se anunta si panelul de crypto, unde va fi prezent si reprezentantul BNR, directorul biroului de cripto si monede digitale.
Trei keynote speech-uri vor fi sustinute de catre
Etienne Goosse – European Payments Council, Secretary General SEPA: Request-to-Pay Scheme
Frantisek Jungr, Head of Product in CEE at Visa: "New chapter in digital payments. What's in focus?" – 'New flows': Crypto, RTX, Sustainability together with Money transfer (B2B, P2P, B2C, G2C, C2G or C2B).
Anders Olofsson, Head of Payments at Finastra: "How bank's business and operating models will change"
Ziua se termina in forta, cu un panel pe Buy Now Pay later si finantare alternativa, in cadrul caruia se va anunta o premiera pentru piata romaneasca.
Asigura-te ca nu pierzi nimic din tot ce este important pentru tine.
Prima zi in imagini