February 23, 2012 – PayPal, the online payments company owned by eBay Inc, just got a new rival in the race to develop a mobile payment service that can be used in physical stores. Boku Inc, a big online mobile payments company, unveiled a new service that lets people pay with any mobile phone anywhere credit cards are accepted – according to Reuters.
Boku already provides carrier billing through about 240 wireless carriers, including AT&T Inc, Vodafone Group Plc and Verizon Communications Inc in 66 countries, including Romania. This service lets people pay with their mobile number and get the transactions charged to their monthly phone bill.
Carrier billing is typically limited to smaller online purchases, either through personal computers or within mobile phone apps. Boku's new platform, called Boku Accounts, allows purchases in physical stores, a much bigger market. The service will be branded and offered by wireless carriers to customers, with Boku running the system in the background.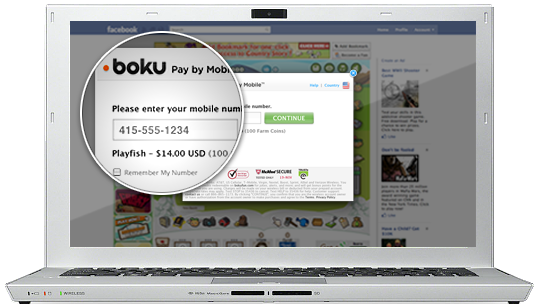 The move puts Boku in closer competition with PayPal, which is pushing its popular online payments service into physical stores. Google Inc is also trying to get its Google Wallet service into stores through a partnership with giants such as MasterCard Inc and Citigroup Inc.
PayPal's in-store offering works with merchants' existing point-of-sale terminals, but usually requires a software upgrade. Google Wallet works with phones that have Near-Field Communication, or NFC, chips in them and merchants need a terminal that supports this technology.
Boku's service comes with a sticker that users can slap on the back of their mobile phones, turning any handset into an NFC-enabled device. It also comes with a payment card that can be swiped using existing retailer terminals, without a software upgrade, according to the company.
"We wanted this to be available in any store," Ron Hirson, co-founder of Boku, said. "You don't need a new phone or a new terminal."
Founded in 2008, the Boku company creates software that helps online merchants process payments using a customer's cell phone number in place of a credit card; it then takes a small cut of each transaction. The company has raised $42 million in venture capital to make your mobile phone a payment option when you are shopping online. Instead of entering your credit card number when you shop online, just enter your phone number, and the money is charged via your mobile phone bill.
In 2009, Boku partnered with mobile operators around the world to enable their subscribers to purchase virtual goods simply using their mobile number. Within 2 years, company grew to become the largest global mobile payments network servicing 66 countries through more than 240 carrier partners, connected to merchants such as Facebook, Disney, EA, and Zynga. By inking deals with both online merchants and mobile operators it allows people to make purchases via their mobile phones that then appear on their mobile phone bills. The vast majority of its payments are small amounts spent on purchases such as online games.