To explore attitudes toward mobile payments, Oxford Economics and Charney Research surveyed 2,000 consumers and 300 business executives around the world in the fall of 2016. "We found that companies underestimate consumers' enthusiasm for mobile payments, and businesses must do more to address their customers' security concerns.", according to the report.
More than two thirds of global consumers (70%) fear hackers could steal their personal information when they use a mobile wallet. Nevertheless, almost three quarters (75%) would be more likely to use mobile money if fraud losses were covered.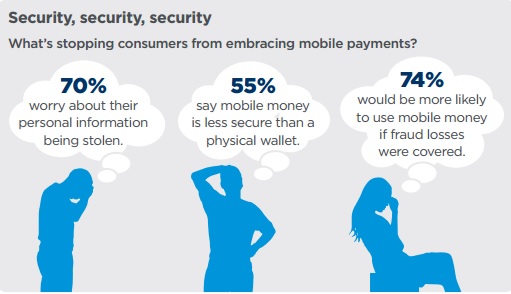 As Claire Calmejane, director of innovation at Lloyds Banking Group in London, observes, "In emerging markets, people just jump a generation of technology and go directly to mobile banking." These nations, where mobile money has gained dramatic wallet share, provide a glimpse of what the payments landscape could look like when the rest of the world catches up.
Consumers in developing countries are more comfortable with mobile payments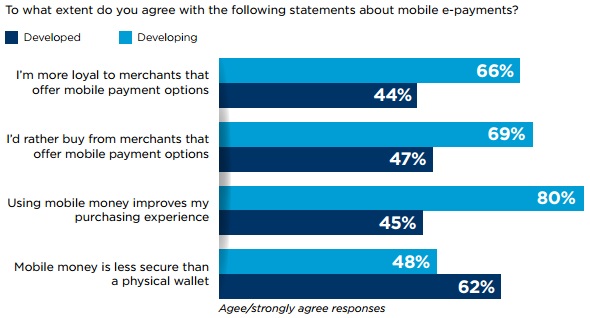 "A mobile phone is a very, very powerful piece of machinery," says Starling Bank's Ms. Boden. "It has a camera, it records your voice, and it knows where you are." No other device has so many ways to confirm your identity. Our survey suggests mobile payments trigger a positive feedback loop once adoption becomes widespread. For example, in Kenya, where mobile money has become the go-to payment method for half the country, 59% of consumers say it's the safest way to conduct a transaction— the only country where a majority feels that way. By contrast, only 1% of consumers in Japan, 2% in the UK, and 4% in Germany feel similarly.
Neither executives nor consumers are convinced of mobile wallet security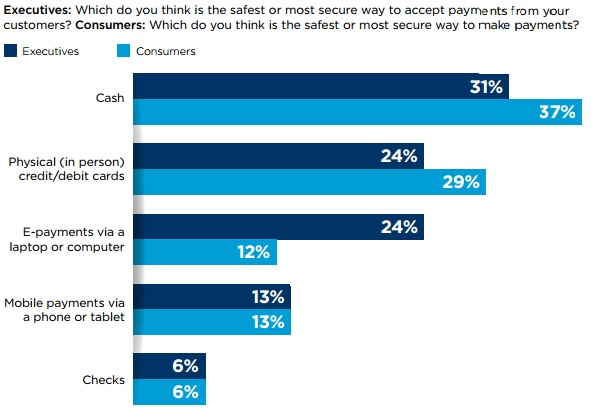 As mobile phones become a necessity rather than a luxury for more and more of the world's population, experts predict they'll increasingly be used as wallets. "Going forward, pretty much any phone you buy will also have the capability for mobile payment to happen," says Mr. Holland of Dunkin' Brands. Indeed, many of the world's best-known consumer brands are betting that when people can shop without handling cards or cash, they'll spend more. It's not yet clear whether that bet is paying off.
Digital payments have room to grow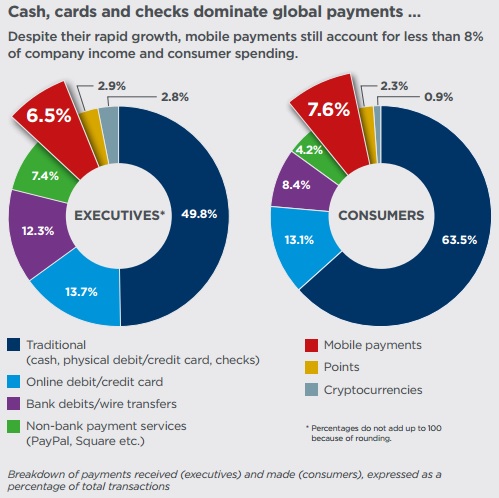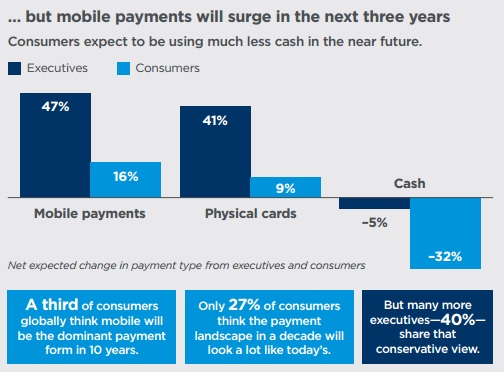 Security was the most widely cited factor in decisions about whether to use mobile money: 36% of consumers said it was the most important issue for them, convenience came in second at 31%, and only 8% chose rewards.
"Companies must take their customers' safety concerns more seriously and start providing the authentication features consumers want. Until they do, consumers won't make mobile wallets their go-to payment option. Points, discounts, and cash back are the icing on the cake—the cake itself is confidence.", says the report.
 Consumers crave biometric features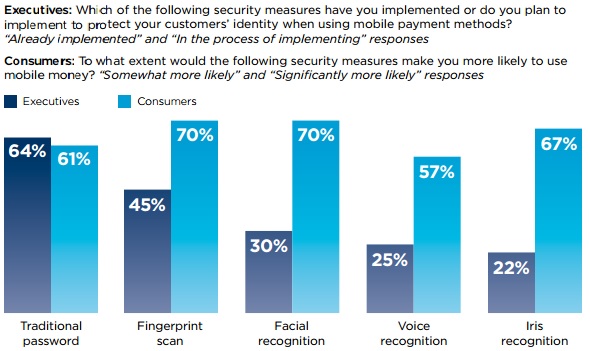 "Business leaders need to better understand the cost and security benefits of mobile payment technology. They need to review their assumptions about consumers' payment preferences. They need to reassure their customers that mobile wallets come with the same indemnification as old-school credit cards, and with greater protection against theft. Finally, they need to harness the technology's potential for delivering the security, convenience, and rewards that consumers have come to expect from a payment system.", concludes the report.
For more details download the report: "The future of money: How digital payments are changing global commerce" 
About the research
Oxford Economics and Charney Research, in partnership with NTT DATA, Inc. and Ingenico ePayments, conducted two online global surveys during fall 2016. We reached 2,000 consumers and 300 business executives, split evenly across the following 10 geographies: the US, the UK, Germany, Scandinavia (Norway, Sweden, and Denmark), Japan, China, India, Brazil, Kenya, and South Africa.
The executive survey covered the travel, gaming, technology, financial services, healthcare, and retail sectors, each 17% of the sample. Respondents are C-level and direct reports, including CEOs/presidents (26%) and owners/ co-owners (33%). Their businesses range in size from less than $100 million in annual revenue (25%) to more than $5 billion (6%).
The consumer survey covered several age, income, and education bands to ensure a diverse sample of respondents, 58% of whom live in a city, 29% in a suburb, and 13% in a rural area. We also conducted in-depth telephone interviews with nine business executives and payment experts from around the world. Our interviewees are quoted directly throughout this report, and we are grateful for their insights.