More than three quarters of Android users (78%) would use a service similar to Apple Pay if it became available to them, a survey conducted by Helixion has found. The survey covers individuals from UK, US, Australia, Canada and Italy. Helixion findings showed a strong appetite in Android users for making instore payments with their phone.
"Only time will tell how long it will be before those 78% become actual users," Helixion says. "One thing is for sure, mobile payment on Android has strong potential. We believe the results reflect that the appetite for mobile contactless payment is linked to contactless payment usage more generally — Australia and Canada are two of the leading countries when it comes to contactless payment.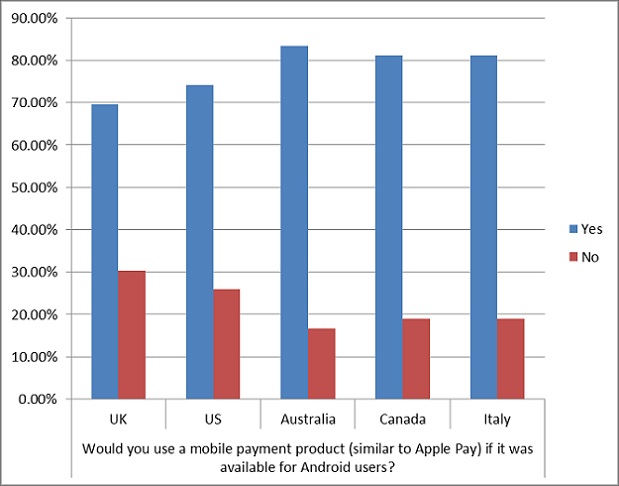 "Apple Pay certainly helps drive awareness of mobile payment, but it seems safe to assume that people paying contactlessly with cards are more likely to do it with mobile."
So where does that cheeky 3% figure come from?
"Well, we asked the Android users who they would like to provide their "Pay" service. We were curious to find out if Apple – given their early market lead – would be in the running. It turned out only 3% of Android users considered Apple to be their first choice provider.", says the report.
So who is that first choice?
According to Helixion research, Android Pay from Google is the clear winner in our survey; but we can't help wondering if other factors influenced this table topping result. Did our respondents consider the question in a mobile context or a payment context? When answering this question, it would be natural to consider who Apple's main competitor is – which is Google in a mobile context, thus pushing Android Pay up the leader board. It will be interesting to see, if this is reflected in real life.
Does this mean all is lost for Samsung Pay? Or any other OEM Pay? We don't think so. For starters, we carried out our survey prior to mainstream media reporting on Samsung Pay. We believe that if Samsung preinstall phones with a good application, coupled with a strong campaign to raise awareness; then they will be right up there on the leader board. The fact that they've already crossed the half million user mark in Korea proves this.
Ok, so what about the banks? Again, the figures are not as bad as they first appear. It is unlikely that Visa or MasterCard will actually offer a direct consumer product. We think it's a safe bet that anyone who chose a payment scheme solution would choose to use another financial institute – their bank. This pushes the banks into a strong position to offer these services to customers – Barclaycard certainly agrees!