Modern card issuing platforms, also known as digital card issuing platforms, allow card issuers to create cards using an API (Application Programming Interface)-driven approach; enabling cards to be delivered instantly to digital wallets, with the option for a physical card, boosting flexibility, transparency and speed significantly.
A new study from Juniper Research, foremost experts in the payments market, found that the number of payment cards issued via digital platforms will reach 1.3 billion annually by 2027, from just 500 million in 2023.

This growth of 170% reflects strong interest in improving the way users access and replace cards from issuers. This is in the context of strong competition between issuers from digital-only banks and new fintechs offering card services.
Top Modern Card Issuing Platform Vendors Ranked
As part of the study, Juniper Research released its latest Competitor Leaderboard for 2023. Underpinned by a robust scoring methodology, the new Competitor Leaderboard ranked the top 16 leading modern card issuing platforms, using criteria such as the completeness of their solutions and their future business prospects.
The top 5 vendors for 2023:
Thales
G+D
FIS
Fiserv
Marqeta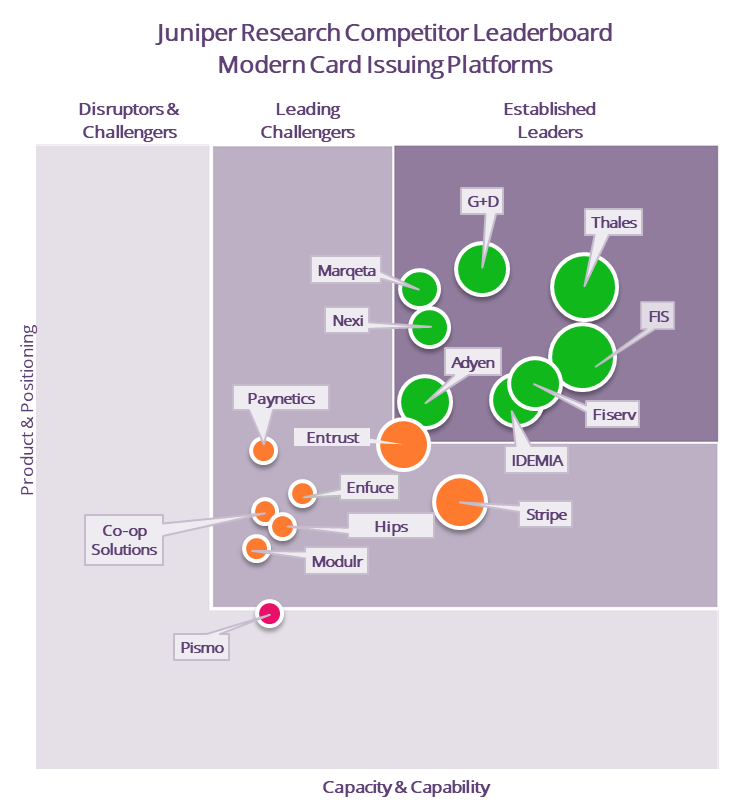 The research found that the leading players scored well based on their breadth of customisation options and the large number of customers and capabilities, such as personalisation and tracking available. To stay ahead of the competition, modern card issuing platform vendors must develop solutions that are easy to adopt and deploy; ensuring that these features can integrate with existing bank IT systems and bypass them where necessary.
Report co-author Nick Maynard explained: "For issuers, staying relevant in an increasingly tech‑enabled banking market is challenging. Improving the flexibility, transparency and personalisation of the card issuing process is an important way issuers can increase the user experience. As such, issuers should look to design superior user experiences, leveraging the capabilities that digital card issuing platforms can provide."
_____________
Find out more about the new report: Modern Card Issuing Platforms: Key Opportunities, Segment Analysis & Market Forecasts 2023-2027, or download a free sample.