Australian consumers are going online to stockpile groceries as concerns grow around the coronavirus, according to analysis by Nielsen.
Nielsen Homescan research of the four weeks to February 22 shows online grocery sales up 45% as consumers limit exposure to crowds in-store.
The Nielsen numbers show a sharp rise in online sales of basic foodstuffs including pasta (+76%), eggs (+72%), canned meals (+71%), tea (+62%), rice (+58%), flour (+55%) and shelf-stable milk (+50%).
"The rush to stock up on these goods will have an almost immediate impact on supply chains for manufacturers of the most sought-after goods," says Bernie Hughes, managing director, Nielsen Connect – Pacific.
"And while we expect that replenishment will eventually catch up in most categories – especially where production is local; there are some instances where shortages could hang around – particularly for products manufactured in, or where packaging is sourced, from China."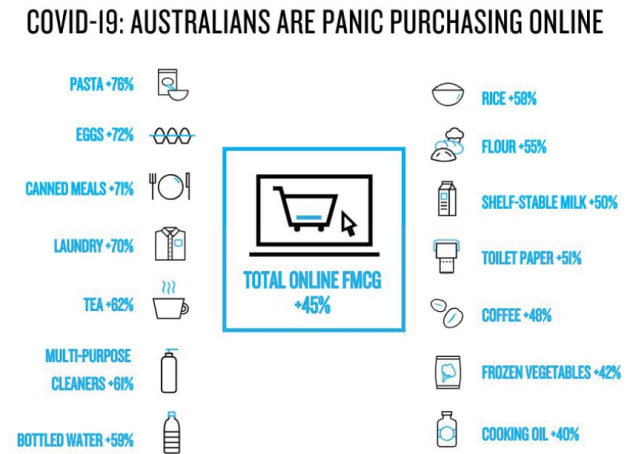 Hughes says products that come off factory lines or go through distribution systems in virus-impacted countries could also face logistical issues.
"Managing stock levels will be critical as continuous out-of-stocks will result in shoppers store switching to get the products they need; while brand loyalty could be affected as shoppers are forced to select items outside of their usual repertoire or manage their household budget to sacrifice impulse spending and non-essential items."