The GSM Association (GSMA), which represents the interests of mobile phone operators worldwide, awarded the Moldovan government the "Best mGovernment" trophy for the best performance in the mobile communication sector, especially, for the succesful implementation of the m-signature project, the government's communication and media relations department has reported.
The m-signature service was developed within a public-private partnership between the Moldovan government, e-government centre, Centre of Special Telecommunications and the mobile phone operators Orange and Moldcell. Moldovan Prime Minister Vlad Filat launched the electronic service on 4 September 2012.
The m-signature service represents the citizen's ID card in the virtual world and serves as an access key to all electronic services. Citizens may use their m-signature to log into the virtual space (online authentification) and remotely sign documents, reports, petitions and declarations to institutions. Citizens need to have their ID card and approach one of the mobile phone operators Orange and Moldcell in order to get the m-signature service. The m-signature service is also available for Moldovan citizens abroad.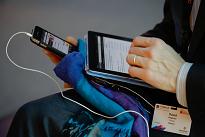 "Orange Moldova is proud to participate in the development of "Mobile Signature" project, together with the Government of the Republic of Moldova and other partners," said Liudmila Climoc, General Director, Orange Moldova. "We are happy to offer this experience to more than 2 million clients".
Mobile signature can be obtained in all Orange shops. Orange customers only need to bring their national ID with them to set it up. The service is also available for citizens when travelling via roaming. This way, they can access services from abroad, which traditionally could be requested only being home, in the Republic of Moldova.
The m-signature service is free of charge until March 2013. In the future, the price of the service would be appropriate for all categories of citizens. Moldova is one of the first seven countries in the world to use the m-signature service.
The Moldovan government won the second international prize for successful achievements in the e-government sector. The international "Cloud Computing-MCloud" platform, which is now implemented in Moldova, won the international prize "Best Cloud Project in Central & Eastern Europe".