September 20, 2011 – Globally, mobile payments will represent 15% of all cards transactions by 2013, and will overcome plastic volumes within 10 years if growth continues at the same rate, claims the World Payments Report from RBS, Capgemini and Efma. The volume of mobile payments is expected to grow at almost a 50% rate in the next three years.
The largest banks, especially those with a significant presence in the cards businesses and schemes, and mobile operators are investing in these new technologies, sometimes in partnership with producers of cell phones and providers of smartphone operating systems. It is uncertain at this point which models will be successful and how revenues will be shared.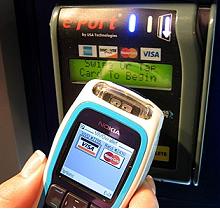 The report, which gathers data on non-cash payments from around the world, shows that there were 3.1 billion mobile payments transactions in 2009. This is a small chunk of the non-cash total of 260 billion, of which cards account for over 40% in most countries.
However, initial data suggests the number of m-payments in 2010 rose to 4.6 billion and the report predicts a compound annual growth rate (CAGR) of nearly 50% over the coming years.
This will see the number of m-payments hit 15.3 billion in 2013 – around 15% of card transactions. If the trend continues at the same rate, mobile could overtake card as the most popular non-cash payment tool within 10 years.
The value of m-payments is expected to grow at a similar rate – 52% CAGR – from EUR62 billion in 2010 to EUR223 billion in 2013, driven by workers' remittances and retail purchases. Banks will continue to dominate m-payments predicts the report, handling 92% in 2013, compared to 94% in 2010.
Says the report: "M-payments are gaining most traction in emerging markets, where they represent a costeffective and secure medium for various types and sizes of cashless payment transactions. Mobile financial services will be one of the key drivers for financial inclusion going forward."
Overall, the number of global non-cash payments grew five per cent in 2009, a slightly slower pace than the previous year as the global recession kicked in. The growth rate was lowest but still positive in North America – two per cent – and Europe – five per cent – compared to over 10% in emerging markets and Asia-Pacific.
Cards remain the preferred non-cash payment instrument, with global transaction volumes up 9.7% and a market share of more than 40% in most markets and a high of 68% in Canada. However, global card fraud has increased consistently along with card usage in recent years. The number of fraudulent card transactions grew 7.2% and 12.8% respectively in 2008 and 2009, with the amount lost to card fraud totaling €4.9 billion in 2009, up from €4.4 billion in 2008 and €3.4 billion in 2001. As a result, the scale of card-fraud losses is growing as a percentage of total transaction values.
The number of e-payments transactions totaled 17.9 billion in 2010, and is expected to grow at nearly 20% a year to total 30.3 billion in 2013. As with mobile, mainstream providers dominate, with non-banks accounting for just 6.5% in 2010, a percentage expected to rise to nine per cent by 2013.
In contrast, cheque usage around the world continues to fall, accounting for just 16% of all non-cash transactions in 2009, compared to 22% in 2005.
The report also highlights the significant costs to Europe incurred from rising euro cash-in-circulation. The ratio of cash over GDP in the Eurozone is more than twice that of the US. If the Eurozone could reduce cash usage, even accounting for the inefficiencies created by fragmentation, it could save approximately EUR20 billion per year, just through the proportional reduction in euro cash-handling costs, claim the authors.