Banks are rapidly adopting biometrics as an authentication method for mobile services and are willing to cooperate to provide customers with a common interface, according to a survey from the Mobey Forum.
Of 235 respondents from financial institutions and solutions providers in Europe, North America and the Middle East, 22% currently offer biometric authentication for access to mobile services. However, this is set to rise to 65% in the near future, with fingerprint scanning the most popular method of authentication, followed by voice recognition and iris scanning. More than half plan to launch fingerprint biometrics for their end users, with an additional 21% focusing on voice recognition.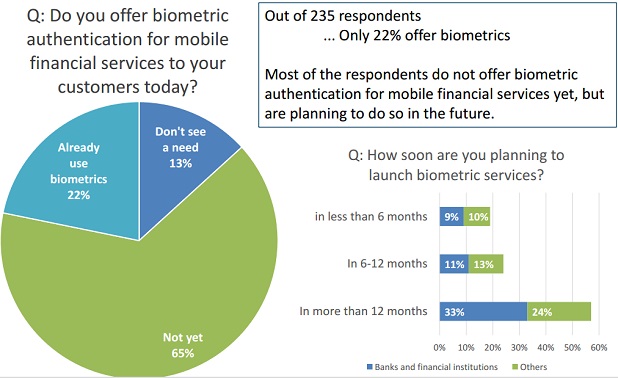 Authenticating the user during the login process and during payment or transaction confirmation was cited by 70% as the most important use case for biometrics in financial services.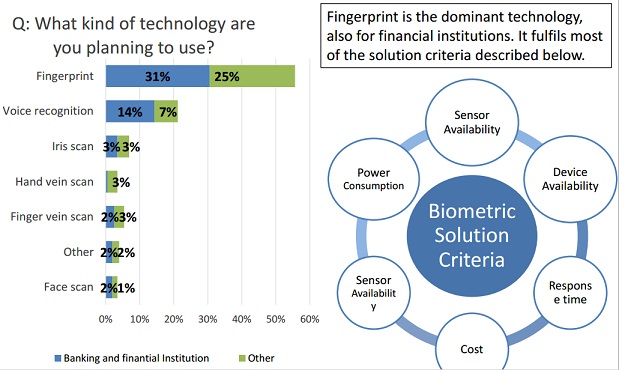 A number of key drivers for the use of biometrics are explored in the study, with nearly half of respondents stating that it is the convenience for their customers, together with the desire to be viewed as an innovative and advanced bank, that makes biometrics appealing. There are, however, a number of obstacles that need to be overcome. One in five highlighted dependence on technology providers as an issue. In addition, the customer concerns relating to privacy are seen as a barrier.
Meanwhile, 58% of banks are willing to collaborate on biometric authentication to create a common interface and enable customers to have one identity for many services.
"Biometrics in financial services still face challenges," comments Sirpa Nordlund, Executive Director of Mobey Forum. "It is clear, however, that progress is being made and there are clearly defined use cases and benefits to moving forward. We believe that inter-bank collaboration will expedite the development of this technology and 42% of the market agrees with us. Successful financial solutions need to be easy and convenient; a collaborative approach will ensure consumers are presented with stable and consistent services, driving adoption.
Mobey Forum is the global industry association empowering banks and other financial institutions to lead in the future of mobile financial services. Mobey Forum connects industry thought leaders to identify commercial drivers for the development of better mobile commerce. Mobey Forum's members collaborate to analyse business strategies and technologies to create innovative, interoperable and competitive financial services.
For more details you can download the full report here: Mobey Forum Survey – Biometrics in financial services