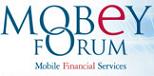 9 June, 2010, Helsinki – Mobey Forum, the global leader in defining a sustainable and prosperous mobile financial services ecosystem, has released the market's first comprehensive white paper specifying implementer guidelines for mobile remote payments. The document will be of particular interest to senior decision-makers at financial institutions, and informs readers on how mobile remote payment technology can effectively be delivered to end-users by leveraging existing systems and establishing an open infrastructure.
Entitled 'Mobile Remote Payments General Guidelines for Ecosystems', the white paper focuses on payments where two parties are able to send and receive or exchange funds using the mobile channel, irrespective of where they are located. For example person-to-person mobile money transfer or payment to merchant, where the mobile device does not need to be in close proximity to a point-of-sale terminal.
With contributions from a multitude of players that represent the entire ecosystem, the white paper highlights three key findings:
The important role of the mobile phone number – known as the mobile identifier (MID) – as a proxy for bank account details. Using the MID enables a payer to initiate a fund transfer using the payee's phone number and without the need to know their bank account or card details, ensuring customer convenience and confidentiality.
The specific requirements vary for individual markets; what might be an efficient solution for one market might not be acceptable for another. Implementers will need to consider many factors when selecting the operating model to deploy.
Roadmap to mass-market interoperability is key to drive adoption. The white paper suggests that financial institutions should start with today's infrastructure and rules, and gradually evolve towards direct interoperability through standardisation and small system changes.
Ron van Wezel, Chairman of Mobey Forum and Director of Emerging Payment Streams at Deutsche Bank, comments: "Mobey Forum has been at the forefront of mobile financial services for ten years. Now that the market is starting to adopt mobile payments we believe that the time is right to provide industry guidelines to assist payment providers in deciding how to access the mobile remote payments market effectively. This will help to promote an open infrastructure, which in turn will avoid market fragmentation and improve interoperability for the benefit of the consumer."
The white paper, created by Mobey Forum after an extensive period of consultation, provides insight regarding the mobile remote payments ecosystem's components, its stakeholders and their roles initiating, processing and completing a mobile remote payment. Commercially viable operating models required to facilitate a sustainable industry approach, and a comprehensive gap analysis that highlights how existing payment instruments can be leveraged to maximise return on legacy technology investments, are also discussed in detail.
To conclude, the document summarises core processes that will need to be developed or enhanced by providers of remote payment services, such as registration and set-up, sending and requesting payments and customer support.
Liisa Kanniainen, Executive Director of Mobey Forum, adds: "Stakeholders within this ecosystem want to bring mobile remote payments to market quickly and effectively by releasing the full potential of their existing payment infrastructures and standard payment instruments, such as credit transfers between bank accounts and card payments. This paper offers the first real insight into how this can be achieved in a sustainable and scalable approach that will result in the delivery of convenient payment services that today's mobile customer expects."
Leading banks, system integrators, payment service providers, mobile operators and services companies have all contributed to the guidelines, including: Atos Origin, BBS, Caisse d'Epargne, CellPoint Mobile, Deutsche Bank, DnB NOR, Edgar Dunn & Company, Nokia, Nordea, RBS, Redeban Multicolor, Telenor, Tieto, TeliaSonera, SWIFT and VOCALink.
Download the document now1.2 mb (PDF File)
About Mobey Forum
Mobey Forum is the global leader in defining a sustainable and prosperous mobile financial services ecosystem. Established in 2000, it brings together more than 60 leading organisations within the mobile financial services market (leading financial institutions, mobile network operators, mobile handset manufacturers, payment processors and vendors), committed to accelerating the mass-market deployment of user-friendly mobile financial services by promoting open and secure technology standards.
Source: Mobey Forum