Paysafe ("the company"), a leading specialized payments platform, today announced that it has signed a definitive agreement to acquire SafetyPay for USD 441 million in an all-cash transaction. SafetyPay is a leading payments platform that enables eCommerce transactions via an unrivalled choice of open banking and eCash solutions, operating primarily in Latin America.
For Paysafe, this latest deal strengthens its strategic foothold in Latin America, building on its recently announced acquisition agreement with Peruvian payments platform, PagoEfectivo. Together the two acquisitions set Paysafe up to be the leading open banking and eCash solutions provider in Latin America, one of the world's fastest-growing online markets.
Paysafe's core purpose is to enable businesses and consumers to connect and transact seamlessly through industry-leading capabilities in payment processing, digital wallets, eCash and online banking solutions. It offers over 70 payment types in over 40 currencies around the world.
SafetyPay was founded in 2007 as an eCommerce payments platform with the mission to enable millions of consumers to use alternative payment methods (APMs), most notably bank transfer and eCash solutions, to make online purchases. It now has a presence in 11 Latin American countries (with additional coverage in Europe, see below*), and operates via an unparalleled network of banks, with over 90 per cent bank coverage, and over 180,000 cash collection points. It serves nearly 300 merchants primarily in the travel, entertainment, and digital goods industries.
Upon completion of the transaction, Paysafe will have scale and a leading presence in the fast-growing Latin American eCommerce market, where merchants and consumers alike are showing an increasing appetite to use open banking and eCash solutions to transact online.
Further, with SafetyPay having established relationships with more banks in Latin America than any other payments provider, "Paysafe will be uniquely positioned to capture share of the nascent open banking market by integrating further Paysafe services and solutions into the region's payments ecosystem including its digital wallet and gateway capabilities," the company says.
The enlarged Paysafe eCash business will be able to offer eCash and open banking solutions in over 60 countries with over one million distribution points.
Paysafe today also announced its financial results for the second quarter of 2021. Total revenue for the second quarter of 2021 was $384.3 million, an increase of 13%, compared to $341.0 million in the prior year. Growth was partially offset by an $8.8 million impact of a business divestiture (Pay Later) in October 2020. Excluding Pay Later, revenue increased 16%.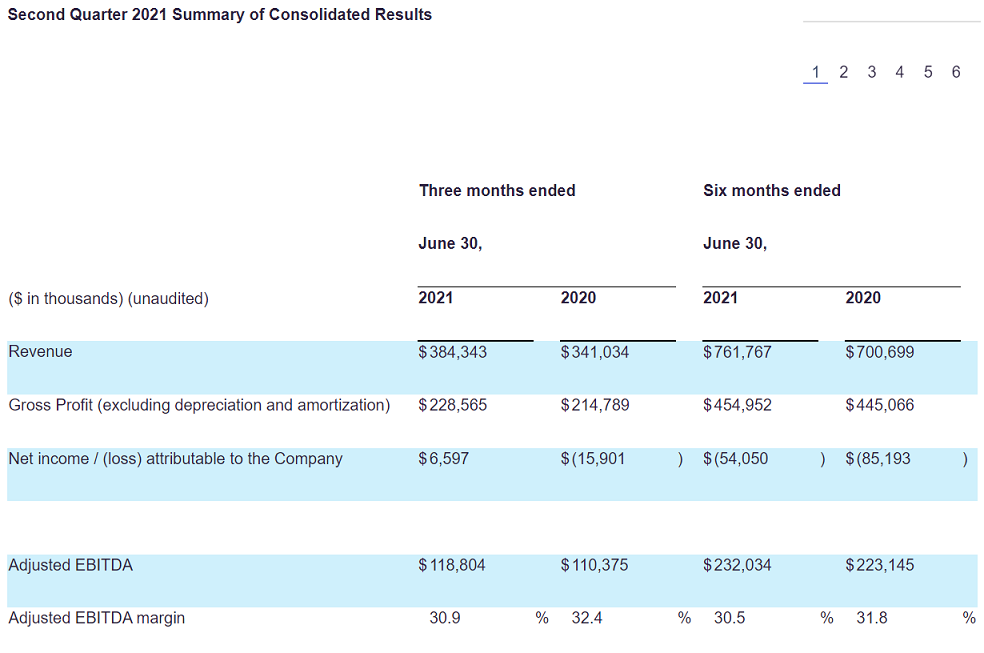 Net income attributable to the Company for the second quarter was $6.6 million, compared to a loss of $15.9 million in the prior year.
Adjusted EBITDA for the second quarter was $118.8 million, an increase of 8%, compared to $110.4 million in the prior year.
Second quarter net cash from operating activities was negative $7.7 million, compared to positive $123.5 million in the prior year. Free cash flow was $54.6 million, compared to $96.2 million in the prior year.