The penetration of pure play eCommerce at 7.5 percent or 8 percent globally coupled with the fact that digital devices play a part in 80 percent of all paths to purchase "is a sign of the new shopping ecosystem, not a danger signal", believes MasterCard. In order to increase this share of e-commerce in total retail sales, technology will make the difference because "the days of mono-channel and the undigital shopper are over", according to MasterCard.
Technology now touches nearly every retail transaction, creating a vastly different shopping experience for retailers and consumers alike, according to a report released by MasterCard. Eight out of ten global shoppers' purchase decisions are now informed by a digital device, with consumers saying they are smarter shoppers and getting more value than before. However, though in-store sales still account for more than nine-tenths of all retail spending, the result is a more focused in-store shopper buying from a narrower list of unique stores than in years past.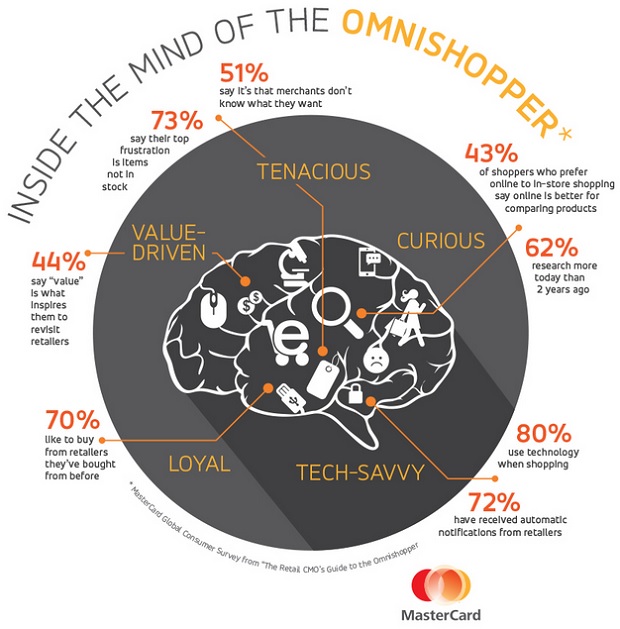 The MasterCard Retail CMO's Guide to the Omnishopper combines survey data from more than 11,000 shoppers around the globe with transaction-based insights from MasterCard. Key findings include:
Technology Use in Shopping is Almost Universal: Eighty percent of consumers report using technology during the shopping process, such as smartphone apps for price checks, "click and collect" services to buy online and pick up in-store, and in-store technology to research or order a product.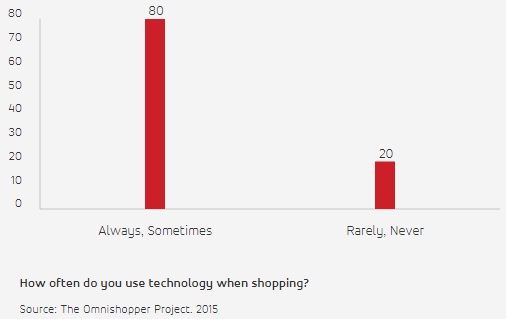 In addition, six out of ten are doing more research online today than two years ago.
Brick and Mortar Stands Strong: The omnishopper chooses physical stores for better customer service and a faster, more social buying experience. This might be a contributor to eCommerce's relatively flat growth as a share of total retail sales (7.5 percent globally).
Consumers Want Specific Inventory, and a Seamless Experience Accessing It: Today's shoppers know what they want. The top frustration – cited by 73 percent of respondents – is items not being in stock, underscoring the importance of inventory management for retailers.
Consumers Feel Smarter and Get More Value: Fully 80 percent of survey respondents said they are better shoppers, both in-store and online than they were a few years ago; 70 percent said they get more value out of their retail purchases than they did five years ago.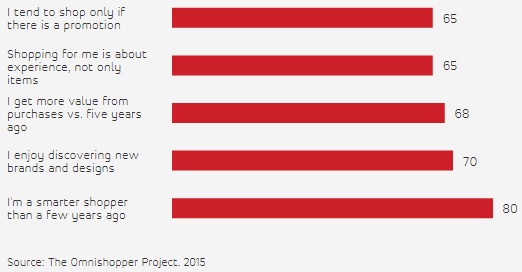 Merchants Are Primed for Omnishoppers' Loyalty: Despite having nearly endless choices a click away, only 26 percent of shoppers like to try new merchants. This can pose a challenge for retailers trying to attract new customers. Just 20 percent say technology has led them to consider a new retailer.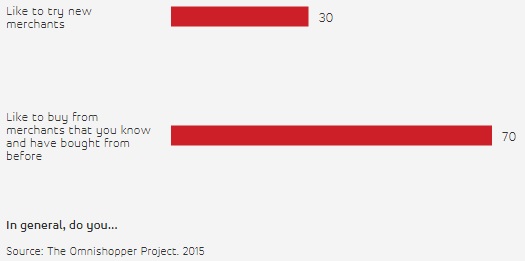 Omnishoppers Have Reduced the Number of Stores They Visit, While Researching Purchases More Intensely
Having access to vastly more information about products and prices does not directly lead to consumers expanding their merchant list in-store: their research is mainly about learning all they can about the products themselves.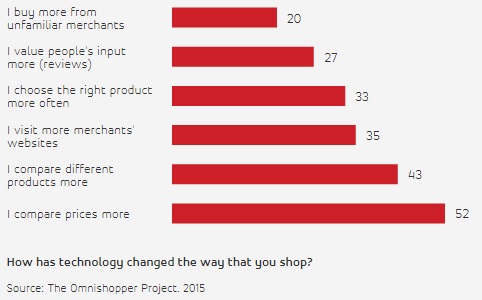 "When looking at consumers around the globe, Brazilians were the most ardent researchers. In markets like the UK and US, the more consumers research before shopping, the fewer stores they visit in the physical world," said Theodore Iacobuzio, vice president of Global Insights, MasterCard.
Methodology: The Retail CMO's Guide to the Omnishopper blends insights from MasterCard transaction-based insights with a proprietary survey of omnishoppers conducted in nine markets: Brazil, China, Germany, Hong Kong, Indonesia, Poland, UAE, U.S. and U.K. The online survey of 11,337 people was conducted July 2015.