Samsung and Mastercard are bringing a convenient commerce experience to the kitchen and transforming the way consumers shop for groceries.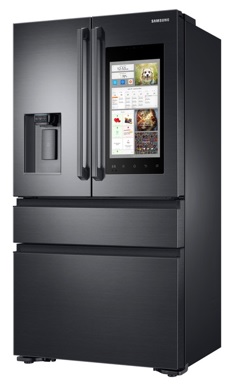 Come 2017, the next-generation Samsung Family Hub will provide consumers with a digital sous chef of their dreams. This internet-connected refrigerator will not only read recipes out aloud but with the new, voice-activated Groceries by Mastercard app, it will also allow consumers to order groceries without having to pick up a device.
Groceries was launched last year at CES and is the first shopping app integrated into a refrigerator that connects consumers to leading grocers in the most convenient and efficient setting – their kitchen. The app redefines the family grocery shopping experience by allowing households to share, build, manage and modify their grocery lists and shopping carts throughout the week.
Later this year, consumers who have the refrigerator can use voice-search to look up items by either brand or product and order from leading online grocer, FreshDirect. For example, they can either say "search for Heinz Ketchup" or "search for ketchup."
"Once options show up on the screen, they can then select the item and add it to the virtual cart all via voice and also select a slot for delivery. Final checkout however occurs with a four-digit security code that has to be typed in to authorize the card transaction. Items are then paid for in a simple, single checkout experience that accepts any U.S.-issued credit and debit cards", according to the press release.
"With voice-activation, consumers can now add to cart by simply speaking to the fridge. So goodbye shopping lists or repeated trips to the store – time in the kitchen is set to be less of a chore and more about the family." MasterCard says.