. Q1 2020 net income of $1.7 billion, compared to $1.9 billion in Q1 2019
. First-quarter net revenue of $4.0 billion, an increase of 3%
. First-quarter gross dollar volume up 8% and purchase volume up 8%
Mastercard Incorporated announced financial results for the first-quarter of 2020, versus the year-ago period. Net revenue increased 3%, or 5% on a currency-neutral basis. This includes an approximately 1 percentage point increase due to acquisitions.
The growth was driven by the impact of the following factors: An 8% increase in gross dollar volume, on a local currency basis, to $1.6 trillion. An increase in switched transactions of 13%. An increase in other revenues of 26%, or 28% on a currency-neutral basis.
"COVID-19 has made this a very trying time for everyone. We are focused on ensuring the safety of our employees and supporting our clients, small businesses, communities and government partners," said Ajay Banga, Mastercard CEO. "Although there will be twists in the road, we have seen early signs of spending levels stabilizing and are confident that we will emerge from this even stronger."

As of March 31, 2020, the company's customers had issued 2.6 billion Mastercard and Maestro-branded cards.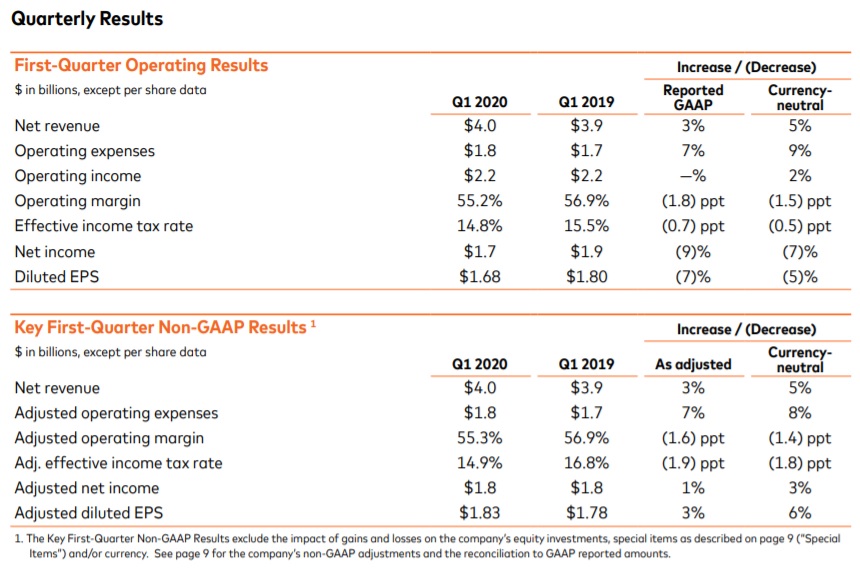 Investor's reaction to the NYSE on the first trading day after announcing the company's results led to a 3% decrease in the share price.