LINK, the UK's main cash machine network has published new data highlighting the steady decline in overall ATM use although the number of free-to-use machines is almost 24% higher than 10 years ago.
In the first four months of 2019 compared with the same period of 2018 there was a decline in LINK cash withdrawals of -8.7% in London, followed by the South East (-7.9%) and South West (-7.7%). The smallest decline was in the North East (-3.7%), then Northern Ireland (-4.6%) and Yorkshire (-4.9%).
Additionally, the data also shows a long-term decline in balance enquiries. With more customers choosing to use online and mobile banking, balance enquiries have fallen by 18% from 2016 to 2019.
The numbers forms part of a new report Preserving access to cash highlighting the growing changes in banking and cash use among UK consumers. It follows a recent UK Payment Markets report by UK Finance predicts a fall in cash usage from 28% of consumer payments in 2018 to only 9% by 2028.
Total cash withdrawals, including where customers use their own bank or building society's ATMs, peaked in the UK both for volume and value in 2012. Since then, there has been steady decline in overall ATM use as consumers have needed less cash for their day-to-day payments. LINK volumes i.e. (those relying on the LINK network to connect a card to an ATM other than one belonging to their bank or building society) peaked in number in 2016 and in value in 2017.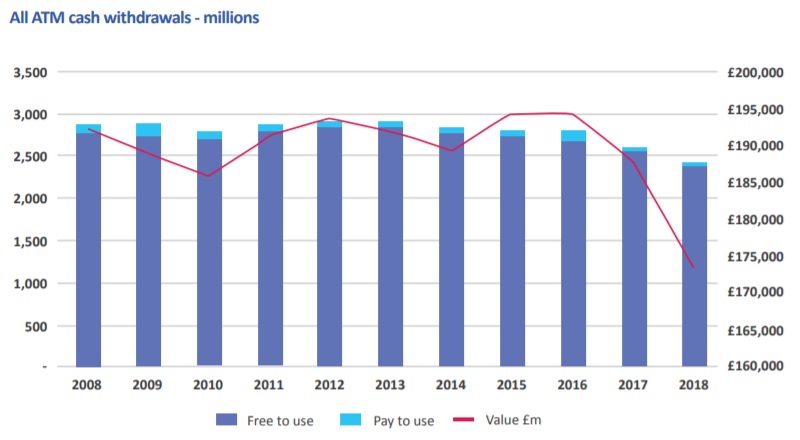 In the first six months of 2019, LINK transactions were 8% lower than in the same period in 2018, although the total value of cash withdrawn fell more slowly. Looking forward, the rate of decline in LINK transactions appears to be accelerating. The reduction in LINK transactions is currently expected to be at least between 9% and 10% for 2019 as a whole when compared with 2018.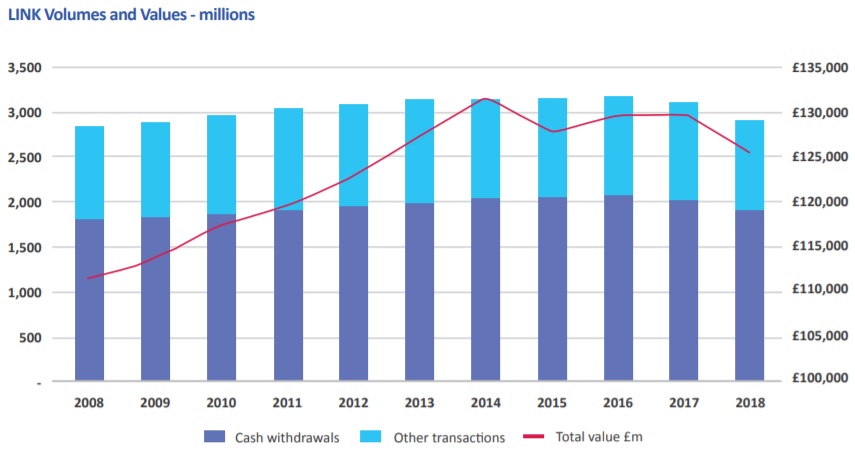 Ten years ago, there were 39,991 free-to-use machines and 23,111 charging machines. In April 2019, there were 49,502 free-to-use machines and 13,147 charging machines.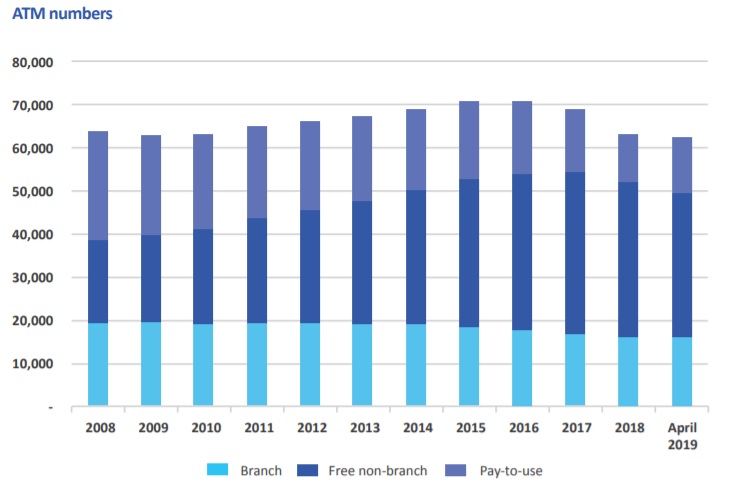 John Howells, CEO at LINK said: "These regional variations are important, and LINK will ensure that areas which are not moving away from cash as quickly as others still have their cash access protected. What is clear is that the sharp drop in cash usage means that it is vital now to reform how cash is distributed to maintain broad, free access for all consumers. LINK is determined to deliver this with the support of industry and regulators."