Electronics giant LG has struck a deal to integrate PayPal into its Smart TV platform, enabling viewers to pay for products and services through their remotes. The integration means that couch potatoes in the US, UK and Canada can use their PayPal account, rather than credit card, to purchase on-demand content from their sofas.
PayPal says the technology can also be used by retailers and charities for interactive TV advertisements that let viewers make purchases or donations in real time.
Randall Davies, Senior Director, Global Business Development PayPall says:
"Integrating PayPal into the Smart TV platform is a perfect match to enable customers to quickly and securely log in and pay without the burden of entering credit card or address information for each purchase. Consumers can use a remote to enter in their information or use LG's Magic Remote to control the onscreen keypad. PayPal will also offer a 'remember me' command for an even easier experience".
In addition to allowing consumers to use PayPal to purchase video-on-demand and other services through their LG Smart TV, this new functionality is welcome news to charities and advertisers looking to engage a whole new audience at a time when they're receptive to donate or purchase.
"The online and offline worlds have merged and commerce can now happen anytime and anywhere, and we believe the television is a natural outlet for commerce and we're excited about bringing the ease, security and functionality of PayPal to this new experience", says Randall.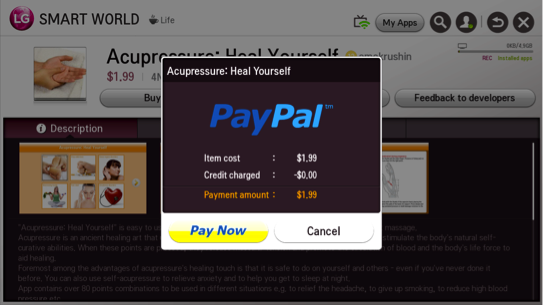 Meanwhile, the firm has formed a partnership with fellow eBay subsidiary Magento to bring 'in-aisle selling' and 'order-ahead' functionality to the 150,000 merchant that use the latter's custom stores. The in-aisle selling extension gives retailers a way to connect to PayPal Here to complete transactions anywhere in store without having to use the checkout. The order ahead feature means customers can make an order from a merchant store and pay through the PayPal mobile app before picking it up.
PayPal on LG's Smart TV platform is now available in the U.S., Canada and the U.K., and will also be included in LG Smart TVs in France, Germany, Spain, Italy and Australia starting this month with other markets to follow.