European companies are skeptical of artificial intelligence (AI). This is one of the insights from the representative survey "European Payment Practices" 2019 conducted by research institute Kantar on behalf of financial services provider EOS.
It found that almost half of the financial executives polled believe that AI is a threat to jobs. Confidence in self-learning intelligent systems is low: only one in five companies can imagine relying wholly on artificial intelligence in receivables management. The survey polled 3,400 companies in 17 European countries.
Information the key to countering skepticism about AI
"As the survey shows, there is widespread skepticism in European companies towards the use of artificial intelligence. The only way to counter this is through awareness-raising, because those who immediately associate AI with the battle between man and machine often lack the necessary background information," stresses Joachim Göller, Head of EOS Group's Center of Analytics.
Göller and his team are working on AI solutions that support EOS with receivables management. "My experience is that the more our colleagues engage with the topic the more likely it is that their prejudices diminish. Because when you use AI tools in your day-to-day work it quickly becomes apparent that they help you do your own job and are not a threat to it."
Western Europeans are somewhat more optimistic about the future
Trepidation about AI is also reflected in the fact that only 30 percent of the financial executives polled assume that artificial intelligence will be a trending issue in the next two years, while 36 percent consider it "completely overrated".
As the EOS survey shows, Eastern European companies are on the whole more skeptical than their Western European counterparts. For example, only 17 percent of respondents in Eastern Europe can imagine relying completely on AI, compared with 22 percent in Western Europe.
Anxiety about job losses is also greater in Eastern Europe, where 49 percent think AI is a threat to jobs, a concern shared by 43 percent in Western Europe. Incidentally, the greatest optimism about AI is found in Denmark, where just under a third of companies (the highest figure in Europe) can imagine relying completely on artificial intelligence in the future.
Hopes for lower error rates
Even if the companies from Europe that responded to the survey are overwhelmingly skeptical, some do see the potential offered by AI solutions. For example, a quarter see self-learning systems as a necessary component of receivables management. And 30 percent of financial executives assume that AI will "drastically reduce" error rates.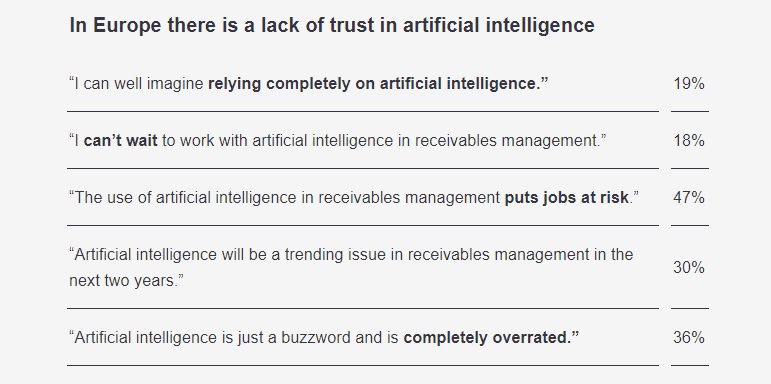 Other Key Findings
. European companies think security topics are the biggest trends in receivables management for the next two years. Among them are measures to improve data protection and cyber security. 33 percent of companies in Western Europe have taken measures in the area of cyber security. In Eastern Europe, only every fourth one (25 percent) has done so.
. In Europe, digital payment methods continue to play a subordinate role. Classic payment options are still dominant. Only 28 percent of companies offer their customers digital payment options. Whereas in Western Europe, nearly a third (32 percent) offer this variant to customers, in Eastern Europe, only about a quarter (26 percent) do.
About the EOS Survey "European Payment Practices" 2019
In partnership with independent market research institute Kantar, EOS conducted phone interviews with 3,400 companies in 17 European countries to ask them about the prevailing payment practices in their respective locations. In the spring of 2019, 200 companies with an annual turnover of more than EUR 5 million in each of the countries Belgium, Bulgaria, the Czech Republic, Croatia, Denmark, France, Germany, Greece, Hungary, Poland, Romania, Russia, Slovakia, Slovenia, Spain, Switzerland, and the UK answered questions about their own payment experiences and current issues relating to risk and receivables management. The annual survey has now been conducted by EOS no less than 12 times.
For more details download the report
EOS Study European Payment Practices 2019.pdf (3.8 MB)