Only a quarter of investors are confident that financial services firms' digital transformation strategies will be effective, according to a report from Oliver Wyman.
Banks around the world are putting in place plans to help them navigate the digital revolution as they seek to keep customers happy, cut costs and see off upstart fintech rivals.

However, despite many firms trumpeting their multi-year, multi-billion dollar transformation plans, three quarters of investors are not confident that the strategies will be effective and less than one per cent think they are clear and credible.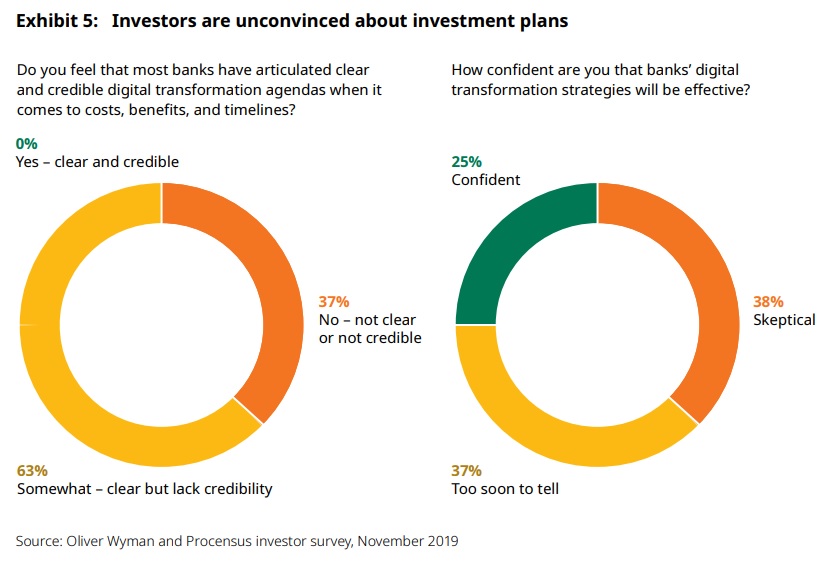 Financial services firms spend an average of five per cent of revenue per year on transformation – but investors say they do not understand what firms are investing in, or why. They don't know what transformation includes or what the endgame looks like.

This is because investors argue that they don't receive useful metrics on progress, and they are distrustful of the cost-benefit case of significant technology investments.

The ambitious, large-budget transformation programmes banks talk about and the actual return they produce have left the investor community struggling to make sense of what is really happening. Some 98% of European banks mentioned "digital" in their external communications, compared to only 27% of analyst research reports.

All of this is happening at a time when big tech and fintech firms are seeing their valuation growth soar past traditional FS players. Since 2010, price-to-earnings ratio for fintechs have steadily risen, with multiples now twice financial services firms. Banks have seen the price-to-earnings multiple fall from 14 times to 11 times.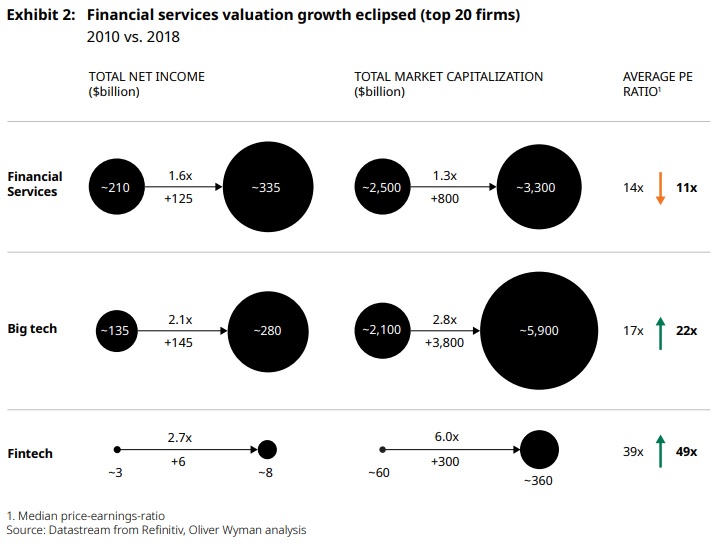 The report prescribes five approaches to help FS firms get the right balance between digital investment and ensuring value for money:
take a surgical approach to investment, avoiding me-too digital capability building
focus on a smaller number of well-funded growth initiatives
increase focus on productivity gains from investment in technology
develop better science on how to measure and manage change
improve external communications so investors can better understand what drives performance and allow progress on long-term change to be tracked
Ted Moynihan, global head, financial services, Oliver Wyman, says: "Each company needs to find the right mix to bring vision and value together and agree on a path forward – all while the threat of big tech looms, a recession may be coming, and investors are growing increasingly impatient."
Read the full report here