Instant payment service in Hungary, which has been available from 2 March 2020 for the clients of payment service providers, "may fundamentally alter the payment behavior of corporate and retail banking clients even in the short run.", according to the Central Bank of Hungary.
In its latest report dedicated to fintech and digitalisation, the Magyar Nemzeti Bank (MNB) said that "The launch of the instant payment system was successful and during its first two weeks of operation more than 5.3 million transactions were initiated of which 90 percent were settled within 2 seconds."
The introduction of this system "can fundamentally change domestic payment behaviour" as the uses of instant payment are much broader than intraday transfer, thus providing an electronic alternative for many payment situations which could previously only be solved with cash payment.
Although the emergence of complementary innovative payment solutions (e.g. sending and receiving messages of claims for payment, mobile payment of integrated cashier systems) is only expected to take place gradually, the potential opportunities of the instant payment can incentivise client to utilise this comfortable and simple cashless payment option besides card payment. "In light of these considerations, the spread of electronic payments may be given a new impetus to grow dynamically, to the detriment of cash payments.", the central bank said.
Related to cash payments the data from the online cashier system (OPG) of the National Tax and Customs Authority revealed that between 2015 and 2017, the ratio of cash transactions dropped by more than 5 percentage points (see Chart 26), and the decrease in value was even more significant as the share of card transactions exceeded 30 percent.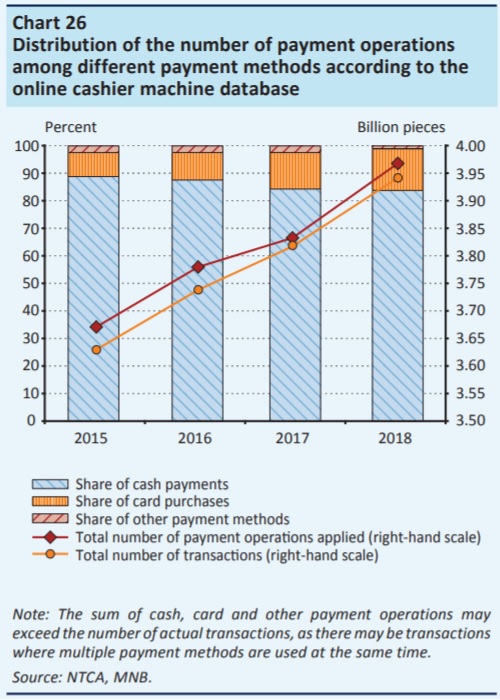 Despite the favourable trends, "further measures are needed to encourage the use of electronic payments.", MNB said. Apart from the favourable card trend, the MNB considered that additional steps were necessary to expand domestic electronic payment turnover, and therefore it was among the first to launch the mandatory, uniform implementation of domestic instant payments, which may offer a cash-free alternative in basically any situation.
Besides the development of the central system, the national POS terminal installation programme may be broadened and transformed so that it can support not only card payments, but also instant payments. It may be advantageous to support the development of the payment infrastructure with certain regulations, e.g. making it mandatory for specified merchant-groups (which can be gradually expanded) to accept electronic payments, as defined in the competitiveness programme of the MNB.
In addition, "the banking sector is clearly expected to develop user friendly payment services relying on the central infrastructure of instant payments: based on these developments, banks should facilitate the widespread use of instant payment for most of their clients through package pricing (i.e. eliminating transaction fees directly linked to transfers)."