Half of European adults with access to a mobile device such as a smart phone or tablet computer expect to use mobile payment apps over the next 12 months, according to the ING international survey among more than 14,000 consumers from 13 European countries, Australia and USA.
While 33% of Europeans have already used a mobile payment app, which allows the user to make payments via mobile or tablet, this is expected to increase to 51% over the next 12 months. This means as many as 185m European consumers could be moving towards a cashless society choosing to pay electronically rather than with physical cash.
The Survey on Mobile Banking also revealed that Turkish (56%) and Polish (43%) mobile device owners are leading the way when it comes to embracing mobile payment apps – a higher adoption rate than in the USA (42%).
However, the uptake of mobile payment apps is more gradual across some of the stronger European economies. Just one in eight have made payments via smartphone or tablet in the Netherlands (13%), while a quarter across Germany (23%) and France (25%), and 30% in the UK have done so – all of which lag behind leaders Turkey and Poland.
For those yet to embrace mobile payment apps, a lack of trust is cited as the biggest barrier (42%). These figures suggest there is still work to be done in reassuring consumers that their details are secure.
Other key findings which includes Romania:
. Internet users in Romania and Italy are particularly likely to expect to use mobile banking in the next 12 months.
. The vast majority of people who use mobile banking indicate their money management has improved since using the technology, such as feeling more "in control" of finances, not missing payments and even saving more. In fact, 85% of mobile bankers in Europe list at least one way their money management has improved since using it, rising to 90% or higher in Italy, Romania, Poland and Turkey.
. "My closest store is my phone" for many in Europe. More than half of people in Europe and the United States who have a mobile device have shopped on it in the last 12 months, buying goods and services via a smartphone or tablet. Turkey, Poland, Romania and Italy have the highest share of "mobile shoppers" in the survey. Belgium, the Netherlands and France have the lowest.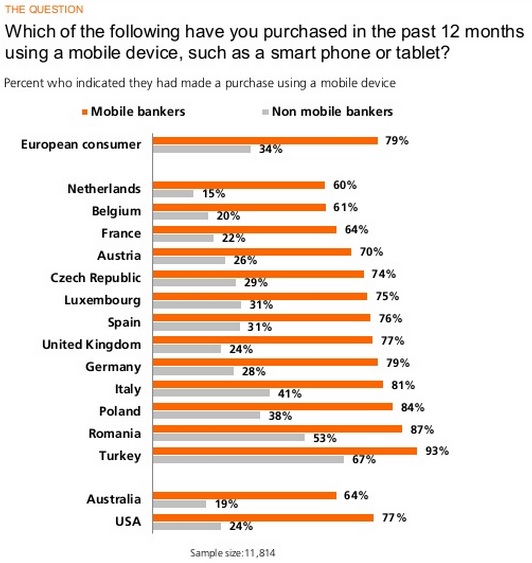 Trust the biggest barrier to using mobile payments
Of people in Europe who have not used a mobile payment app, 42% say a reason is lack of trust . A similar share state they have never had the opportunity to use the technology. In contrast to the share of self-declared early adopters, few people favour the opposite view (the "late majority" or "laggards") and are reluctant to use new technology.
The launch of Apple Pay, Google Wallet, payments via WhatsApp and other ways to pay via alternative providers have been in the mainstream media headlines. However, mobile payment apps offered by respondents' own banks are the most common way to repay friends for a small loan, such as a share of a dinner bill. Overall, 14% of people in Europe have repaid friends through their own bank's mobile payment app and a further 45% would consider using it.
Despite the introduction of Apple Pay and Google Wallet, two leading services that allow payments to be made from debit or credit cards via smartphone, 9% respondents has used these or other 'digital wallet' services to date. Additionally, users are far more likely to consider using the app associated with their bank for mobile payments (59%) than 'named groups' such as Apple or Google (39%).
ING Senior Economist Ian Bright comments: "The global market for mobile payments is reported to be growing rapidly and what we're seeing is a major shift in consumer attitudes and behaviour to support that growth – though not everyone is convinced about moving to a cashless society just yet.