SC Bucharest Promo Robots SRL is the first Romanian Start-Up that offers rental and purchase of humanoid robots, as well as RaaS services. RaaS (Robotics as a Service) is a cloud computing unit that facilitates the seamless integration of robot and embedded devices into Web and Cloud computing environment.
RaaS leverages the Cloud and makes it possible for organizations to integrate robots and embedded devices into the web cloud computing environments. With Raas, data captured by robots – such as customer preferences or inventory status – can be stored on a cloud-based system and retrieved as needed by human workers.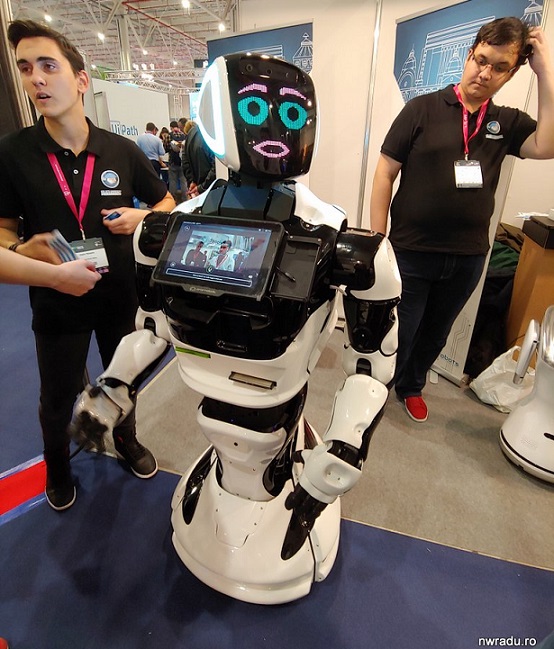 Designed to work in crowded spaces (like business centers or hypermarkets) where, by moving autonomously, it helps people with navigation, communicates and answers any questions, shows promotional materials and remembers everyone with whom it interacted.
What about using in a bank?
"Always friendly, the robot will help you to get a queue management ticket, tell about the products of the bank and collect feedback from visitors. It can even conclude an agreement with the client for the services of the bank.", the company said.
The 3-5CU model is abble to communicate with people on general and narrow topics. Its linguistic database contains more than 100,000 speech modules in 7 languages, communication via neural networks is also available. During communication, the robot is able to display photos, videos or open websites. The robot perform different business tasks like integrate with 1C- ERP system, CRM systems, customer accounting systems and other software of the company. More, 3-5U model work with third-party devices. For example, with payment terminal, printer, light and other gadgets.
Specifications: Length: 1600 mm, Width: 800 mm, Depth: 750 mm; Weight: 115 kg; 8 hours run time, over 12 hours on standby mode.
See how it works: