HSBC has said it plans to slash about 35,000 jobs as part of a radical downsizing of its operations in Europe and the US, as it warned of the threat to its business from social unrest in Hong Kong and the coronavirus outbreak.
The London-based bank said it aimed to cut annual costs by $4.5bn and shed $100bn of assets adjusted for risk by the end of 2022 as it attempts its most drastic overhaul since the financial crisis in an attempt to kick-start its stuttering business.
The bank did not publish a headcount reduction target but in an interview with the Financial Times, Noel Quinn, interim chief executive, said he expected the number of full-time employees to fall from about 235,000 to 200,000 within three years.
Mr Quinn hailed the overhaul as one of the "deepest restructurings" in the bank's 155-year history and said it would allow the lender to capture high-growth opportunities in Asia.
HSBC is the latest lender in Europe to unveil a major overhaul as the region's executives scramble to position their banks for a prolonged period of low or negative interest rates. Deutsche Bank, the ailing German lender, last year said it would slash 18,000 jobs as part of its own restructuring.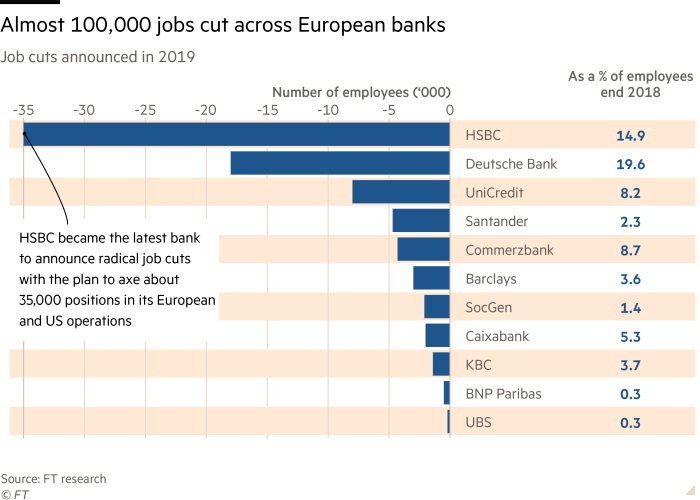 Set up in 1865 to facilitate trade between Asia and Europe, the Hong Kong and Shanghai Banking Corporation, to give it its full name, is moving back to its roots.
With most of its profits coming from Asia – and with an expectation that the region is the best bet for long term prospects – the bank's cuts will focus on its European and US operations.
There are four key areas that are likely to be affected: the UK investment bank, the group's central operations, the US retail banking outfit and – as in many businesses – those areas where jobs are being replaced by technology.