With the MiCA vote rapidly approaching and significant movements happening in the traditional financial sector, it is essential to highlight the potential impacts that MiCA could have on the industry.
an article written by Elizaveta Palaznik, Markets in Crypto-Assets (MiCA) Consultant, speaker at Banking 4.0 international conference
It is important to remind what is under the scope of MiCA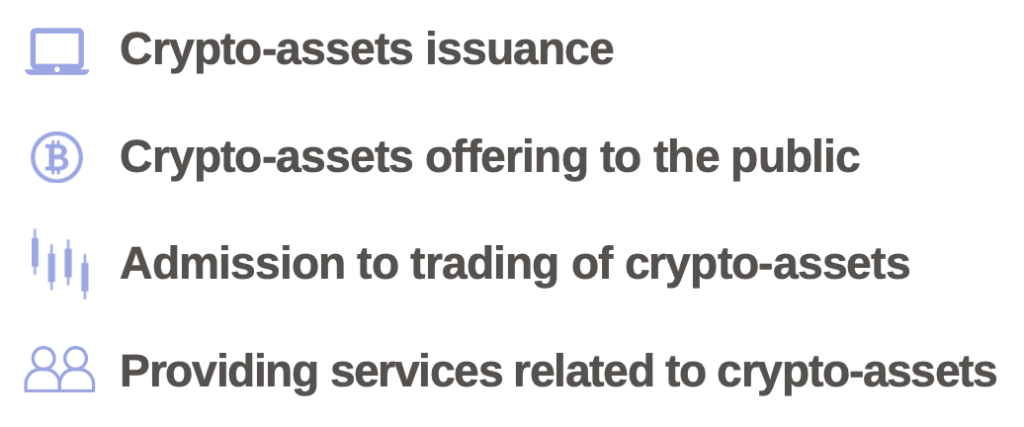 On April 18th, the industry can expect a vote on the final draft of the Market in Crypto-Asset (MiCA) regulations. If approved, issuers will have 12 months to comply with MiCA requirements. CASPs, on the other hand, will be granted a more extended period of 18 months to become MiCA compliant.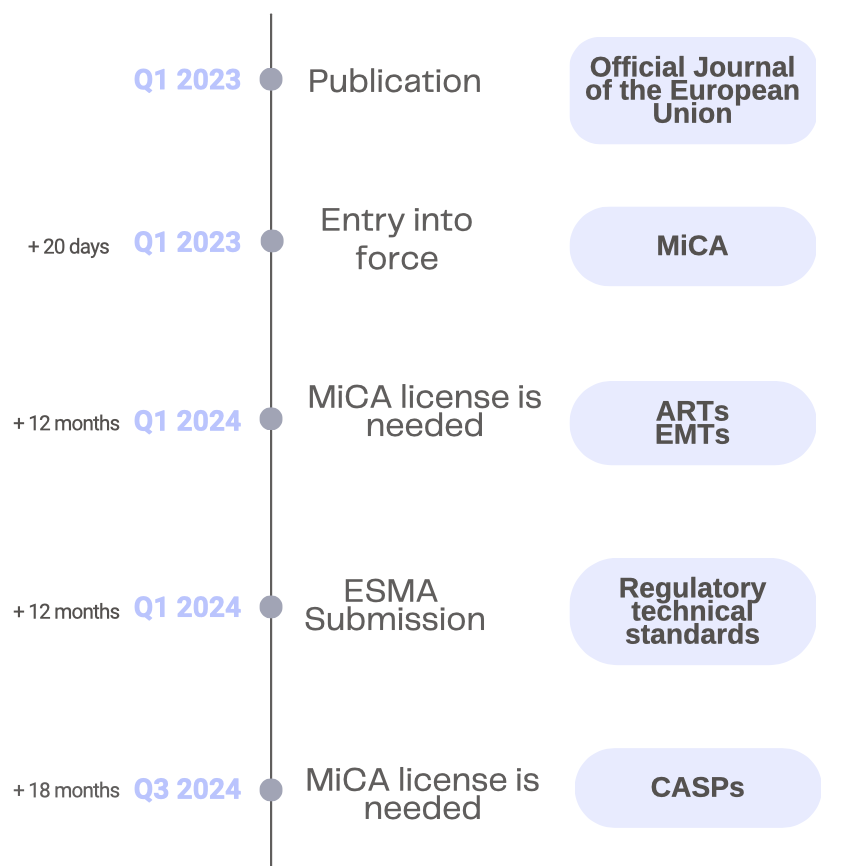 It's worth paying attention that the term 'issuer' is distinct from 'offeror.' An issuer creates while an offeror offers to the public, which is subject to stricter regulation.
---
What impacts MiCA might have?
1. A common ground:
One of the key impacts of MiCA is that it will introduce a common set of rules and standards for crypto-asset issuers and service providers across the EU. Although some might argue it is not perfect or it can be subject to interpretation, it will provide a comprehensive and harmonized common ground. This will help reduce regulatory fragmentation within the EU and make it easier for companies to operate across different member states. Additionally, regulatory technical standards will be provided by ESMA one year after MiCA is approved, reducing the window for interpretation.
2. Additional costs:
Secondly, it will impact crypto service providers and token issuers, facing additional costs and time allocation associated with the compliance process. Some will say it will prevent smaller actors from entering the market. A point here is that the industry has so far seen barely any rules. It means that any additional regulation will inevitably require extra work for all actors in this industry. The challenge here is to find the right balance between not slowing down innovation, protecting consumers, and stopping bad actors.
Also, smaller players may bear a relatively lighter burden in terms of cost and time for this additional work, compared to bigger ones who could potentially impact the market if any issues arise. This also applies to the level of scrutiny from regulators, as they may have higher expectations for market players with a significant size and influence, as opposed to smaller businesses that are just entering the market.
3. Specialisation across member states and competitiveness:
It will also impact all professionals in the industry, such as lawyers, consultants, etc., helping and assisting those crypto companies in the licensing process. Since it has always been a competitive market, some countries might specialize themselves in a specific licensing service. For example, we could easily see Malta specializing in iGaming and Play-to-Earn and Luxembourg in crypto-asset funds and tokenization.
We might also see a competition between professionals assisting crypto issuers or service providers. We all know how fast-paced this industry is; therefore, providing high standard services and fast implementation is a must. Quality and speed will be highly valued commodities as a compliance and licensing service provider.
4. A boost in crypto services within the traditional financial industry
By providing a legal framework, MiCA is expected to have a significant impact on the financial system, such as banking. So far, the lack of regulation and the knowledge gap in the crypto-asset space left the financial industry hesitant to offer certain crypto products, resulting in clients making risky investments without any protection.
With this framework, not only will the financial industry have clarity and a legal framework, but they could also provide crypto-related services without actually applying for the MiCA license. Some authorized financial institutions can offer crypto-related services with a 40-day notification to the national competent authority before starting to offer those. For instance, authorized credit institutions can offer any crypto-asset services, and authorized investment firms can provide equivalent services that they already offer. Some might argue that just because a bank offers traditional financial services, it does not have the knowledge, skills, and ability to offer crypto-related products.
5. Interactions between other legislations
MiCA does not stand alone in terms of crypto regulation in Europe. There are many other pieces of legislation that need to be taken into consideration.
(1) For instance, the Anti-Money Laundering (AML) legislation has been updated to cover crypto-assets. MiCA does not duplicate the AML provisions previously established by the European Banking Authority to avoid any overlaps.
(2) The Transfer of Funds Regulation (TFR) is also a part of the legislative package aimed at improving the EU's anti-money laundering (AML) and counter-terrorism financing (CTF) posture. TFR will apply to transfers of funds, in any currency or crypto assets, which are sent or received by a payment service provider, a crypto-asset service provider, or an intermediary service provider (brokers and custodians) established in the European Union.
Under the temporary agreement, all transactions (with no minimum amount of transfers) must include personally identifiable information (PII). If a customer on an exchange sends funds to a self-hosted cryptocurrency wallet, CASPs will only gather information if the wallet belongs to the same customer. This will be done in accordance with risk-based AML practices, and CASPs will need to verify that the wallet is owned by the same individual.
It means that we might see some segregation between different types of business activities, and small CASPs might need to use other CASPs to provide the information. However, it does not apply to person-to-person (P2P) transfers of crypto-assets, such as the use of cryptocurrency trading platforms and self-hosted wallet owners acting on their own behalf without any CASP assistance.
(3) In addition to the MiCA proposal, the Digital Finance Strategy package contains a digital finance strategy, a Digital Operational Resilience Act (DORA), which will also cover CASPs, and a proposal on distributed ledger technology (DLT) pilot regime for wholesale uses.
(4) The DLT Pilot Regime is a regulatory sandbox created by the EU as part of the digital finance package. Its objective is to provide a testing ground for a secondary market in financial instruments based on distributed ledger technology (DLT). The primary goal of the regime is to assess the appetite of the markets for this new regime, which, in essence, forms a bridge between traditional financial markets and DLT.
(5) The regulations regarding sharing data for manufacturers of Internet of Things (IoT) and connected devices, as well as the Smart Contract principles and specifications (as outlined in Article 30), have raised some concerns about their extent of coverage, particularly with respect to their potential impact on public and permissionless blockchains.
The Data Act is a legislative initiative aimed at eliminating obstacles to the flow of industrial data by governing the rights and responsibilities of all the economic entities engaged in data sharing from IoT devices. The proposed Article 30 about enabling a kill switch in smart contracts raised some concerns among the industry. The safe termination and interruption clause undermines immutability guarantees and introduces a point of failure since someone needs to govern the use of such a kill switch.
What are the last MiCA insights during the Paris Blockchain Week?
At the Paris Blockchain Week 2023, experts discussed the challenges and opportunities presented by the MiCA regulation. While some believe that the regulation will bring much-needed clarity and stability to the crypto industry, others are concerned that it will stifle innovation and harm smaller players in the market.
Some experts argue that a one-size-fits-all approach to regulation may not be suitable for the diverse and rapidly evolving crypto industry.
Despite the concerns, some experts believe that the MiCA regulation could help to address the issue of crypto-related fraud and protect investors. The regulation would require providers to comply with strict anti-money laundering (AML) and counter-terrorism financing (CTF) requirements, which could help to reduce criminal activity in the crypto industry.
In conclusion, the MiCA regulation is a balancing act between providing regulatory clarity and stability in the crypto industry while also fostering innovation and growth. As the regulation continues to be developed and implemented, it will be important to consider the diverse needs and characteristics of the rapidly evolving crypto industry to ensure that the regulation achieves its intended goals without stifling innovation.
_____________
If you want to save time and not read the 380-pages-long regulation, here is all you need to know to have a general understanding of what MiCA is about.