March 14, 2012 – Greece's Alpha Bank will propose pulling out of a planned merger with Eurobank because of the impact of the country's bond swap deal on the banks, the lender said on Wednesday. On November15, the shareholders of both banks had approved the merger of the two lenders to create the country's largest bank which would be better able cope with the debt crisis, which has caused deposit outflows and rising bad loans.
But the debt swap deal between Greece and its private sector creditors, which was completed last week, caused much bigger losses to banks than expected when the merger was originally agreed.
"Alpha Bank's board will call a general shareholders' assembly where it will propose the revocation of the merger decision that shareholders took on November 15," a spokesman at the bank said.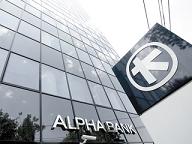 Another Alpha Bank official said the board meeting would take place on March 27.
Alpha Bank's exposure to Greek government bonds is about half that of Eurobank's.
Alpha shares were up 5.63 percent at 0851 GMT and Eurobank shares were up 5 percent, with analysts saying Alpha's move could pave the way for other mergers.
An official at Eurobank said the lender believed the merger would have been beneficial. "We believed the deal made sense and had serious synergies but if Alpha does not want it, you can't have a forced marriage," the official said on condition of anonymity.
Source: Reuters