Grayscale Investments, the world's largest digital currency asset manager, announced the D.C. Circuit Court of Appeals ruled in Grayscale's favor in its lawsuit challenging the decision by the Securities and Exchange Commission (SEC) to deny conversion of Grayscale Bitcoin Trust (BTC) to an ETF*.
The Court ruled in favor of Grayscale, stating the Firm "presented substantial evidence that Grayscale is similar, across the relevant regulatory factors, to bitcoin futures ETPs. The Commission failed to adequately explain why it approved the listing of two bitcoin futures ETPs but not Grayscale's proposed bitcoin ETP. In the absence of a coherent explanation, this unlike regulatory treatment of like products is unlawful. We therefore grant Grayscale's petition for review and vacate the Commission's order."
"This is a historic milestone for American investors, the Bitcoin ecosystem, and all those who have been advocating for Bitcoin exposure through the added protections of the ETF wrapper," said Grayscale CEO Michael Sonnenshein. "Grayscale has adhered to U.S. financial rules and regulations in building our product suite since our founding in 2013, underpinned by one fundamental belief: investors deserve transparent, regulated access to crypto. It's incredibly exciting that we are one step closer to making a U.S. spot Bitcoin ETF a reality."
"BIG win with BIG implications" says Linas Beliunas. "This is a precedent-setting ruling that opens the door for the likely approval of not only GBTC's conversion to an ETF but also other spot bitcoin ETF applications by major financial institutions like Fidelity $FNF and BlackRock $BLK . The elimination of GBTC's discount could pour billions into Bitcoin and validate it as a mature investable asset class. Zooming out, this also means greater mainstream adoption, less volatility, and more regulatory clarity for cryptocurrencies. ETF approval may also influence the SEC to become more accommodating toward other crypto-based investment vehicles. This favorable ruling affirms the maturation of Bitcoin as an investable asset. Bullish."
The price of bitcoin and other cryptocurrencies are under pressure after the SEC's decision to delay applications for bitcoin spot ETFs for another 45 days. Bitcoin has fallen back below $26,000 after rallying earlier this week on Grayscale's (GBTC) victory in a federal appeals court.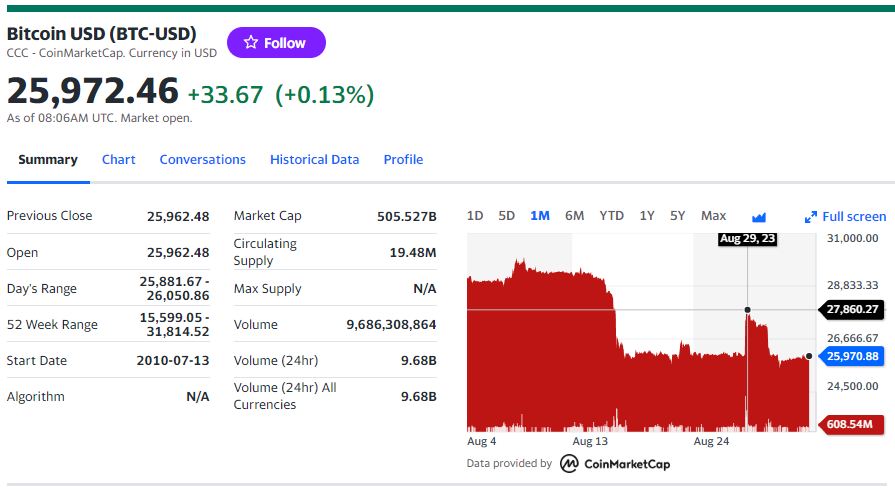 ____________
*We use the generic term "ETF" to refer to exchange-traded investment vehicles, including those that are required to register under the Investment Company Act of 1940, as amended (the "'40 Act"), as well as other exchange-traded products that are not subject to the registration requirements of the '40 Act.

Grayscale enables investors to access the digital economy through a family of regulated, and future-forward investment products. Founded in 2013, Grayscale has a proven track record and deep expertise as the world's largest digital currency asset manager. Investors, advisors, and allocators turn to Grayscale for single asset, diversified, and thematic exposure. Grayscale products are distributed by Grayscale Securities, LLC (Member FINRA/SIPC).