Google plans to restrict apps that offer loan to individuals from accessing sensitive user data such as photos, videos and contacts, as the Android maker steps up its response to the rise of predatory behavior from some lenders that harass borrowers, according to Techcrunch.
The search giant pushed an update to its Personal Loans policy on Wednesday for apps on Play Store to bring new restrictions prohibiting apps from accessing external storage, photos, videos, contacts, precise location and call logs. The change will come into effect from May 31.
"Apps that provide personal loans, or have the primary purpose of facilitating access to personal loans (i.e., lead generators or facilitators), are prohibited from accessing sensitive data, such as photos and contacts," the company said in its update.
According to TechCrunch, there have been multiple reports of debt collectors using information such as contacts to harass borrowers.
In Kenya, Google removed hundreds of loan apps from the Play Store, while in India, more than 2000 apps had to be taken down following alerts from law enforcement and central banks.
Example of violation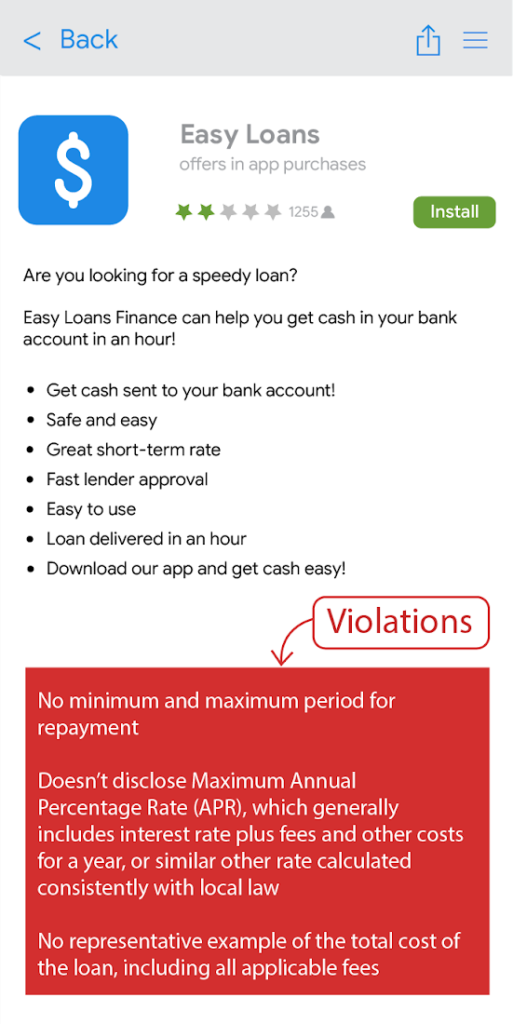 Google's policy preview
We do not support apps that expose users to deceptive or harmful financial products and services.
We do not allow applications that offer users the ability to trade binary options.
We do not support apps that search for cryptocurrencies on devices. We support applications that manage cryptocurrency search remotely.
We do not allow applications that promote personal loans that require full payment within 60 days of the loan date (so-called "short-term personal loans").
In the United States, we do not allow applications for personal loans with APRs of 36% or higher.