Biometric payments are poised for significant growth, but substantial consumer security concerns could put its future at risk according to a new report from Transaction Network Services (TNS).
Vital Insights into Biometric Payments Adoption, which is being published by TNS, shares the results of an independent US, UK and Australian survey* commissioned by TNS which explores consumer attitudes toward and experiences with making biometric payments. "The report reveals that 15% of adults have made a biometric payment in the last year, including a quarter of 18 to 24 year olds.", according to the press release.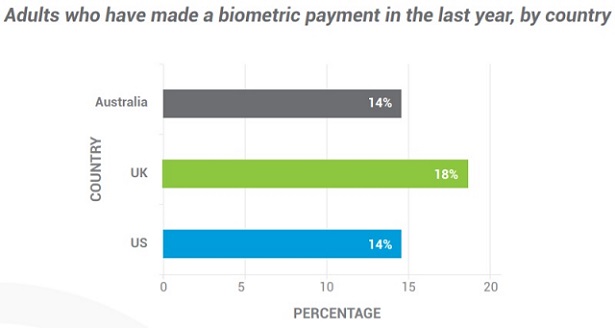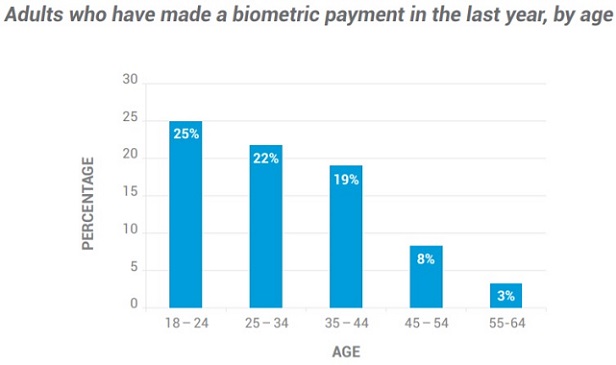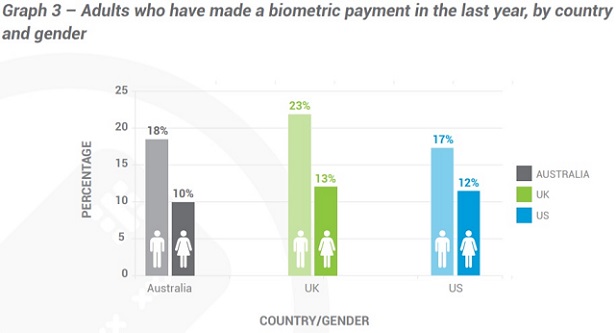 68% believe that biometric payments will become more commonplace in the next 2-5 years, which is on par with perceptions in TNS 2016 survey where 67% agreed with this.
"When looking at the results for the different countries covered by our survey we see some interesting developments. While Australian perceptions appear to have remained consistent, more UK respondents answered this question positively in 2018 compared with our 2016 results, and the US saw a significant reduction in the number who believed biometric payments will become more commonplace."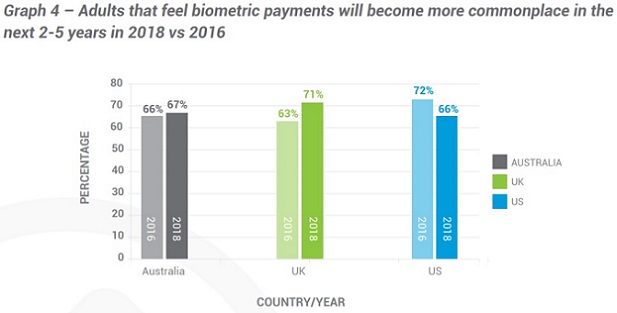 Which Identifying Feature Are Consumers Most Willing to Use for a Biometric Payment?
Fingerprints emerge as favorite option
Larger numbers of respondents opted for using their fingerprint as an identifier when making a biometric payment, but the fight for second place was close, as shown in graph 6 below.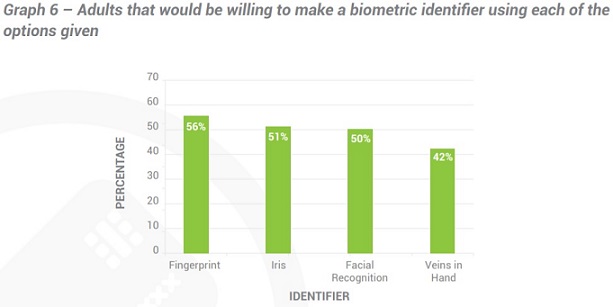 Biometric payments will help increase financial security
In addition to assessing the perceived risk of sharing personal identity information, TNS also asked respondents if they felt that biometric payments will help to increase financial security by reducing fraud. Overall 61% agree that it would, but the US appears less convinced. The US figure in TNS 2018 survey is also significantly less than the number seen when we asked the same question to respondents in 2016. Two years ago, 69% of US adults believed biometric payments would help to increase financial security by reducing fraud.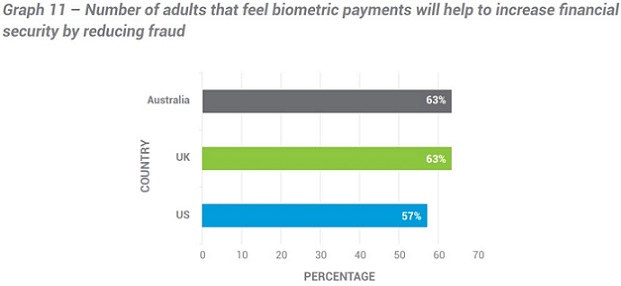 Mark Collins, Managing Director of TNS' FinTech Solutions business in the EMEA region, said: "We are delighted to see that biometric payments are being tested by consumers, however, a staggering 61% felt that providing companies with their fingerprint and iris information put their personal identity information at risk. The industry needs to take measures to both ensure the security of this sensitive information and to convey to consumers what protections are in place.
"It's exciting to hear that more than half are willing to use the widening range of biometric identifiers available, which now includes iris and vein scanning, as well as facial recognition and fingerprints. Reassurance will be the key to ensuring that biometric payments achieve the successful future that our survey data suggests."
The report is available to download by clicking here or emailing solutions@tnsi.com.
About this Report
Transaction Network Services (TNS) commissioned a US, Australian and UK Ncompass International Omnibus Survey by Kantar TNS which ran between 8th – 12th March 2018 and covered 1,027 US adults, 1,032 Australian adults and 1,024 UK adults. The survey asked respondents to agree or disagree with a series of statements which reflected their attitudes to and experiences with making biometric payments.
This report presents the key findings of this survey and, where available, compares and contrasts the results with the same questions asked between 4th – 8th February 2016, which covered 1,050 US adults, 1,030 Australian adults and 1,002 UK adults.