Finastra research of over 750 global banks and financial institutions reveals that the appetite for Open Banking is picking up pace, with 86% looking to use open APIs to enable Open Banking capabilities in the next 12 months.
It's an encouraging trend that paves the way for the next wave of innovation in financial services being created through collaboration on open platforms. But some barriers to Open Banking and collaboration remain and not all markets are progressing at the same pace.
Key findings include:
A growing use of open APIs – The percentage of financial institutions globally looking to use open APIs to drive or enable Open Banking capabilities has mostly increased since 2019, rising from 69% of US respondents agreeing with that statement in 2019 to 92% in 2020. In contrast, in France and Germany there was a small reduction in this area.
Improvements in customer service and the delivery of new financial services accelerate API adoption. 30% of global banks surveyed believe Open Banking is already providing a tangible impact – offering an improved overall customer experience. Markets such as Hong Kong, the US, and France are leading the way in harvesting these benefits of open APIs.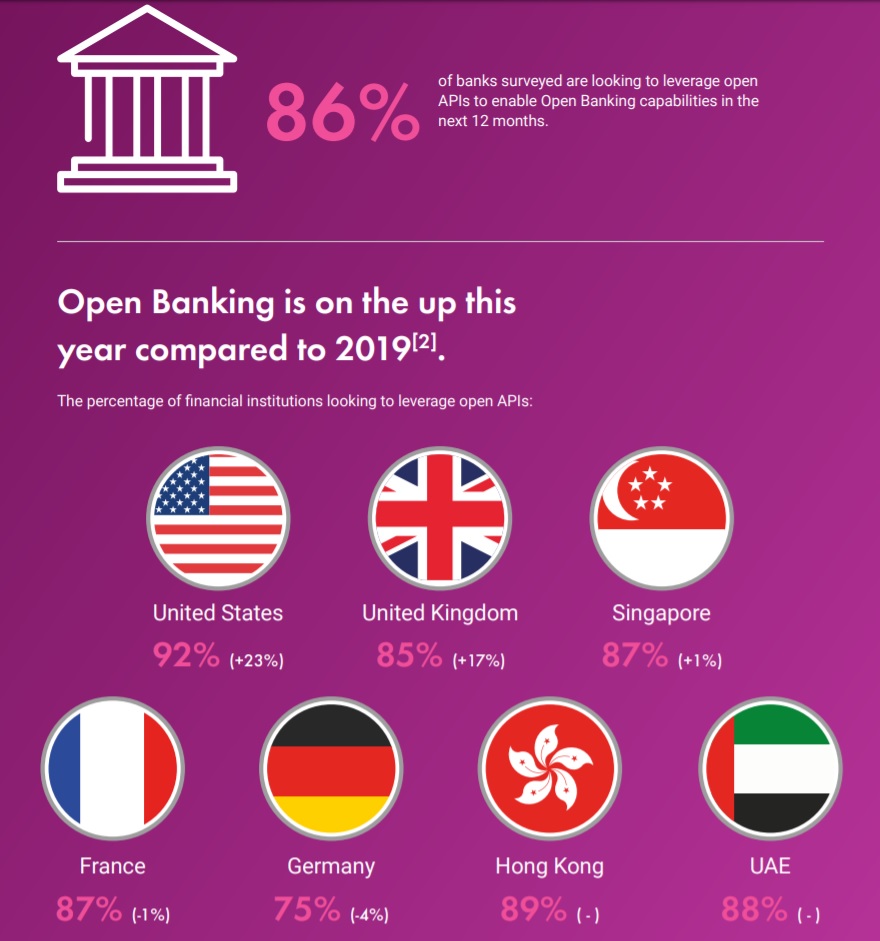 Barriers to change persist – Regulation is widely seen as a barrier to Open Banking. Financial professionals also expressed frustration with management failing to move with the times and thought governments could do more to foster innovation. Almost all respondents (98%) believe that Open Banking will have some sort of an impact on the financial services industry. The most affected sectors are expected to be corporate banks (50%), closely followed by retail banks (47%).
Finastra Open Banking findings reveal a global impact, and that appetite is growing – particularly in the US – but this is not homogenous. Markets are seeing different benefits and experiencing varying challenges as they develop their ecosystems.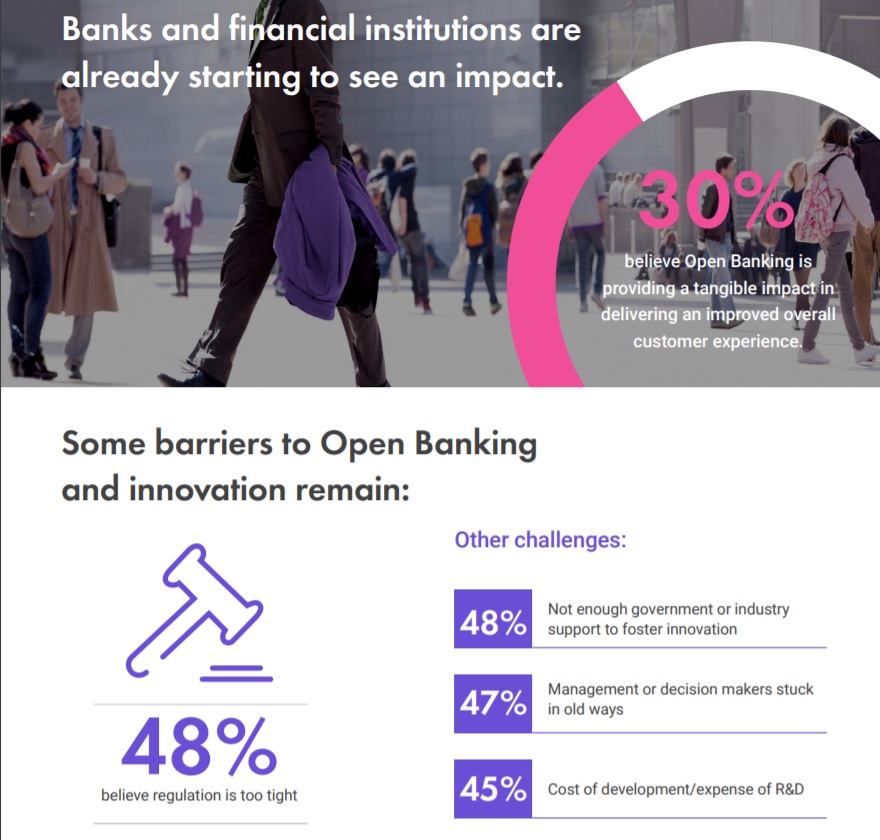 The impact of open banking so far
Access to customer transaction data looks set to drive innovation in products and services and improve the customer experience beyond recognition. Fintech challengers are poised to grab their slice of the business, while traditional banks and financial institutions are looking to compete and remain relevant.
Only 14% of respondents said that Open Banking had not resulted in any significant impact or change for their organization, down from 21% in 2019 – and around a third of banking and finance professionals (30%) thought Open Banking had allowed their organization to improve customer service levels.
However, the percentage of respondents who considered that Open Banking had allowed their organization to improve customer service levels or deliver new services is very slightly lower in 2020 than in 2019. This may be because the potential for innovation was realized in 2019, or perhaps banks and financial institutions still need to maximize their opportunity for innovation.
In 2019, one in five respondents across the UK, US, Singapore, France and Germany (the five markets Finastra surveyed) thought that, because they were in the early stages of adoption, it was difficult to establish what the impact had been. This figure more than doubles a year on for the same countries. Now, 44% think it is too early to tell what the impact of open banking has been.
However, respondents across the seven markets surveyed in 2020 had very different views. Almost half (45%) of US respondents said open banking had allowed them to improve customer service, compared with only 19% of UK respondents agreeing with that statement.
Over half (53%) of professionals in Hong Kong said Open Banking had allowed them to deliver new services, compared with only 16% of UK respondents, the lowest response globally, and 26% of Singapore.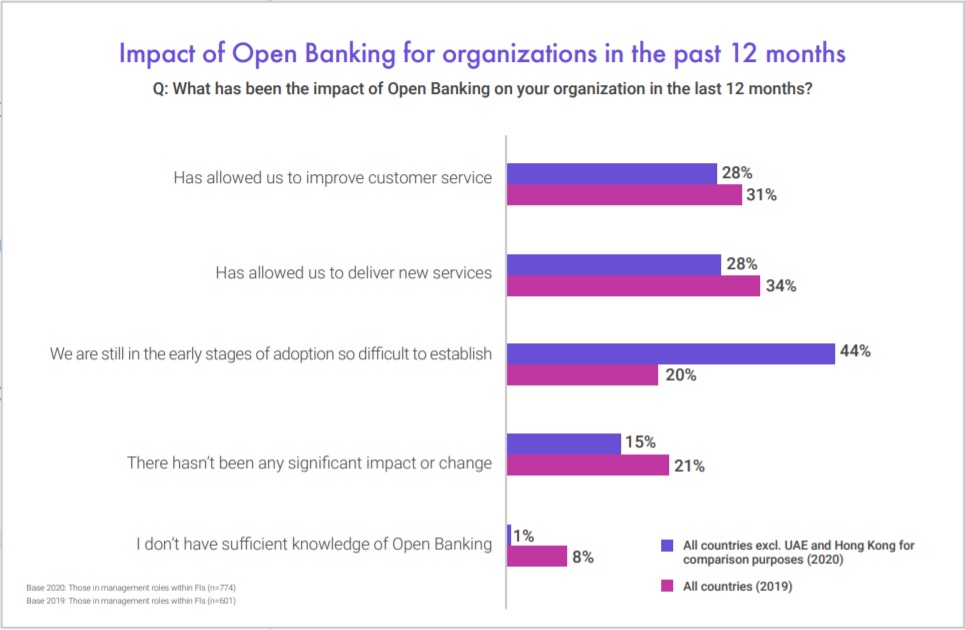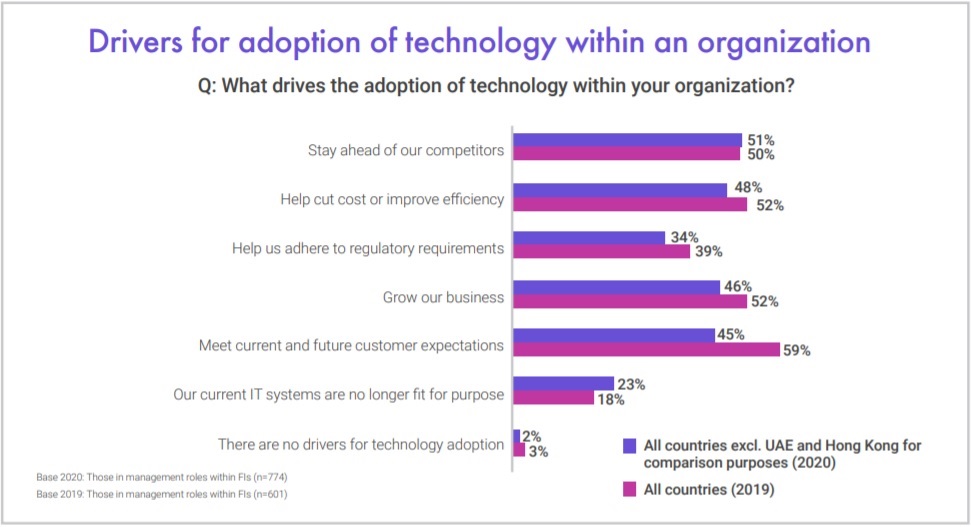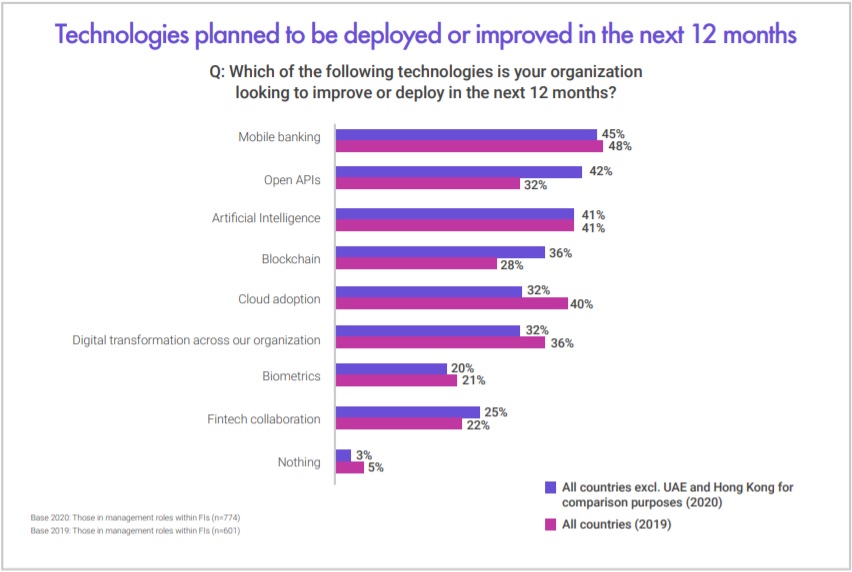 For more insights download the full report: Open Banking and collaboration: State of the nation survey 2020
1) Research was conducted online between 21 – 24 January 2020, amongst 774 financial institutions and banks across United States, UK, Singapore, France, Germany, Hong Kong and UAE. These financial institutions represent a gross total of just over USD$4.7 trillion in turnover over the last 12 months, employ approximately 4.9 million staff and have approximately 110 million client/customer/member relationships.
2) Comparative analysis was made from results from a similar survey run by Finastra in 2019 which was also conducted online in the UK, US, Singapore, France and Germany (March – May 2019).