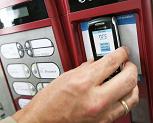 May 21, 2010 – Gemalto announced the continuation of its long-term partnership with Orange France, as part of the "Nice, mobile contactless city" commercial project. Orange has selected Gemalto as partner for its Near Field Communication (NFC) solution, enabling the interconnection with any service provider, such as banks and transport operators.
The "Nice, mobile contactless city" project is the first commercial launch of contactless mobile services in Europe. With the support of the French government, it is being developed in conjunction with mobile operators, banks, transport operators and the retail sector. It allows citizens and visitors in Nice to use their NFC-enabled mobile phones to pay at restaurants, supermarkets and local stores, as well as riding the city's buses and tramways, all in total convenience and digital security.
The "Nice, mobile contactless city" solution is designed to interface with Trusted Service Partner platforms in an open environment. It complies with the latest EPC (European Payment Council)-GSMA standards and will enable the secure, over–the-air activation of their applications in UICC cards. Gemalto's partnership with Orange and other parties delivers in the Nice project the best-in class trusted service technology, that will help boost the uptake of mobile contactless services.
"Orange believes contactless mobile services will transform consumers' lifestyles and we are proud to be one of the world's first mobile network operators to deliver these to our subscribers," said Laurent Michel, Innovative Projects Director, Orange. "We have selected Gemalto's solution because it complies with the latest industry specifications and offers the flexibility required to ramp up additional mobile contactless services."
"Gemalto is proud and excited to be partnering Orange for the first real-life commercial deployment of mobile NFC services in Europe," added Rémi de Fouchier, Senior Vice President, Trusted Services Management, Gemalto. "The contactless mobile market is very dynamic, with strong potential in France and around the world. We look forward to contributing our expertise to further enrich the ecosystem and to facilitate the collaboration between mobile network operators and service providers."