More than 90% of consumers use their smartphone more than any other device, Mastercard's Impact of Innovation study reveals. Consumers would also rather use biometrics than PIN codes when it comes to paying for things – saying they'd prefer fingerprint recognition.
The Mastercard Impact of Innovation study surveyed 23,000 consumers in 23 different countries across Europe, Africa and the Middle East about their attitudes to digital technology. It found that while in Africa and the Middle East over 70% said they were ready to pay with their smartphones, Western Europeans have some way to go – only two fifths (38%) said so. However, when asked about new ways to pay, consumers across all regions chose their smartphone as an alternative to the plastic card.innovation-budapest
"Our study launched during the Mastercard Customer Innovation Forum in Budapest confirms that not only is there a huge appetite for new ways to pay, but consumers overwhelmingly want to use their smartphones. In fact, many are ready to do so right now. For decades, plastic cards have been the only reasonable alternative to cash – but consumers are saying loud and clear that they want digital innovations in all areas of life" says Ann Cairns, President, International Markets at Mastercard.
The survey results also indicate that consumers who live in technologically less developed countries tend to be more enthusiastic about digital innovation than in markets where it is readily available. Western Europe has the largest ratio of those resistant to digital change (17%), while Central and Eastern European countries and those in the Middle East and Africa have the highest number who actively embrace new technology. More than a quarter (27%) in Russia, Turkey and Ukraine call themselves 'eager promoters' of new technology. People in the Middle East and Africa demand more innovation in all areas.
"In previous years many consumers told us they had a negative or neutral view of digital innovation. But this study shows a major global shift in consumer behaviour. People across many diverse countries want a digital lifestyle and think it brings benefits to their lives. It's important we listen to consumers about the types of innovation they want to see more of – but it's extremely exciting to see the pace and appetite for change" concluded Ann Cairns.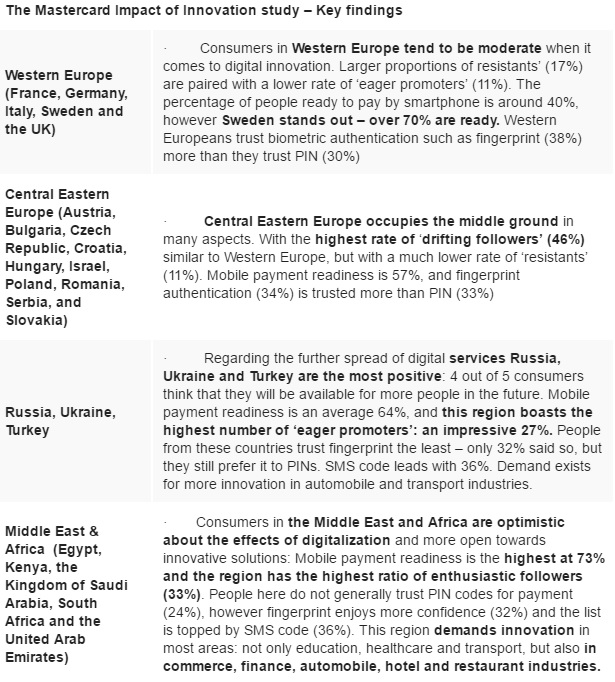 Source: MasterCard