Two French companies, ALCINEO and NEOTION, unveil the ever first NFC CAM solution dedicated to Pay TV field during Cartes 2011Exhibition. The smartphone is acting as a contactless reader, it leads the transaction while the TV is considered as a contactless card. This architecture allows to implement a payment kernel onto the platform and manage all the data in a secure way.
Neotion has designed the Conditional Access Module equipped with a NFC chip. This CAM is plugged into the TV and owns the Conditional Access System. While Alcineo has implemented the needed software to buy the programs through a contactless payment kernel and send the commands to the TV with a NFC protocol.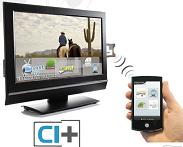 "This solution does permit not only to buy any kind of TV contents wherever you are, but it also enables to watch programs on any media support providing NFC capabilities. Thanks to this solution, we enter into the real mobile life…no matter where you are, no matter which support you use, you can watch your favorite channel, movies… switching from one device to another without losing any rights or paying more fees.", according to Alcineo & Neotion press release.
Including NFC technology enables to use the smartphone as a secure wallet and a wide range of applications can be downloaded onto the mobile phone: Pay TV, Couponing, loyalty…and for the provider the main market profiling is done.
The applets as well as the payment kernels have been developed on a modular approach, our customer shall choose the one they need. Paypass, payWave, express pay or discover, each of one can be added or retrieved without consequence to the other.
Considering the applets themselves, a wide range of application might be adapted, based on the end customer's own target. The contactless payment is a growing technology, bringing more convenience and fastness at the payment point of sales.
Arnaud CORRIA, Alcineo's General Manager states: "The smart contactless technology is now fully ready to be deployed. Whatever the market, there is a solution to suit customers' requirement. With this NFC demonstration, we offer a convenient, secure and fast way to pay."
Grzegorz WIECZOREK, Neotion's CEO stated: "Advanced CAM's are the future of PAY-TV: Consumers are tired of using undesirable and bulky Set Top Boxes with multiple cable connections and another remote control. Consumers simply require an easy and cost effective solution to access their PAY-TV services. The new NFC CAM enables the consumer to simply use their NFC compatible mobile phone to pay for a particular subscription and then approach the television (make close contact between the mobile phone and the NFC CAM) to authorize the transaction and transfer the rights to begin watching the subscribed content. Our aim through this product and future NFC based products is to revolutionise and simplify PAY-TV access for the consumer"
About ALCINEO
Alcineo is a French Company, founded in 2007. We are specialized in embedded software solutions that implement the smartcard technology and the logical security. We sell innovative payment solutions dedicated to POS systems and more widely to smartcard readers with secure transactions required. Our payment software cover the EMV contact technology and the contactless' one such as paypassTM or payWave, they are certified EMV, Visa and Mastercard.
About NEOTION
NEOTION is a high-tech company providing innovative solutions for the international digital television market. NEOTION is a public company created in 2000 that stands as a leading advanced security CI and CI Plus Conditional Access Modules manufacturer and as a reputed turnkey sub-systems and reference designs provider based on in-house designed secured processors (System-on-Chip /SoC), enabling seamless integration and unrivalled time to market for Pay-TV Operators and for the Consumer Electronics industry.