Fraud losses on UK cards totalled £450.4 million in 2013, a 16 per cent rise on the total in 2012 of £388.3 million.This figure is still down 26 per cent since fraud was at its peak in 2008. At the same time, total spending on all debit and credit cards reached £532 billion in 2013, a rise of 6.1 per cent on 2012, with 10.9 billion transactions made in the year, according to Financial Fraud Action UK press release.
Overall, card fraud losses as a proportion of the value of purchases on our cards has increased only slightly –from 7.1p for every £100 spent in 2012 to 7.4p in 2013 (in 2008 it was 12.4p for every £100).
The total number of all transactions rose by over half a billion between 2012 and 2013.
Losses on remote card purchases (those made on line, over the telephone or by mail order) increased by 22 per cent to £301.1 million in 2013, from £246.0 million in 2012.
The UK is Europe's leading online shopping economy with spending by British consumers online growing by 16 per cent in 2013 to reach £91 billion. Card payments are the main driver of this growth as they provide the most effective way to pay online. Debit and credit cards also offer consumers protection against fraud.
Online fraud against UK retailers totalled an estimated £105.5 million in 2013, a rise of 4 per cent on the previous year. However, there has been a substantial increase in fraud against online retailers based overseas, rising 48 per cent to an estimated £57.8 million.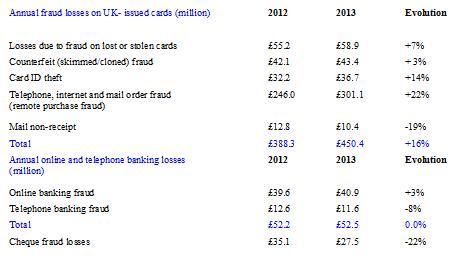 Source: Financial Fraud Action UK