On Thursday afternoon during the Oversight of the Treasury Department's and Federal Reserve's Pandemic Response hearing Federal Reserve Chairman Jerome Powell confirmed that the U.S. has no plans to ban Bitcoin and cryptocurrencies, according to nasdaq.com.

During the hearing, House Representative Ted Budd (R-N.C) cited Powell's previous comments on central bank digital currencies and their impact on stable coins, Bitcoin, and other cryptocurrencies. Budd quoted Jerome Powell from a July hearing: "You wouldn't need stable coins, you wouldn't need cryptocurrencies if you had a digital U.S. currency."

Budd continued, "So Mr. Chairman is it your intention to ban or limit the use of cryptocurrencies like we're seeing in China?"
Jerome Powell replied "No," and went on to explain how he had misspoken at the time.

Budd restated his question, "But you have no intention to ban them?"
"No intention to ban them," Powell responded, he went on to explain that stable coins ought to be brought into the regulatory framework.
As a response of Mr. Powell's comments , Bitcoin and other cryptocurrencies jumped suddenly Friday. Bitcoin rose 10.8% from its 5 p.m. ET value on Thursday to $48,109.69, its highest level in almost a month. Ether, the second-largest cryptocurrency by market value, also gained 10.8% to $3,293.01 over the same period.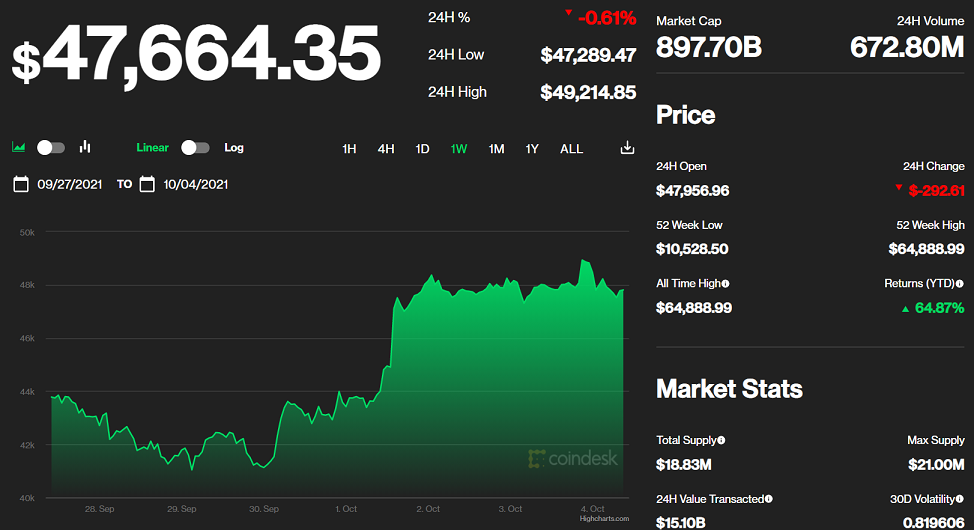 "There was no obvious catalyst for the move upward in the notoriously volatile digital currencies, which happened early Friday morning. Some traders pointed to Mr. Powell's comments to the House Financial Services Committee on Thursday and to the start of the fourth quarter on Friday, when investors sometimes reset their portfolios," according to Wall Street Journal.