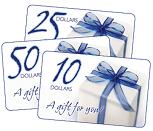 September 2, 2010 – The social-network giant is getting into the gift card business, starting Sunday, with Facebook Credits cards. Facebook is to offer gift cards loaded with Credits at retail stores across the US, beginning with the Target supermarket chain. This will be the first time Facebook has had any presence in a retail store. Facebook already has an arrangement with online-payment services PayPal and MOL to purchase Facebook Credits.
The new Facebook gift cards will be available in values of $15, $25 and $50 at all of Target's 1,750 retail stores and at Target.com. Two or three more national retailers will start selling the cards in coming months.
Facebook is banking that a sizable chunk of its 500 million members will purchase the cards and use them on their favorite social games, applications and virtual goods.
More than 200 million people play free social games on Facebook each month, according to Facebook. And many of them are beginning to spend money on premium goods and services associated with those games.
"We think (the cards) will be incredibly popular as a holiday gift," says Dan Rose, vice president of partnerships and platform marketing at Facebook.
The cards can initially be used on more than 150 social games and applications.
Target — which already sells more than 30 gift cards for online games — expects the markets for online gaming and digital music to continue to grow, says Mark Schindele, senior vice president of merchandising at Target. He also noted that Target has more than 1.5 million fans on its Facebook page.
By year's end, Facebook expects to have gift card credits available for its thousands of games. At least 19 games on Facebook have more than 10 million active users a month.
Facebook is expected to rake in an estimated $1.3 billion in online advertising revenue worldwide this year, up 92% from 2009, eMarketer says.
Facebook's entry into the growing prepaid gift card market could prove lucrative. The domestic prepaid gift card market is expected to reach $86.2billion this year, compared with $80.6billion in 2009, according to Mercator Advisory Group.
Source: USA TODAY